The Effects of Intravenous Lipid Emulsion Therapy in the Prevention of Depressive Effects of Propofol on Cardiovascular and Respiratory Systems: An Experimental Animal Study
1
Department of Emergency Medicine, Erciş State Hospital, Van 65400, Turkey
2
Department of Emergency Medicine, Şehit Prof. Dr. İlhan Varank Sancaktepe Education and Research Hospital, Istanbul 34885, Turkey
3
Department of Emergency Medicine, Şişli Hamidiye Etfal Education and Research Hospital, Istanbul 34381, Turkey
4
The Institute of Natural and Applied Sciences, Van Yüzüncü Yıl University, Van 65100, Turkey
5
Department of Pharmaceutical Toxicology, Graduate School of Health Sciences, Yeditepe University, Istanbul 34752, Turkey
6
Department of Emergency Medicine, Marmara University Faculty of Medicine, Istanbul 34916, Turkey
*
Author to whom correspondence should be addressed.
Received: 22 October 2018 / Revised: 27 November 2018 / Accepted: 20 December 2018 / Published: 25 December 2018
Background and objectives
: Although there are several hypotheses about the mechanism of action, intravenous lipid emulsion (ILE) therapy has been shown to be effective in the treatment of toxicities due to local anaesthetics and many lipophilic drugs. In this study, we had hypothesized that ILE therapy might also be effective in preventing mortality and cardiorespiratory depressant effects due to propofol intoxication.
Materials and methods
: Twenty-eight Sprague-Dawley adult rats were randomly divided into four groups. Saline was administered to the subjects in the control group. The second group was administered propofol (PP group); the third group was administered ILE (ILE group), and the fourth group was administered propofol and ILE therapy together (ILE+PP group). Systolic blood pressure (SBP), diastolic blood pressure (DBP), respiratory rate (RR), heart rate (HR), and mortality were recorded at 10 time-points during a period of 60 min. A repeated measures linear mixed-effect model with unstructured covariance was used to compare the groups.
Results
: In the PP group; SBP, DBP, RR, and HR levels declined steadily; and all rats in this group died after the 60-min period. In the ILE+PP group, the initially reduced SBP, DBP, RR, and HR scores increased close to the levels observed in the control group. The SBP, DBP, RR, and HR values in the PP group were significantly lower compared to the other groups (
p
< 0.01). The mortality rate was 100% (with survival duration of 60 min) for the PP group; however, it was 0% for the remaining three groups.
Conclusions
: Our results suggest that the untoward effects of propofol including hypotension, bradycardia, and respiratory depression might be prevented with ILE therapy.
View Full-Text
►

▼

Show Figures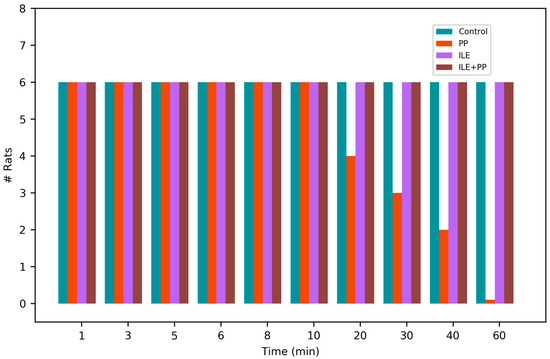 Figure 1
This is an open access article distributed under the
Creative Commons Attribution License
which permits unrestricted use, distribution, and reproduction in any medium, provided the original work is properly cited

MDPI and ACS Style
Doğanay, F.; Ak, R.; Alışkan, H.; Abut, S.; Sümer, E.; Onur, Ö. The Effects of Intravenous Lipid Emulsion Therapy in the Prevention of Depressive Effects of Propofol on Cardiovascular and Respiratory Systems: An Experimental Animal Study. Medicina 2019, 55, 1.
Show more citation formats
Show less citations formats
Note that from the first issue of 2016, MDPI journals use article numbers instead of page numbers. See further details
here
.