Biological Activities of Lactose-Based Prebiotics and Symbiosis with Probiotics on Controlling Osteoporosis, Blood-Lipid and Glucose Levels
1
Department of Food Engineering, Faculty of Food Science, Szent István University, Ménesi st 44, HU-1118 Budapest, Hungary
2
Soós Ernő Water Technology Research Centre, Faculty of Engineering, University of Pannonia, Üllő út., H-3 Nagykanizsa, Hungary
3
Department of Refrigeration and Livestock Product Technology, Faculty of Food Science, Szent István University, Ménesi st 43–45, HU-1118 Budapest, Hungary
*
Authors to whom correspondence should be addressed.
Received: 17 November 2018 / Accepted: 28 November 2018 / Published: 3 December 2018
Abstract
Lactose-based prebiotics are synthesized by enzymatic- or microbial- biotransformation of lactose and have unique functional values. In this comprehensive review article, the biochemical mechanisms of controlling osteoporosis, blood-lipid, and glucose levels by lactose-based prebiotics and symbiosis with probiotics are reported along with the results of clinical investigations. Interaction between lactose-based prebiotics and probiotics reduces osteoporosis by (a) transforming insoluble inorganic salts to soluble and increasing their absorption to gut wall; (b) maintaining and protecting mineral absorption surface in the intestine; (c) increasing the expression of calcium-binding proteins in the gut wall; (d) remodeling osteoclasts and osteoblasts formation; (e) releasing bone modulating factors; and (f) degrading mineral complexing phytic acid. Lactose-based prebiotics with probiotics control lipid level in the bloodstream and tissue by (a) suppressing the expressions of lipogenic- genes and enzymes; (b) oxidizing fatty acids in muscle, liver, and adipose tissue; (c) binding cholesterol with cell membrane of probiotics and subsequent assimilation by probiotics; (d) enzymatic-transformations of bile acids; and (e) converting cholesterol to coprostanol and its defecation. Symbiosis of lactose-based prebiotics with probiotics affect plasma glucose level by (a) increasing the synthesis of gut hormones plasma peptide-YY, glucagon-like peptide-1 and glucagon-like peptide-2 from entero-endocrine L-cells; (b) altering glucose assimilation and metabolism; (c) suppressing systematic inflammation; (d) reducing oxidative stress; and (e) producing amino acids. Clinical investigations show that lactose-based prebiotic galacto-oligosaccharide improves mineral absorption and reduces hyperlipidemia. Another lactose-based prebiotic, lactulose, improves mineral absorption, and reduces hyperlipidemia and hyperglycemia. It is expected that this review article will be of benefit to food technologists and medical practitioners.
View Full-Text
►

▼

Figures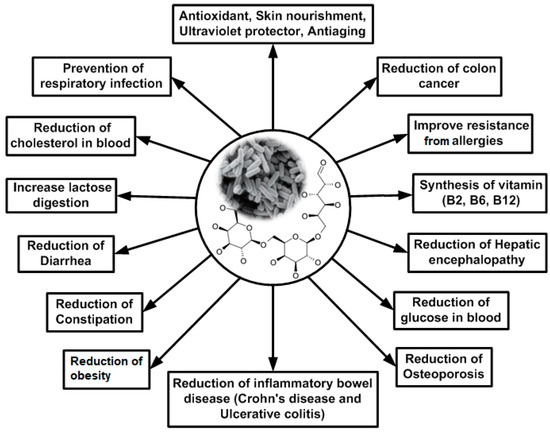 Figure 1
This is an open access article distributed under the
Creative Commons Attribution License
which permits unrestricted use, distribution, and reproduction in any medium, provided the original work is properly cited (CC BY 4.0).

Share & Cite This Article
MDPI and ACS Style
Nath, A.; Molnár, M.A.; Csighy, A.; Kőszegi, K.; Galambos, I.; Huszár, K.P.; Koris, A.; Vatai, G. Biological Activities of Lactose-Based Prebiotics and Symbiosis with Probiotics on Controlling Osteoporosis, Blood-Lipid and Glucose Levels. Medicina 2018, 54, 98.
Note that from the first issue of 2016, MDPI journals use article numbers instead of page numbers. See further details here.
Comments
[Return to top]