Levels of Physical Activity in Lithuanian Adolescents
1
Faculty of Sports Sciences, University of Murcia, 30720 Murcia, Spain
2
Faculty of Sports Education, Lithuanian Sports University, 44221 Kaunas, Lithuania
3
Department of Epidemiology, Center for Public Health, Medical University of Vienna, 1090 Vienna, Austria
4
Cambridge Centre for Sport and Exercise Science, Anglia Ruskin University, Cambridge CB5 8DZ, UK
*
Author to whom correspondence should be addressed.
Received: 28 September 2018 / Revised: 3 November 2018 / Accepted: 8 November 2018 / Published: 12 November 2018
Abstract
Background and objective
: Population levels of physical activity are an international concern. The purpose of the present study was to describe and analyse physical activity levels in Lithuanian adolescents.
Materials and methods
: With this aim in mind, the Physician-based Assessment and Counselling for Exercise (PACE) questionnaire was administered to 5141 adolescents residing in Lithuania, 2502 boys (48.7%) and 2639 girls (51.3%), aged between 11 and 19 years.
Results
: It was found that adolescents studied met the physical activity guideline, of 60 min of moderate-to-vigorous physical activity a day, on average 3.6 days/week (SD = 2.1). A total of 3426 adolescents (66.6%) were inactive as classified by the PACE questionnaire (at least 1 h of physical activity/day < 5 days/week). In the present sample there were more active (at least 1 h of physical activity/day ≥ 5 days/week) boys (n = 994, 39.7%) than girls (n = 721, 27.3%) (
p
< 0.001; OR 1.75, 95% CI 1.56 to 1.97), and, on average, boys were more likely to meet daily recommendations of physical activity than girls, 0.7 days more a week (
p
< 0.001; IRRs 1.21, 95% CI 1.17 to 1.25). According to age, younger adolescents (11–12 years) were significantly more active than older adolescents (13–19 years) and a curvilinear relationship between age and physical activity was observed with significant linear (unstandardized beta (B) = −0.807; standardized beta (β) = −0.796;
p
< 0.001) and quadratic terms (unstandardized beta (B) = 0.024; standardized beta (β) = 0.704;
p
< 0.001).
Conclusions
: It is necessary to increase the level of physical activity in Lithuanian adolescents and intervention programs should be carried out considering these results.
View Full-Text
►

▼

Figures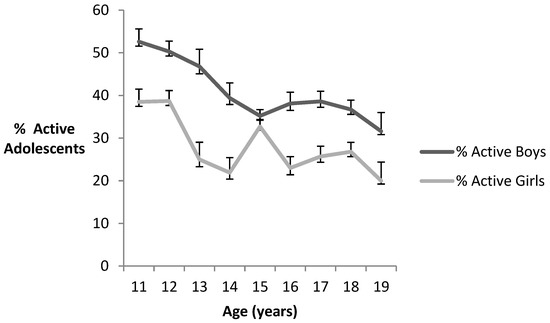 Figure 1
This is an open access article distributed under the
Creative Commons Attribution License
which permits unrestricted use, distribution, and reproduction in any medium, provided the original work is properly cited (CC BY 4.0).

Share & Cite This Article
MDPI and ACS Style
López-Sánchez, G.F.; Emeljanovas, A.; Miežienė, B.; Díaz-Suárez, A.; Sánchez-Castillo, S.; Yang, L.; Roberts, J.; Smith, L. Levels of Physical Activity in Lithuanian Adolescents. Medicina 2018, 54, 84.
Note that from the first issue of 2016, MDPI journals use article numbers instead of page numbers. See further details here.
Comments
[Return to top]