Postponing Pregnancy Through Oocyte Cryopreservation for Social Reasons: Considerations Regarding Clinical Practice and the Socio-Psychological and Bioethical Issues Involved
1
Department of Physiology, Medical School, National and Kapodistrian University of Athens, 75, Mikras Asias, 11527 Athens, Greece
2
Assisted Conception Unit, 2nd Department of Obstetrics and Gynecology, Aretaieion Hospital, Medical School, National and Kapodistrian University of Athens, 76, Vasilisis Sofias Avenue, 11528 Athens, Greece
3
Centre for Human Reproduction, Genesis Athens Clinic, 14–16, Papanikoli, 15232 Athens, Greece
4
Laboratory of Histology-Embryology, Medical School, Democritus University of Thrace, 68100 Alexandroupolis, Greece
5
Laboratory of Pharmacology, Medical School, Democritus University of Thrace, 68100 Alexandroupolis, Greece
*
Author to whom correspondence should be addressed.
Received: 11 September 2018 / Revised: 1 October 2018 / Accepted: 19 October 2018 / Published: 25 October 2018
Abstract
Oocyte freezing for 'social reasons' refers to women of reproductive age who are aiming to prolong, protect and secure their fertility. The term emerged to describe application of the highly promising technique, namely vitrification on oocytes retrieved through controlled ovarian stimulation (COS) from women intending to preserve their fertility for social reasons. These women opt to cryopreserve their oocytes at a point in their life when they need to postpone childbearing on the grounds of so called 'social' reasons. These reasons may include a highly driven career, absence of an adequate partner, financial instability, or personal reasons that make them feel unprepared for motherhood. This is a sensitive and multifaceted issue that entails medical, bioethical and socio-psychological components. The latest trend and the apparent increase noted on oocyte freezing for 'social reasons' has prompted our team of fertility specialists, embryologists, obstetricians, gynecologists and psychologists to proceed with a thorough, critical and all-inclusive comprehensive analysis. The wide range of findings of this analysis involve concerns of embryology and epigenetics that shape decisions made in the IVF laboratory, issues regarding obstetric and perinatal concerns on the pregnancy concluding from these oocytes and the respective delivery management and neonatal data, to the social and bioethical impact of this trend's application. This literature review refers to matters rising from the moment the 'idea' of this option is 'birthed' in a woman's thoughts, to proceeding and executing it clinically, up until the point of the pediatric follow up of the children born. We aim to shed light to the controversial issue of oocyte freezing, while objectively exhibit all aspects regarding this complex matter, as well as to respectfully approach how could the prospect of our future expectations be shaped from the impact of its application.
View Full-Text
►

▼

Figures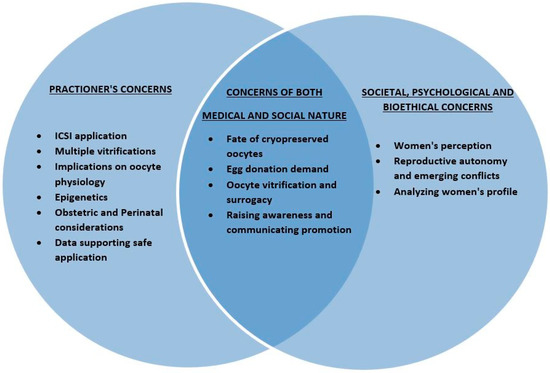 Figure 1
This is an open access article distributed under the
Creative Commons Attribution License
which permits unrestricted use, distribution, and reproduction in any medium, provided the original work is properly cited (CC BY 4.0).

Share & Cite This Article
MDPI and ACS Style
Simopoulou, M.; Sfakianoudis, K.; Bakas, P.; Giannelou, P.; Papapetrou, C.; Kalampokas, T.; Rapani, A.; Chatzaki, E.; Lambropoulou, M.; Lourida, C.; Deligeoroglou, E.; Pantos, K.; Koutsilieris, M. Postponing Pregnancy Through Oocyte Cryopreservation for Social Reasons: Considerations Regarding Clinical Practice and the Socio-Psychological and Bioethical Issues Involved. Medicina 2018, 54, 76.
Note that from the first issue of 2016, MDPI journals use article numbers instead of page numbers. See further details here.
Comments
[Return to top]