Changes in Morphology and Presence of Pinopodes in Endometrial Cells during the Luteal Phase in Women with Infertility Problems: A Pilot Study
1
Department of Anatomy, University of Tartu, Ravila 19, 50411 Tartu, Estonia
2
Department of Morphology, Estonian University of Life Sciences, Fr. Kreutzwaldi 62, 51014, Tartu, Estonia
*
Author to whom correspondence should be addressed.
Received: 3 September 2018 / Revised: 3 October 2018 / Accepted: 4 October 2018 / Published: 10 October 2018
Abstract
Objective:
To investigate morphological changes in the endometrial epithelial cells of patients with infertility problems.
Materials and methods:
Endometrial biopsies were obtained from 10 women who have undergone several unsuccessful in vitro fertilisation (IVF) procedures. Endometrial biopsies were performed between luteinizing hormone surge days LH+6 to +10 of the natural menstrual cycle. Each sample was divided into three parts, which were processed for histological, transmission (TEM), and scanning electron microscopy (SEM) investigations.
Results:
Histological investigations demonstrated significant alterations in the apical part of epithelial cells of one patient; in four patients, the gland maturity was low, not matching the cycle day, and thus a phase lag had developed. By TEM examination, we ascertained changes in secretory and ciliated cells in three patients (decreased amount or missing microvilli, irregular cilia in ciliated cells). SEM examination found pinopodes in five patients: three samples contained fully developed pinopodes—larger and completely smooth, with only some wrinkles; one sample contained regressing small pinopodes, with wrinkled surfaces; and one sample had both developed and regressing pinopodes.
Conclusions:
To conclude, our study shows that the endometrium of patients with poor IVF outcome has either significant changes in the morphology or the endometrial maturation is inhibited and a phase lag often develops. Our study shows that endometrial pinopodes are found throughout the mid-luteal phase up to day LH+10.
View Full-Text
►

▼

Figures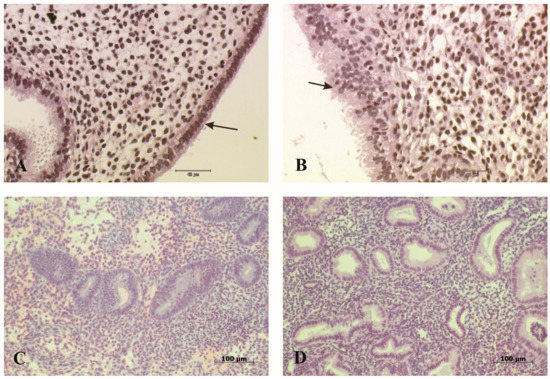 Figure 1
This is an open access article distributed under the
Creative Commons Attribution License
which permits unrestricted use, distribution, and reproduction in any medium, provided the original work is properly cited (CC BY 4.0).

Share & Cite This Article
MDPI and ACS Style
Aunapuu, M.; Kibur, P.; Järveots, T.; Arend, A. Changes in Morphology and Presence of Pinopodes in Endometrial Cells during the Luteal Phase in Women with Infertility Problems: A Pilot Study. Medicina 2018, 54, 69.
Note that from the first issue of 2016, MDPI journals use article numbers instead of page numbers. See further details here.
Comments
[Return to top]