Impact of Left Ventricular Diastolic Dysfunction and Biomarkers on Pulmonary Hypertension in Patients with Severe Aortic Stenosis
1
Department of Cardiology, Medical Academy, Lithuanian University of Health Sciences, LT-50161 Kaunas, Lithuania
2
Department of Cardiac, Thoracic and Vascular Surgery, Medical Academy, Lithuanian University of Health Sciences, LT-50161 Kaunas, Lithuania
*
Author to whom correspondence should be addressed.
Received: 27 July 2018 / Revised: 28 August 2018 / Accepted: 30 August 2018 / Published: 4 September 2018
Abstract
Background
: Severe aortic stenosis (AS) complicated by pulmonary hypertension (PH) is associated with poor outcomes after surgical aortic valve replacement (AVR). There is still scarce information about predictors of secondary PH in this group of patients.
Objectives
: The aim of this study was to investigate the prognostic impact of biomarkers together with conventional Doppler echocardiographic parameters of left ventricular diastolic function on elevated pulmonary systolic pressure (PSP) in severe AS patients before surgical AVR.
Methods
: Sixty patients with severe isolated AS (aortic valve area <1 cm
2
) underwent echocardiography, N-terminal pro B-type natriuretic peptide (NT-proBNP) and growth differentiation factor-15 (GDF-15) measurements before AVR. PSP, left ventricular ejection fraction (LV EF), parameters of LV diastolic function (E/E' ratio, mitral valve deceleration time (MV DT) and left atrial (LA) volume) were evaluated. PH was defined as an estimated PSP ≥ 45 mmHg.
Results
: Of the 60 patients, 21.7% with severe isolated AS had PH with PSP ≥ 45 mmHg (58.5 ± 11.2 mmHg). LV EF did not differ between groups and was not related to an elevated PSP (50 ± 8 vs. 49 ± 8%,
p
= 0.58). Parameters of LV diastolic dysfunction (E/E' ratio > 14 (OR 6.00; 95% CI, 1.41–25.48;
p
= 0.009), MV DT ≤ 177.5 ms (OR 9.31; 95% CI, 2.06–41.14;
p
= 0.001), LA volume > 100 mL (OR 9.70; 95% CI, 1.92–49.03;
p
= 0.002)) and biomarkers (NT-proBNP > 4060 ng/L (OR 12.54; 95% CI, 2.80–55.99;
p
< 0.001) and GDF-15 > 3393 pg/mL (OR 18.33; 95% CI, 2.39–140.39;
p
= 0.001)) were significantly associated with elevated PSP in severe AS.
Conclusions
: Left ventricular diastolic dysfunction and elevated biomarkers levels could predict the development of pulmonary hypertension in patients with severe aortic stenosis. Elevation of biomarkers paired with worsening of LV diastolic dysfunction could help to stratify patients for earlier surgical treatment before the development of pulmonary hypertension.
View Full-Text
►

▼

Figures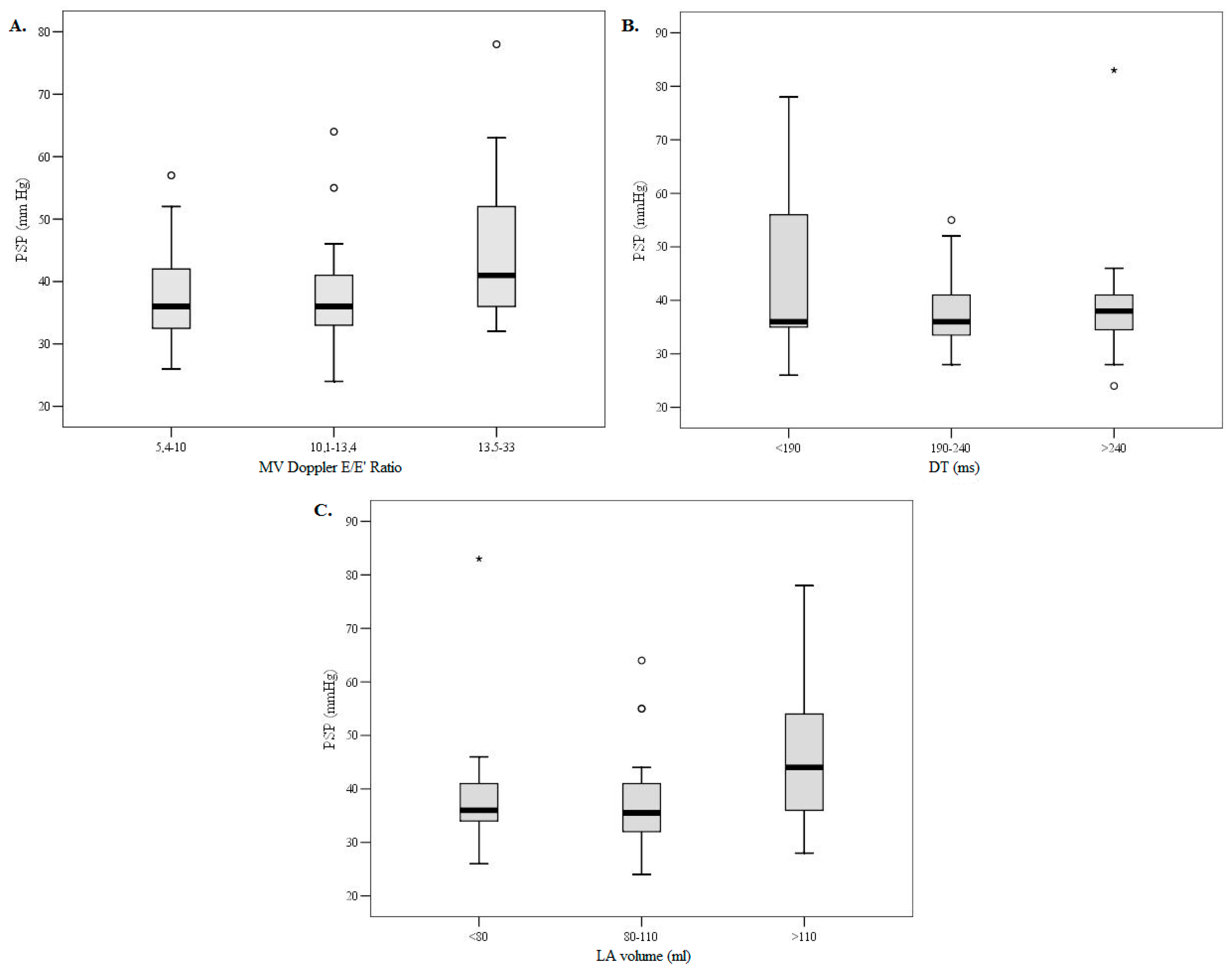 Figure 1
This is an open access article distributed under the
Creative Commons Attribution License
which permits unrestricted use, distribution, and reproduction in any medium, provided the original work is properly cited (CC BY 4.0).

Share & Cite This Article
MDPI and ACS Style
Gumauskienė, B.; Krivickienė, A.; Jonkaitienė, R.; Vaškelytė, J.J.; Siudikas, A.; Ereminienė, E. Impact of Left Ventricular Diastolic Dysfunction and Biomarkers on Pulmonary Hypertension in Patients with Severe Aortic Stenosis. Medicina 2018, 54, 63.
Note that from the first issue of 2016, MDPI journals use article numbers instead of page numbers. See further details here.
Comments
[Return to top]