An Effect of Culture Media on Epithelial Differentiation Markers in Breast Cancer Cell Lines MCF7, MDA-MB-436 and SkBr3
Institute of Oncology, Riga Stradins University, LV1086 Riga, Latvia
*
Author to whom correspondence should be addressed.
Received: 21 February 2018 / Revised: 19 March 2018 / Accepted: 27 March 2018 / Published: 30 March 2018
Abstract
Background and objectives:
Cell culture is one of the mainstays in the research of breast cancer biology, although the extent to which this approach allows to preserve the original characteristics of originating tumor and implications of cell culture findings to real life situations have been widely debated in the literature. The aim of this study was to determine the role of three cell culture media on transcriptional expression of breast cancer markers in three breast cancer reference cell lines (MCF7, SkBr3 and MDA-MB-436).
Materials and methods
: Cell lines were conditioned in three studied media (all containing 5% fetal bovine serum (FBS) + hormones/growth factors; different composition of basal media) for four passages. Population growth was characterized by cumulative population doubling levels, average generation time, cell yield and viability at the fourth passage. Transcriptional expression of breast cancer differentiation markers and regulatory transcriptional programs was measured by qPCR.
Results:
Differences in the composition of growth media significantly influenced the growth of studied cell lines and the expression of mammary lineage governing transcriptional programs and luminal/basal markers. Effects of media on transcriptional expression were more pronounced in luminal cell lines (MCF7, SkBr3), than in the basal cell line (MDA-MB-436). Changes in growth media in terms of supplementation and basal medium delayed growth of cells, but improved cell yields.
Conclusions:
The expression of breast cancer cell differentiation phenotypic markers depends on the composition of cell growth medium, therefore cell culture as a tool in phenotypic studies should be used considering this effect. The findings of such studies should always be interpreted with caution. The formulation of cell growth media has greater effect on the expression of phenotypic markers in luminal, rather than basal cell lines. Media containing mitogens and higher vitamin content improved efficacy of cell culture in terms of cell yields, although greatly increased growth times.
View Full-Text
►

▼

Figures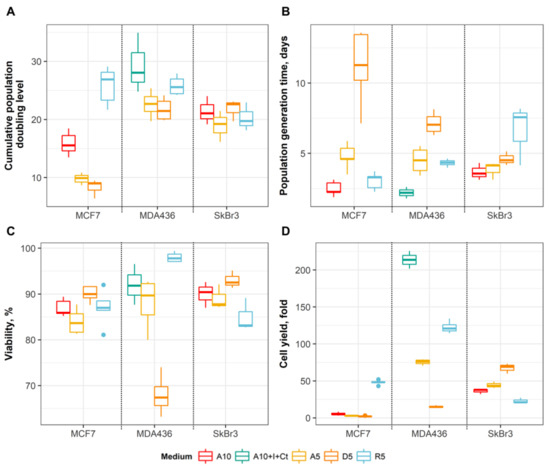 Figure 1
This is an open access article distributed under the
Creative Commons Attribution License
which permits unrestricted use, distribution, and reproduction in any medium, provided the original work is properly cited (CC BY 4.0).

Share & Cite This Article
MDPI and ACS Style
Pirsko, V.; Cakstina, I.; Priedite, M.; Dortane, R.; Feldmane, L.; Nakazawa-Miklasevica, M.; Daneberga, Z.; Gardovskis, J.; Miklasevics, E. An Effect of Culture Media on Epithelial Differentiation Markers in Breast Cancer Cell Lines MCF7, MDA-MB-436 and SkBr3. Medicina 2018, 54, 11.
Note that from the first issue of 2016, MDPI journals use article numbers instead of page numbers. See further details here.
Comments
[Return to top]