Angiogenesis: Managing the Culprits behind Tumorigenesis and Metastasis
1
Institute for Research in Molecular Medicine (INFORMM), Universiti Sains Malaysia, Penang 11800, Malaysia
2
Faculty of Pharmaceutical Sciences, Government College University, Faisalabad 38000, Pakistan
3
Cancer Science Institute of Singapore, National University of Singapore, Singapore 117543, Singapore
4
Department of Surgery, National University of Singapore, Singapore 117543, Singapore
5
School of Medicine, Fukushima Medical University, Fukushima 960-1295, Japan
6
EMAN Testing and Research Laboratories, Department of Pharmacology, School of Pharmaceutical Sciences, Universiti Sains Malaysia, Penang 11800, Malaysia
7
ACRF Department of Cancer Biology and Therapeutics, The John Curtin School of Medical Research, Australian National University, Acton 0200, Australia
*
Author to whom correspondence should be addressed.
Received: 18 February 2018 / Revised: 22 March 2018 / Accepted: 22 March 2018 / Published: 25 March 2018
Abstract
Deregulated angiogenesis has been identified as a key contributor in a number of pathological conditions including cancer. It is a complex process, which involves highly regulated interaction of multiple signalling molecules. The pro-angiogenic signalling molecule, vascular endothelial growth factor (VEGF) and its cognate receptor 2 (VEGFR-2), which is often highly expressed in majority of human cancers, plays a central role in tumour angiogenesis. Owing to the importance of tumour vasculature in carcinogenesis, tumour blood vessels have emerged as an excellent therapeutic target. The anti-angiogenic therapies have been shown to arrest growth of solid tumours through multiple mechanisms, halting the expansion of tumour vasculature and transient normalization of tumour vasculature which help in the improvement of blood flow resulting in more uniform delivery of cytotoxic agents to the core of tumour mass. This also helps in reduction of hypoxia and interstitial pressure leading to reduced chemotherapy resistance and more uniform delivery of cytotoxic agents at the targeted site. Thus, complimentary combination of different agents that target multiple molecules in the angiogenic cascade may optimize inhibition of angiogenesis and improve clinical benefit in the cancer patients. This review provides an update on the current trend in exploitation of angiogenesis pathways as a strategy in the treatment of cancer.
View Full-Text
►

▼

Figures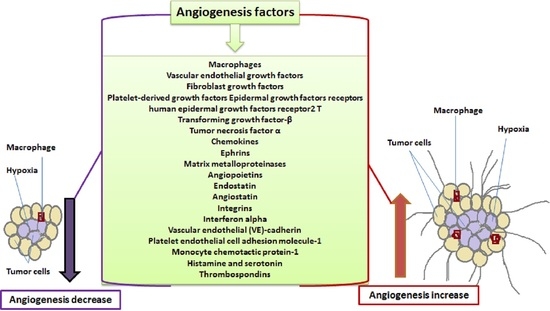 Graphical abstract
This is an open access article distributed under the
Creative Commons Attribution License
which permits unrestricted use, distribution, and reproduction in any medium, provided the original work is properly cited (CC BY 4.0).

Share & Cite This Article
MDPI and ACS Style
Yehya, A.H.S.; Asif, M.; Petersen, S.H.; Subramaniam, A.V.; Kono, K.; Majid, A.M.S.A.; Oon, C.E. Angiogenesis: Managing the Culprits behind Tumorigenesis and Metastasis. Medicina 2018, 54, 8.
Note that from the first issue of 2016, MDPI journals use article numbers instead of page numbers. See further details here.
Comments
[Return to top]