Open Access
Article
Neuraminidase Inhibitory Activity and Constituent Characterization of Fagopyrum dibotrys
Received: 21 October 2017 / Revised: 8 November 2017 / Accepted: 15 November 2017 / Published: 18 November 2017
PDF Full-text (2684 KB) | HTML Full-text | XML Full-text | Supplementary Files
Abstract
This study aimed to identify a new biological activity of the widely distributed species Fagopyrum dibotrys. Four F. dibotrys extracts (ethyl acetate (EA), petroleum ether (P), ethanol (E), and water (W)) were explored for their anti-neuraminidase (NA) activity. A total of 32
[...] Read more.
This study aimed to identify a new biological activity of the widely distributed species
Fagopyrum dibotrys
. Four
F. dibotrys
extracts (ethyl acetate (EA), petroleum ether (P), ethanol (E), and water (W)) were explored for their anti-neuraminidase (NA) activity. A total of 32 compounds were identified using UHPLC-Q-Exactive Orbitrap HRMS in the EA extract, which had the best NA inhibitory effects. We used the docking data for supporting compounds' anti-neuraminidase activity. Among them, five compounds including one flavonoid, three organic acids, and one glucoside were discovered for the first time in
F. dibotrys
. Docking studies and NA activity assay revealed the remarkable NA inhibitory activity of eight components in EA extract, especially rutin, hesperidin, procyanidin B
2
, and quercitrin. Therefore,
F. dibotrys
could be used to develop anti-influenza drugs.
Full article
►

▼

Figures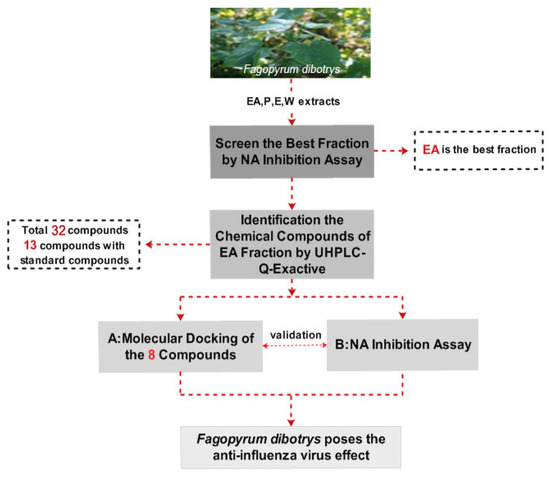 Figure 1