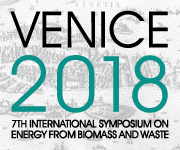 15–18 October 2018
Venice 2018 Symposium
Venice, Italy
The aim of the Venice 2018 Symposium is to focus on the advances made in the application of technologies for energy recovery from biomass and waste and to encourage discussion in these fields. The previous edition of the Symposium, held in 2016, was attended by over 500 scientists and operators from approximately 57 different countries.

The seventh edition of the Symposium will feature:
Three days of scientific presentations
One day of guided technical tours at biochemical and thermochemical plants
Six parallel oral sessions, poster sessions and an exhibition by companies working in the field
Expected attendance of over 600 delegates from tens of different countries worldwide
The conference will be held in the eminent meeting centre of the Scuola Grande di San Giovanni Evangelista, internationally renowned as one of the most relevant congress venue in Venice. Advantageous conditions will be offered to companies wishing to display their practical experience and innovative technologies. Meeting opportunities will also be created to foster cooperation between those involved in industrial production and material recycling.

The Symposium is organized by the International Waste Working Group (IWWG) and Ordine degli Ingegneri della Provincia di Venezia, with the scientific support of the Universities of Padova, Hokkaido, Queensland, Rostock, Trento, Tsinghua and Hamburg University of Technology.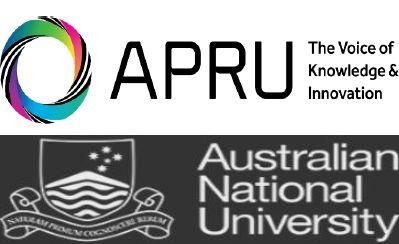 21–24 October 2018
14th APRU Multi-Hazards Symposium
ANU, Canberra, Australia
Background to the APRU/ANU conference on 21 – 24 October 2018

The Australian National University is collaborating with the Association of Pacific Rim
Universities (APRU) to convene the international conference on Risk, Resilience and Reconstruction: Science and Governance for Effective Disaster Risk Reduction and Recovery in Australia, Asia and the Pacific. The host school at ANU is the Research School of Earth Sciences (RSES), College of Science.
Professor Helen James, College of Asia Pacific and Director of the IRDR ICoE for Integrated Research on Disaster Risk Science is Co-Chairing with Professor Phil Cummins, RSES. This is an integrated approach to the multiple and multi-disciplinary needs to achieve better societal and human outcomes from disasters. A cross-college approach involving many disciplines has been followed which is reflected in the participation of the organizing committee whose members come from the College of Science, ANU College of Law, College of Asia Pacific, and the College of Medicine and Health.
Some 92 papers are being presented from all over the world. Over 150 delegates will attend.
The conference is being held at University House, ANU in the Great Hall and adjacent meeting rooms. Vice Chancellor, Professor Brian Schmidt will open the conference and Mr Jamie Isbister, First Assistant Secretary Humanitarian, NGOs and Partnerships Division has accepted our invitation to speak at the opening of the conference. APRU representatives will also be present.
The aims and background of the conference, situate it in new approaches to achieving more effective Disaster Risk Reduction practices. A number of humanitarian agencies including the Australian Red Cross and the Samoan Red Cross will also be present.
This conference is an important contribution to DRR theory and practice globally.
Aims of the Conference
This Multi-Hazards APRU conference aims to open new horizons in disaster risk science which can contribute to better societal outcomes and better understanding of the intersecting dynamics of risk, resilience and reconstruction. In particular, it aims to:
Explore the benefits of taking a multi-disciplinary STEM – HASS perspective to new approaches to reducing the impact of disaster risk; building community and individual resilience; and improving the effectiveness of risk communication;
Develop better understanding of the significance of stakeholder and community engagement, and concomitant policy imperatives;
Engage with future risk through better support to decision makers at the cutting edge of resilience and vulnerability reduction initiatives;
Examine the benefits of disaster education, use of digital technologies and outreach programs in translating disaster risk policy into practical investments in societal sustainability.
Explore the need to develop theoretical frameworks which integrate quantitative data from science, policy and industry to build All-hazards, transdisciplinary bases for the comprehensive analysis of risk in diverse socio-cultural, ecological, and political environments.
http://rses.anu.edu.au/news-events/14th-apru-multi-hazards-symposium
11–12 April 2019
CLIMATICO 2019 International Conference
Elias Beach Hotel, Limassol, Cyprus
We are pleased to invite you to the CLIMATICO 2019 International Conference, which will be held on 11-12 April 2019, in Limassol, Cyprus, an upcoming cosmopolitan Mediterranean seaside city.
The CLIMATICO 2019 international conference aims to showcase the advances in science and technology driven by the Paris Climate Change Agreement with special emphasis on agricultural, food and health aspects of climate change impacts in the Mediterranean region.
The conference will bring together leading scientists, policy makers and entrepreneurs to engage into discussions towards a sustainable and climate safe development of the Mediterranean region.
Take a look at our honorable Keynote Speakers and Scientific Committee members. The abstract submission and registration is now open. You can submit your abstract here.
Selected papers from the conference proceedings will be part of a Special Issue in the scientific journal Climate.
You can visit our website at www.climatico2019.com for more information and updates about CLIMATICO 2019.
On behalf of the Organizing Committee, we look forward to seeing you at the CLIMATICO 2019 and wish you a pleasant stay in Limassol!
Sincerely,
CLIMATICO 2019 Organizing Committee
Under the auspices of the Minister of Agriculture, Rural Development and Environment, Dr. Costas Kadis.
Supported by the Commissioner for the Environment, Ms. Ioanna Panayiotou.