8–10 October 2018
4th European NF-kB subunit meeting
Grasse, French Riviera
The ethos of the workshop is to bring together researchers interested in the biology of the NF-kB subunits from all over Europe (and sometimes beyond) in an informal and relaxed setting to present and discuss unpublished work from their laboratories. We encourage talks from scientists at all stages of their careers and our aim is to provide an opportunity for as many as possible of those who wish to present their data to be able to do so.
The subject areas covered at the workshops are diverse. These include fundamental mechanistic studies of the NF-kB proteins function as transcription factors, including proteomic analysis of subunit post-translational modifications and genome wide analysis of genetic targets through ChIP Seq and RNA Seq analysis. Another focus of the workshops is the physiological and pathological roles of the NF-kB subunits. Data presented includes those using mice and other model systems, together with analysis of normal and diseased human tissues. We have sessions devoted to the role of NF-kB in the immune and inflammatory responses as well as its role in cancer.

The meeting will be held in Grasse, considered the world's capital of perfume and was made town of art and history. The venue "Village Vacances les Cèdres" is located at 800m from Grasse downtown in the heart of a tree and flower park of 2,5 ha, a favorable framework for scientific exchange and sharing. The venue is near the international airport of Nice (south east of France), and a shuttle service will be organized to drive you to the workshop.

This is a very special occasion for us to meet and discuss and we hope that many of you will attend the conference and share this great scientific time gathering the European NF-kB community.

We look forward to seeing you in France!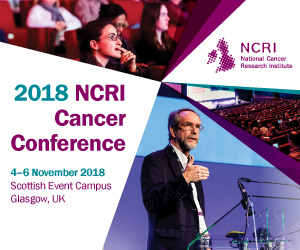 4–6 November 2018
2018 NCRI Cancer Conference
Scottish Event Campus, Glasgow, UK
The NCRI Cancer Conference is the UK's largest forum showcasing the latest advances in cancer research. The Conference provides a platform for researchers, clinicians, people affected by cancer and industry representatives to come together to discuss, present and showcase high-quality research. Informative and interactive educational sessions attract over 1,500 delegates each year and create the ideal setting to establish new collaborations with key stakeholders in cancer research.