Alcohol Inhibits Organic Dust-Induced ICAM-1 Expression on Bronchial Epithelial Cells
1
Pulmonary, Critical Care, Sleep & Allergy Division of the Department of Internal Medicine, University of Nebraska Medical Center, Omaha, NE 68198-5910, USA
2
Department of Environmental, Agricultural, & Occupational Health, University of Nebraska Medical Center, Omaha, NE 68198-5910, USA
3
Research Service, VA Omaha-Western Iowa Health Care System, Omaha, NE 68105, USA
*
Author to whom correspondence should be addressed.
Academic Editor: Dennis Murphy
Received: 26 May 2016 / Revised: 13 December 2016 / Accepted: 19 December 2016 / Published: 7 January 2017
Abstract
Aims: Exposure to dusts/bioaerosols in concentrated animal feeding operations (CAFOs) results in inflammatory lung diseases in workers. Hog CAFOs dust extract (HDE) increases expression of intercellular adhesion molecule-1 (ICAM-1), neutrophil adhesion, and TNFα release in bronchial epithelial cells. Alcohol consumption is increasingly recognized to impair lung immunity. We hypothesized that alcohol impairs HDE-induced TNFα, ICAM-1 expression, and neutrophil adhesion by directly inhibiting TNFα converting enzyme (TACE) activity. Methods: Bronchial epithelial cells (BEAS-2B) and primary human bronchial epithelial cells were pretreated with ethanol (EtOH) or TACE inhibitor. ICAM-1 surface expression; TNFα release; and TACE activity were analyzed following HDE stimulation. The effect of alcohol and TACE inhibition on HDE-regulated epithelial cell/neutrophil adhesion interactions was investigated. Finally; utilizing an established animal model; C57BL/6 mice were fed ad libitum ethanol (20%) in drinking water for 8 weeks followed by daily intranasal inhalation of HDE or saline during the final two weeks. Mice were sacrificed and lung sections immunostained for ICAM-1. Results: Pretreatment with alcohol or TACE inhibitor significantly decreased HDE-induced ICAM-1 expression and TNFα release. HDE augmented neutrophil adhesion to epithelial cells, which was decreased with alcohol (32% decrease) or TACE inhibitor (55% decrease) pretreatment. TACE activity increased following HDE exposure, but TACE activity was inhibited following alcohol pretreatment. Alcohol-fed mice demonstrated decreased HDE-induced airway epithelium ICAM-1 expression. Conclusions: Alcohol diminishes HDE-induced ICAM-1 expression, TNFα release, and neutrophil adhesion via inhibition of TACE activity. These results suggest that alcohol may be an important modulator of lung innate immune responses following CAFO exposure.
View Full-Text
►

▼

Figures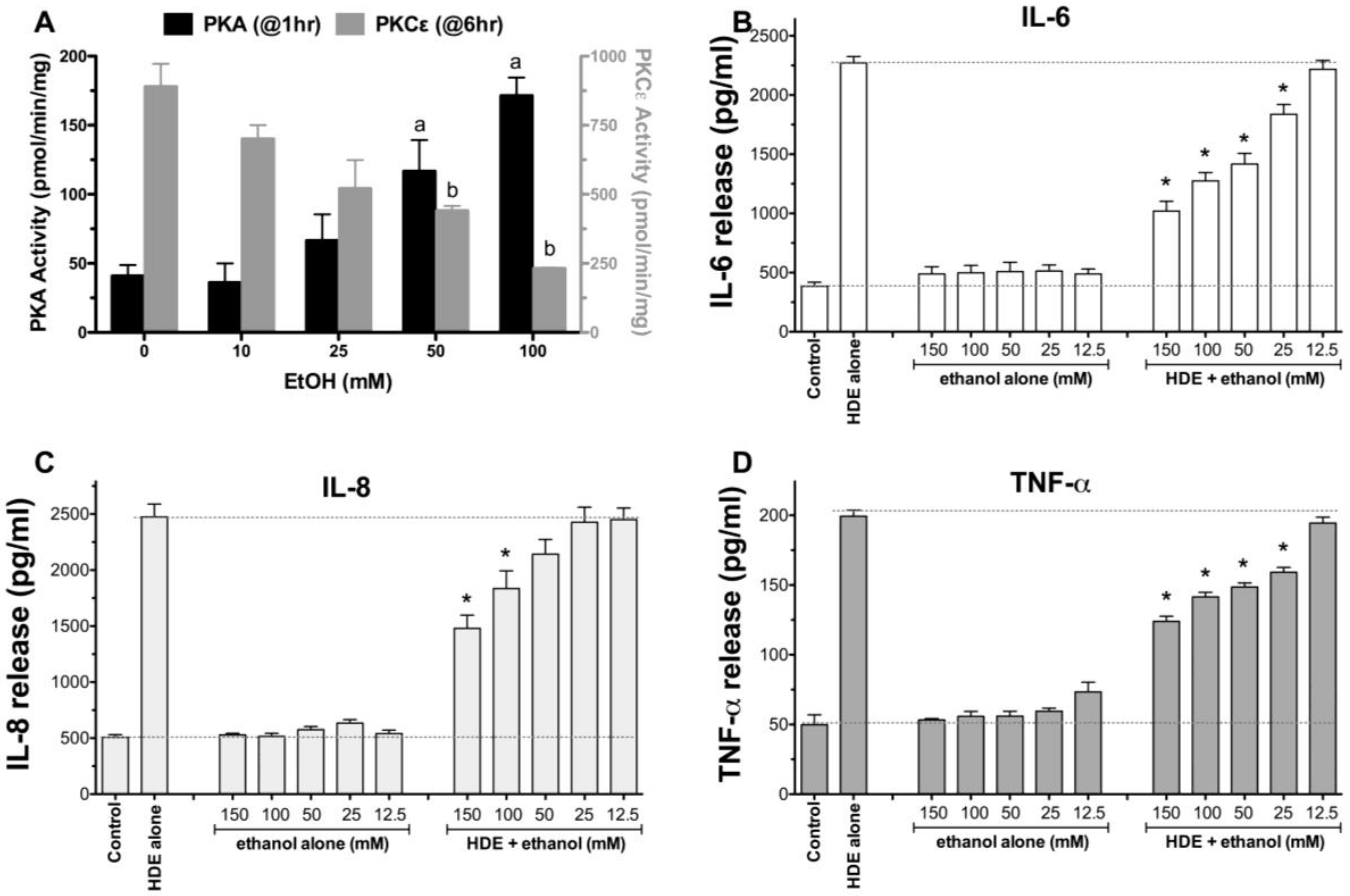 Figure 1
This is an open access article distributed under the
Creative Commons Attribution License
which permits unrestricted use, distribution, and reproduction in any medium, provided the original work is properly cited. (CC BY 4.0).
Share & Cite This Article
MDPI and ACS Style
Wyatt, T.A.; Canady, K.; Heires, A.J.; Poole, J.A.; Bailey, K.L.; Nordgren, T.M.; Romberger, D.J. Alcohol Inhibits Organic Dust-Induced ICAM-1 Expression on Bronchial Epithelial Cells. Safety 2017, 3, 5.
Note that from the first issue of 2016, MDPI journals use article numbers instead of page numbers. See further details here.
Comments
[Return to top]