Mn‐Containing Paramagnetic Conductors with Bis(ethylenedithio)tetrathiafulvalene (BEDT‐TTF)
Instituto de Ciencia Molecular (ICMol), Universidad de Valencia, C/Catedrático José Beltrán 2, 46010 Valencia, Spain
*
Authors to whom correspondence should be addressed.
Received: 24 January 2017 / Accepted: 6 February 2017 / Published: 9 February 2017
Abstract
Two novel paramagnetic conductors have been prepared with the organic donor bis(ethylenedithio)tetrathiafulvalene (BEDT‐TTF = ET) and paramagnetic Mn‐containing metallic complexes: κ′‐ET4[KMnIII(C2O4)3]∙PhCN (1) and ET[MnIICl4]∙H2O (2). Compound 1 represents the first Mn‐containing ET salt of the large Day's series of oxalato‐based molecular conductors and superconductors formulated as (ET)4[AM(C2O4)3]∙G (A+ = H3O+, NH4+, K+, ...; MIII = Fe, Cr, Al, Co, ...; G = PhCN, PhNO2, PhF, PhCl, PhBr, ...). It crystallizes in the orthorhombic pseudo‐κ phase where dimers of ET molecules are surrounded by six isolated ET molecules in the cationic layers. The anionic layers contain the well‐known hexagonal honey‐comb lattice with Mn(III) and H3O+ ions connected by C2O42- anions. Compound 2 is one of the very few examples of ET salts containing ET2+. It also presents alternating cationic‐anionic layers although the ET molecules lie parallel to the layers instead of the typical almost perpendicular orientation. Both salts are semiconductors with room temperature conductivities of ca. 2 x 10-5 and 8 x 10−5 S/cm and activation energies of 180 and 210 meV, respectively. The magnetic properties are dominated by the paramagnetic contributions of the high spin Mn(III) (S = 2) and Mn(II) (S = 5/2) ions.
View Full-Text
►

▼

Figures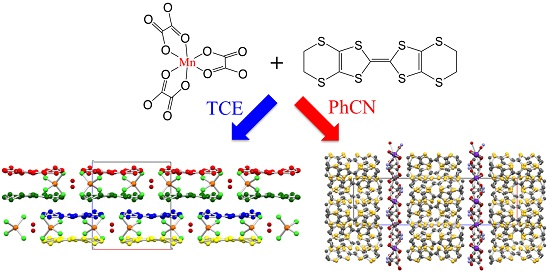 This is an open access article distributed under the
Creative Commons Attribution License
which permits unrestricted use, distribution, and reproduction in any medium, provided the original work is properly cited. (CC BY 4.0).
Share & Cite This Article
MDPI and ACS Style
Benmansour, S.; Sánchez‐Máez, Y.; Gómez‐García, C.J. Mn‐Containing Paramagnetic Conductors with Bis(ethylenedithio)tetrathiafulvalene (BEDT‐TTF). Magnetochemistry 2017, 3, 7.
Note that from the first issue of 2016, MDPI journals use article numbers instead of page numbers. See further details here.
Related Articles
Comments
[Return to top]