A Family of Lanthanoid Dimers with Nitroanilato Bridges
1
Instituto de Ciencia Molecular (ICMol), Universidad de Valencia, C/Catedrático José Beltrán 2, 46980 Paterna, Spain
2
ICFO-Institut de Ciencies Fotoniques, Barcelona Institute of Science and Technology, 08860 Castelldefels, Spain
*
Authors to whom correspondence should be addressed.
Academic Editor: Núria Aliaga-Alcalde
Received: 11 August 2016 / Revised: 26 August 2016 / Accepted: 31 August 2016 / Published: 6 September 2016
Abstract
The first complexes with lanthanoid ions and the nitroanilato ligand have been synthesized (nitroanilate dianion = [C
6
O
4
(NO
2
)
2
]
2−
= dianion of the 3,6-dinitro-2,5-dihydroxo-1,4-dibenzoquinone ligand). This family of dimers can be formulated as [Ln
2
(C
6
O
4
(NO
2
)
2
)
3
(H
2
O)
10
]·6H
2
O with Ln(III) = Sm (
1
), Gd (
2
), Tb (
3
), Dy (
4
), Ho (
5
), and Er (
6
). The X-ray structure of this family of isostructural complexes shows that they all present a dimeric structure where the Ln
3+
ions are connected by a bis-bidentate nitroanilato ligand. Each metal completes its nonacoordination environment with a terminal bidentate nitroanilato ligand and five water molecules in a slightly distorted tri-capped trigonal prismatic geometry. The magnetic properties of this family show the expected contributions of the lanthanoid ions without any noticeable magnetic interaction through the nitroanilato ligand. The compounds present luminesce of the nitroanilato ligand superimposed with a weaker emission from the lanthanide ion in compound
5
(Ho).
View Full-Text
►

▼

Figures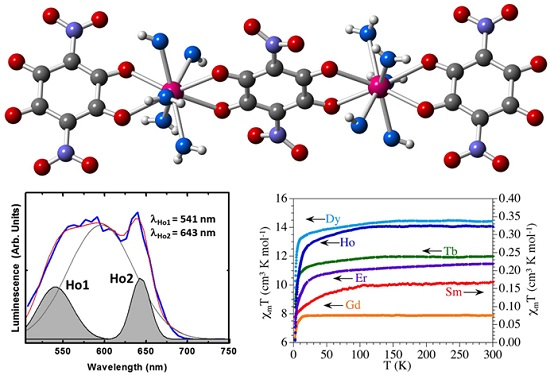 This is an open access article distributed under the
Creative Commons Attribution License
which permits unrestricted use, distribution, and reproduction in any medium, provided the original work is properly cited. (CC BY 4.0).
Share & Cite This Article
MDPI and ACS Style
Benmansour, S.; López-Martínez, G.; Canet-Ferrer, J.; Gómez-García, C.J. A Family of Lanthanoid Dimers with Nitroanilato Bridges. Magnetochemistry 2016, 2, 32.
Note that from the first issue of 2016, MDPI journals use article numbers instead of page numbers. See further details here.
Related Articles
Comments
[Return to top]