Unravelling the Long Non-Coding RNA Profile of Undifferentiated Large Cell Lung Carcinoma
Department of Biosciences and Bioengineering, Indian Institute of Technology Dharwad, IIT Dharwad, WALMI Campus, Dharwad, Karnataka 580011, India
Received: 29 December 2017 / Revised: 27 January 2018 / Accepted: 31 January 2018 / Published: 5 February 2018
Abstract
Undifferentiated large cell lung carcinoma (LCLC) accounts for 2.9–9% of total lung cancers. Recently, RNA-seq based studies have revealed major genomic aberrations in LCLC. In this study, we aim to identify long non-coding RNAs (LncRNAs) expression pattern specific to LCLC. The RNA-seq profile of LCLC and other non-small cell lung carcinoma (NSCLC) was downloaded from Gene Expression Omnibus (GEO) and analyzed. Using 10 LCLC samples, we found that 18% of all the annotated LncRNAs are expressed in LCLC samples. Among 1794 expressed LncRNAs, 11 were overexpressed and 14 were downregulated in LCLC compared to normal samples. Based on receiver operating characteristic (ROC) analysis, we showed that the top five differentially expressed LncRNAs were able to differentiate between LCLC and normal samples with high sensitivity and specificity. Guilt by association analysis using genes correlating with differentially expressed LncRNAs identified several cancer-associated pathways, suggesting the role of these deregulated LncRNA in LCLC biology. We also identified the LncRNA differentially expressed in LCLC compared to lung squamous carcinoma (LUSC) and Lung-adenocarcinoma (LUAD). We found that LCLC sample showed more deregulated LncRNA in LUSC than LUAD. Interestingly, LCLC had more downregulated LncRNA compared to LUAD and LUSC. Our study provides novel insight into LncRNA deregulation in LCLC. This study also finds tools to diagnose LCLC and differentiate LCLC with other Non-Small Cell Lung Cancer.
View Full-Text
►

▼

Figures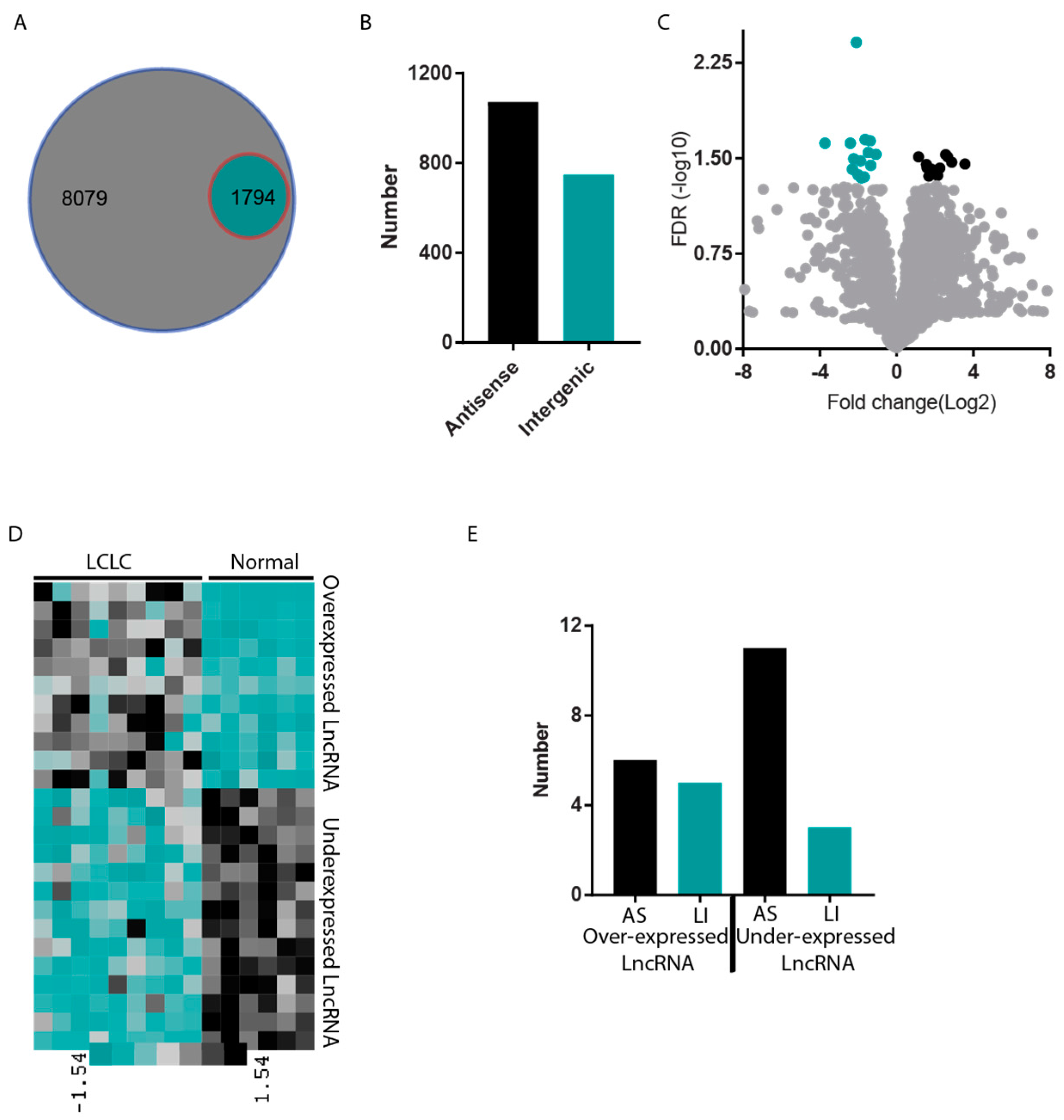 Figure 1
This is an open access article distributed under the
Creative Commons Attribution License
which permits unrestricted use, distribution, and reproduction in any medium, provided the original work is properly cited. (CC BY 4.0).
Share & Cite This Article
MDPI and ACS Style
Shukla, S. Unravelling the Long Non-Coding RNA Profile of Undifferentiated Large Cell Lung Carcinoma. Non-Coding RNA 2018, 4, 4.
Note that from the first issue of 2016, MDPI journals use article numbers instead of page numbers. See further details here.
Related Articles
Comments
[Return to top]