A Multiparametric Approach Based on NT-proBNP, ST2, and Galectin3 for Stratifying One Year Prognosis of Chronic Heart Failure Outpatients
1
School of Cardiology, University of Bari, Piazza Giulio Cesare 11, 70124 Bari, Italy
2
Cardiology Unit, S.S. Annunziata Hospital, Via Bruno Francesco 1, 74123 Taranto, Italy
3
Scientific Clinical Institutes Maugeri, I.R.C.C.S., Institute of Cassano delle Murge, Contrada Frà Diavolo 13, 70020Cassano delle Murge, Italy
4
Emergency Cardiology Unit, Policlinic University Hospital, Piazza Giulio Cesare 11, 70124 Bari, Italy
5
Clinic Pathology Unit, Policlinic University Hospital, Piazza Giulio Cesare 11, 70124 Bari, Italy
6
Cardiology Unit, Cardiothoracic Department, Policlinic University Hospital, Piazza Giulio Cesare 11, 70124 Bari, Italy
*
Author to whom correspondence should be addressed.
Received: 31 May 2017 / Revised: 6 July 2017 / Accepted: 14 July 2017 / Published: 15 July 2017
Abstract
Galectin-3 and ST2 are emerging biomarkers involved in myocardial fibrosis. We evaluate the relevance of a multiparametric biomarker approach based on increased serum levels of NT-proBNP, galectin-3, and ST2 in stratifying the prognosis of chronic heart failure (CHF) outpatients. In 315 CHF outpatients in stable clinical condition clinical and echocardiographic evaluations were performed. Routine chemistry and serum levels of NT-proBNP, galectin-3, and ST2 were also assessed. During a 12 month follow-up, cardiovascular death, and/or heart failure (HF) occurred in 64 patients. The presence of NT-proBNP, galectin-3, and ST2 were higher than the recommended cutoffs and were all associated with events at univariate Cox regression analysis, as well as in a multivariate analysis including the three biomarkers. When a score based on the number of biomarkers above the recommended cut-offs was used (in a range of 0–3), it was associated with events both with respect to the univariate (HR 2.96, 95% CI 2.21–3.95,
p <
0.001, C-index 0.78) and the multivariate (HR 1.52, 95% CI 1.06–2.17,
p:
0.023, C-index 0.87) analyses, after correction for the variables of a reference model. Our results suggest that an easy prognostic approach based on the combination of three biomarkers, although with partially-overlapping pathophysiological mechanisms, is able to identify patients with the highest risk of heart failure progression.
View Full-Text
►

▼

Figures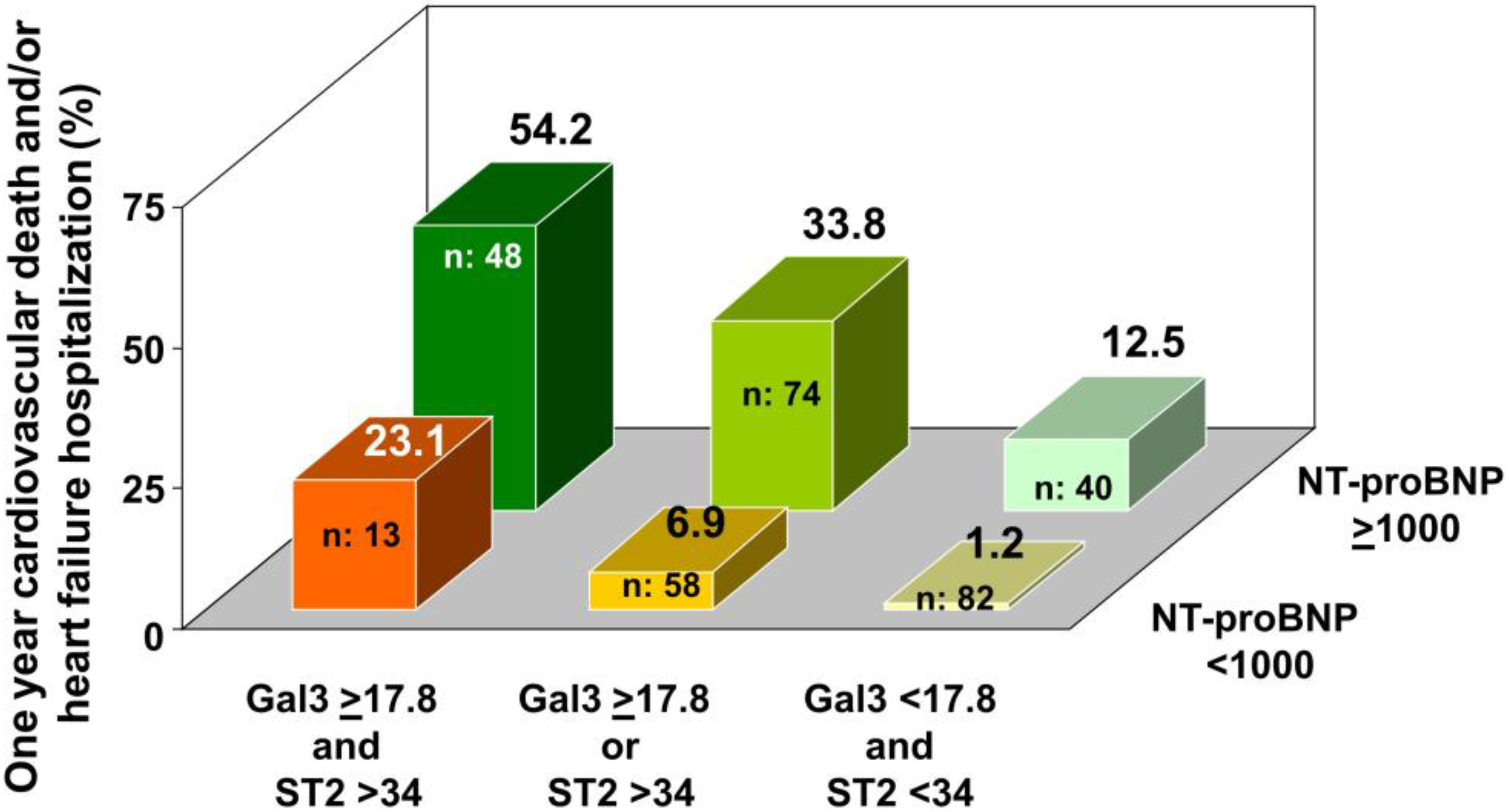 Figure 1
This is an open access article distributed under the
Creative Commons Attribution License
which permits unrestricted use, distribution, and reproduction in any medium, provided the original work is properly cited. (CC BY 4.0).
Share & Cite This Article
MDPI and ACS Style
Grande, D.; Leone, M.; Rizzo, C.; Terlizzese, P.; Parisi, G.; Gioia, M.I.; Leopizzi, T.; Segreto, A.; Guida, P.; Romito, R.; Ciccone, M.M.; Serio, F.D.; Iacoviello, M. A Multiparametric Approach Based on NT-proBNP, ST2, and Galectin3 for Stratifying One Year Prognosis of Chronic Heart Failure Outpatients. J. Cardiovasc. Dev. Dis. 2017, 4, 9.
Note that from the first issue of 2016, MDPI journals use article numbers instead of page numbers. See further details here.
Related Articles
Comments
[Return to top]