Myocardial Adiponectin Isoform Shift in Dogs with Congestive Heart Failure—A Comparison to Hibernating Brown Bears (Ursus arctos horribilis)
1
Department of Veterinary Clinical Sciences, Washington State University, Pullman, WA 99164, USA
2
Department of Clinical Sciences and Anatomy, Physiology and Biochemistry, Swedish University of Agricultural Sciences, Uppsala 750 07, Sweden
3
Faculty of Veterinary Medicine and Animal Science, Swedish University of Agricultural Sciences, Uppsala 750 07, Sweden
4
School of the Environment and School of Biological Sciences, Washington State University, Pullman, WA 99164, USA
*
Author to whom correspondence should be addressed.
Academic Editors: Sonja Fonfara and Lynne O'Sullivan
Received: 14 February 2017 / Revised: 10 July 2017 / Accepted: 14 July 2017 / Published: 20 July 2017
Abstract
Adiponectin is the most abundant plasma adipokine, and is well known for its role in energy homeostasis and cardiac protection. In humans with dilated cardiomyopathy, myocardial adiponectin protein expression is reduced compared to normal hearts and has been implicated in the pathology of cardiomyopathy. Serum adiponectin levels are often conflicting, with higher levels associated with poor survival in humans with congestive heart failure (CHF). We evaluated adiponectin serum concentrations and myocardial protein expression in dogs with naturally occurring myxomatous mitral valve disease and CHF. We compared the findings to active and hibernating brown bears as bears are adapted to endure an extreme period of low cardiac output during their annual hibernation. Bears exhibited largely the active high-molecular weight (HMW) versus the low-molecular weight isoforms of myocardial adiponectin (HMW:LMW = 6.3) during both the active period and hibernation, while healthy dogs exhibited a more balanced mix of isoforms. Dogs with CHF expressed predominately HMW isoforms of adiponectin (HMW:LMW = 12.5), appearing more similar to bears. In contrast to humans, serum adiponectin was significantly lower in dogs with CHF and lowest levels in the severest CHF class. In both dogs and bears, myocardial adiponectin was expressed independent of circulating adiponectin concentrations, suggesting a local regulatory mechanism within the heart.
View Full-Text
►

▼

Figures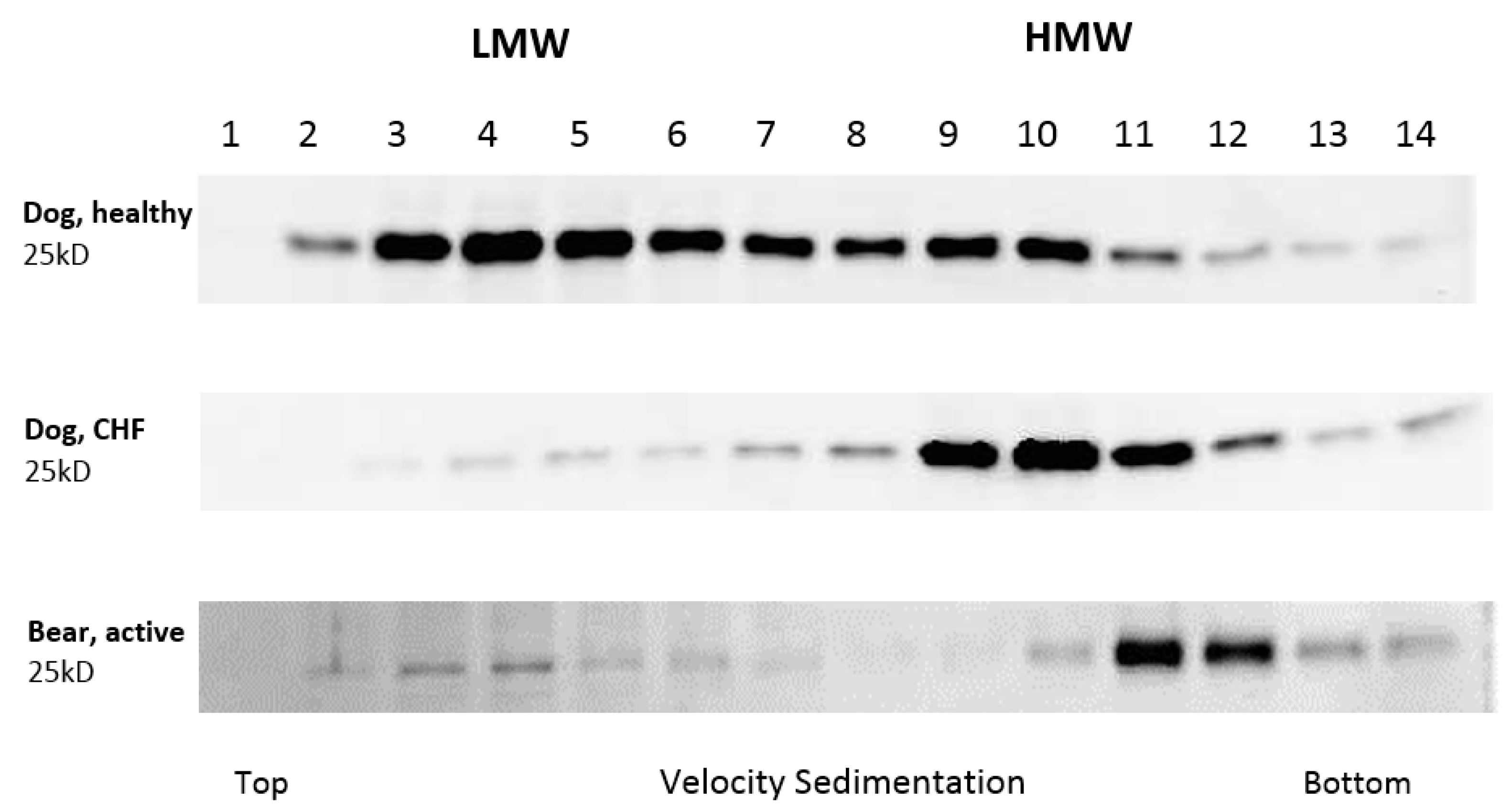 Figure 1
This is an open access article distributed under the
Creative Commons Attribution License
which permits unrestricted use, distribution, and reproduction in any medium, provided the original work is properly cited. (CC BY 4.0).
Share & Cite This Article
MDPI and ACS Style
Nelson, O.L.; Wood, R.M.; Häggström, J.; Kvart, C.; Robbins, C.T. Myocardial Adiponectin Isoform Shift in Dogs with Congestive Heart Failure—A Comparison to Hibernating Brown Bears (Ursus arctos horribilis). Vet. Sci. 2017, 4, 35.
Note that from the first issue of 2016, MDPI journals use article numbers instead of page numbers. See further details here.
Related Articles
Comments
[Return to top]