Comparison of the Digestibility of the Major Peanut Allergens in Thermally Processed Peanuts and in Pure Form
Southern Regional Research Center, Agricultural Research Service, U.S. Department of Agriculture, 1100 Robert E. Lee Blvd, New Orleans, LA 70124, USA
†
Current address: Marathon Petroleum, Texas City, TX 77590, USA
‡
Current address: Vital Source Technologies, Raleigh, NC 27601, USA
*
Author to whom correspondence should be addressed.
Received: 14 March 2014 / Revised: 8 April 2014 / Accepted: 25 April 2014 / Published: 7 May 2014
Abstract
It has been suggested that the boiling or frying of peanuts leads to less allergenic products than roasting. Here, we have compared the digestibility of the major peanut allergens in the context of peanuts subjected to boiling, frying or roasting and in purified form. The soluble peanut extracts and the purified allergens were digested with either trypsin or pepsin and analyzed by gel electrophoresis and western blot. T-cell proliferation was measured for the purified allergens. In most cases, boiled and raw peanut proteins were similarly digestible, but the Ara h 1 protein in the boiled extracts was more resistant to digestion. Most proteins from fried and roasted peanuts were more resistant to digestion than in raw and boiled samples, and more IgE binding fragments survived digestion. High-molecular-weight fragments of Ara h1 were resistant to digestion in fried and roasted samples. Ara h 1 and Ara h 2 purified from roasted peanuts were the most resistant to digestion, but differed in their ability to stimulate T-cells. The differences in digestibility and IgE binding properties of the major allergens in roasted, fried and boiled peanuts may not explain the difference between the prevalence of peanut allergy in different countries that consume peanut following these varied processing methods.
View Full-Text
►

▼

Figures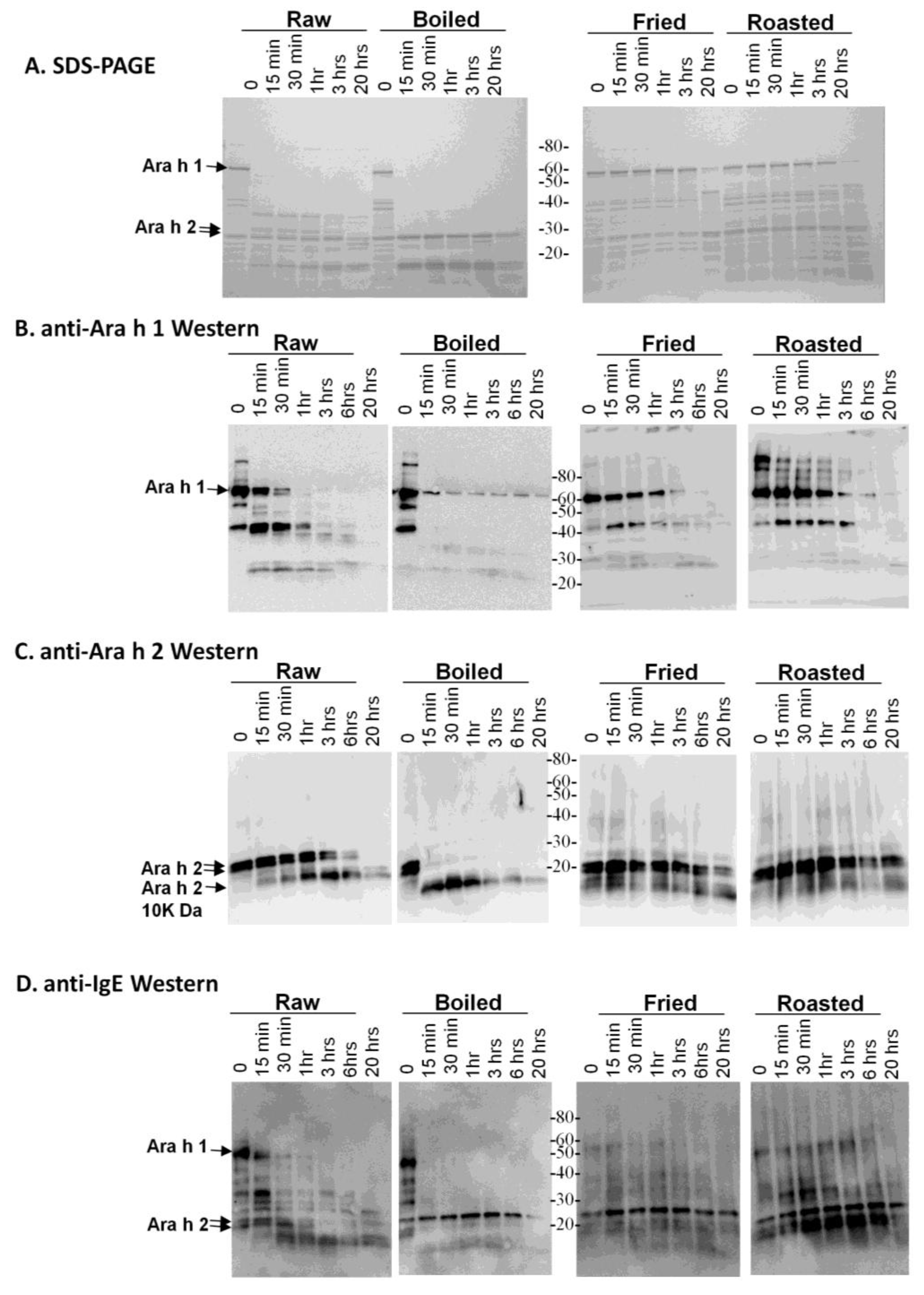 Figure 1
Share & Cite This Article
MDPI and ACS Style
Maleki, S.J.; Schmitt, D.A.; Galeano, M.; Hurlburt, B.K. Comparison of the Digestibility of the Major Peanut Allergens in Thermally Processed Peanuts and in Pure Form. Foods 2014, 3, 290-303.
Related Articles
Comments
[Return to top]