Flux Synthesis, Crystal Structures, and Magnetism of the Series La2n+2MnSen+2O2n+2 (n = 0–2)
Department Chemie, Ludwig-Maximilians-Universität München, Butenandtstr. 5-13 (D), 81377 München, Germany;
*
Author to whom correspondence should be addressed.
Received: 19 December 2016 / Accepted: 15 January 2017 / Published: 31 January 2017
Abstract
Three members of the homologous series of manganese oxyselenides with the general formula La2n+2MnSen+2O2n+2 (n = 0–2) have been synthesized in a NaI/KI flux and characterized by single-crystalX-raydiffraction,powderX-raydiffractionandmagneticmeasurements. Thestructures consist of chains of edge-sharing MnSe4O2-octahedra along the b-axis which are linked together along the a-axis by edge-sharing OLa4- and/or OLa3Mn-tetrahedra forming infinite ribbons of increasing width. mC-La2MnSe2O2 (Pb2HgCl2O2-type, C2/m, a = 11.6621(5) Å, b = 3.9719(1) Å, c = 7.2049(3) Å, β = 121.655(2)◦) represents a new polymorph of this compound. La4MnSe3O4 (P2/m, a = 9.0055(4) Å, b = 4.0186(1) Å, c = 7.1946(3) Å, β = 109.715(2)◦) and La6MnSe4O6 (C2/m, a = 24.760(2) Å,b = 4.0359(3)Å,c=7.1850(6)Å, β =104.162(3)◦)exhibitnewstructuretypes. Magnetic measurements suggest antiferromagnetic order of the moments below about 15 K with effective magnetic moments of 5.53(1), 5.99(1) and 6.01(1) µB per formula unit for n = 1, 2 and 3, respectively.
View Full-Text
►

▼

Figures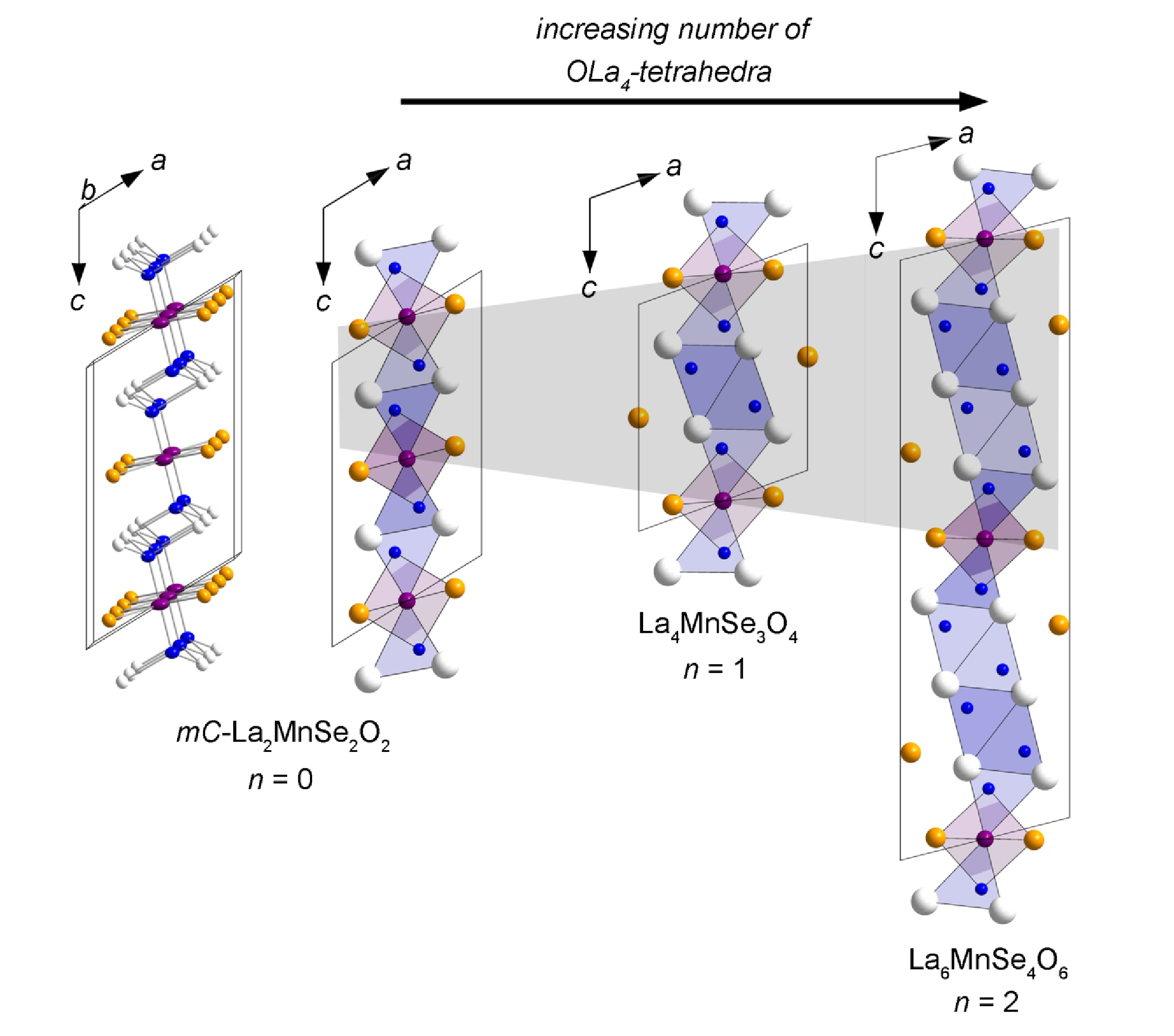 This is an open access article distributed under the
Creative Commons Attribution License
which permits unrestricted use, distribution, and reproduction in any medium, provided the original work is properly cited. (CC BY 4.0).
Share & Cite This Article
MDPI and ACS Style
Peschke, S.; Johrendt, D. Flux Synthesis, Crystal Structures, and Magnetism of the Series La2n+2MnSen+2O2n+2 (n = 0–2). Inorganics 2017, 5, 9.
Note that from the first issue of 2016, MDPI journals use article numbers instead of page numbers. See further details here.
Related Articles
Comments
[Return to top]