Effects of Alignment of Weak Interaction Sites in Molecular Shape Recognition High-Performance Liquid Chromatography
1
Department of Applied Chemistry and Biochemistry, Kumamoto University; 2-39-1 Kurokami, Chuo-ku, Kumamoto 860-8555, Japan
2
Kumamoto Institute for Photo-electro Organics (PHOENICS), Kumamoto 862-0901, Japan
3
Department of New Frontier Sciences, Kumamoto University, 2-39-1 Kurokami, Chuo-ku, Kumamoto 860-8555, Japan
*
Author to whom correspondence should be addressed.
Academic Editor: Frank L. Dorman
Received: 18 May 2016 / Revised: 28 June 2016 / Accepted: 9 July 2016 / Published: 24 August 2016
Abstract
This paper introduces organic phases with aligned carbonyl groups derived from
l
-aspartic acid,
l
-glutamic acid, and
l
-α-aminoadipic acid; their stationary phases are denoted as Sil-Asp-2C
n
, Sil-Glu-2C
n
, and Sil-Adi-2C
n
, respectively. The stationary phases were used in high-performance liquid chromatography to investigate the alignment effect of carbonyl groups, which act as π-interaction sites, on molecular shape selectivity. The selectivities of the synthesized organic phases were evaluated using polyaromatic hydrocarbons (PAHs), including geometric isomers (e.g.,
cis
- and
trans
-stilbenes). The PAH selectivities of the prepared stationary phases were higher than that of conventional octadecyl silica. Among the stationary phases prepared in this study, Sil-Glu-2C
n
(
n
= 18) showed the highest selectivity toward terphenyl isomers with different twist configurations and the lowest selectivity toward planar PAHs with different aspect ratios. The results show that the molecular shape selectivity of the phases was affected by the alignment of interaction sites. As a practical application of the octadecylated amino acid derivative-bonded stationary phases, we evaluated their selectivity for tocopherol isomers and achieved good separation. Furthermore, Sil-Asp-2C
n
(
n
= 1) showed hydrophilic interaction chromatography mode retention behavior for the separation of polar molecules like nucleosides.
View Full-Text
►

▼

Figures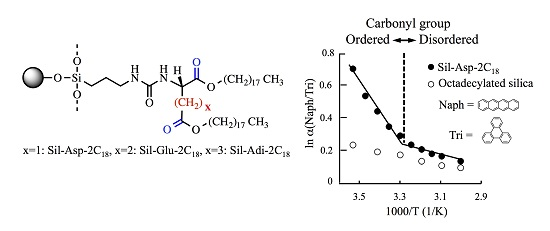 This is an open access article distributed under the
Creative Commons Attribution License
which permits unrestricted use, distribution, and reproduction in any medium, provided the original work is properly cited. (CC BY 4.0).
Share & Cite This Article
MDPI and ACS Style
Noguchi, H.; Liu, T.; Takafuji, M.; Ihara, H. Effects of Alignment of Weak Interaction Sites in Molecular Shape Recognition High-Performance Liquid Chromatography. Separations 2016, 3, 25.
Note that from the first issue of 2016, MDPI journals use article numbers instead of page numbers. See further details here.
Comments
[Return to top]