Enzyme-Linked Immunosorbent Spot Assay for the Detection of Wilms' Tumor 1-Specific T Cells Induced by Dendritic Cell Vaccination
1
Center for Advanced Cell Therapy, Shinshu University Hospital, Matsumoto 390-8621, Japan
2
Department of Health and Medical Sciences, Shinshu University Graduate School of Medicine, Matsumoto 390-8621, Japan
3
Shinshu Cancer Center, Shinshu University Hospital, Matsumoto 390-8621, Japan
4
Department of Laboratory Medicine, Shinshu University Hospital, Matsumoto 390-8621, Japan
†
These authors contributed equally to this work.
*
Author to whom correspondence should be addressed.
Academic Editor: Stanleyson Hato
Received: 7 October 2015 / Revised: 23 November 2015 / Accepted: 27 November 2015 / Published: 4 December 2015
Abstract
Background: Despite recent advances in cancer immunotherapy and the development of various assays for T cell assessment, a lack of universal standards within immune monitoring remains. The objective of this study was to evaluate the enzyme-linked immunosorbent spot (ELISpot) assay in comparison with major histocompatibility complex-tetramer analysis in the context of dendritic cell (DC)-based cancer immunotherapy. Methods: The ELISpot assay was performed on peripheral blood mononuclear cells to assess reproducibility, daily precision, and linearity using HLA-A*24:02-restricted Cytomegalovirus peptide. Wilms' tumor 1 (WT1) antigen-specific cytotoxic T cells were then evaluated by both the ELISpot assay and WT1 tetramer analysis in peripheral blood from 46 cancer patients who received DC vaccinations pulsed with human leukocyte antigen (HLA)-A*24:02-restricted modified WT1 peptides. Results: The ELISpot assay was proven to have reproducibility (coefficient of variation (CV) ranged from 7.4% to 16.3%), daily precision (CV ranged from 5.0% to 17.3%), and linearity (
r
= 0.96–0.98). WT1-specific immune responses were detected by the ELISpot assay in 34 out of 46 patients (73.9%) post-vaccination. A Spearman's rank-correlation coefficient of 0.82 between the ELISpot assay and WT1 tetramer analysis was obtained. Conclusion: This is the first report of a comparison of an ELISpot assay and tetramer analysis in the context of dendritic cell (DC)-based cancer immunotherapy. The ELISpot assay has reproducibility, linearity, and excellent correlation with the WT1 tetramer analysis. These findings suggest that the validated ELISpot assay is useful to monitor the acquired immunity by DC vaccination targeting WT1.
View Full-Text
►

▼

Figures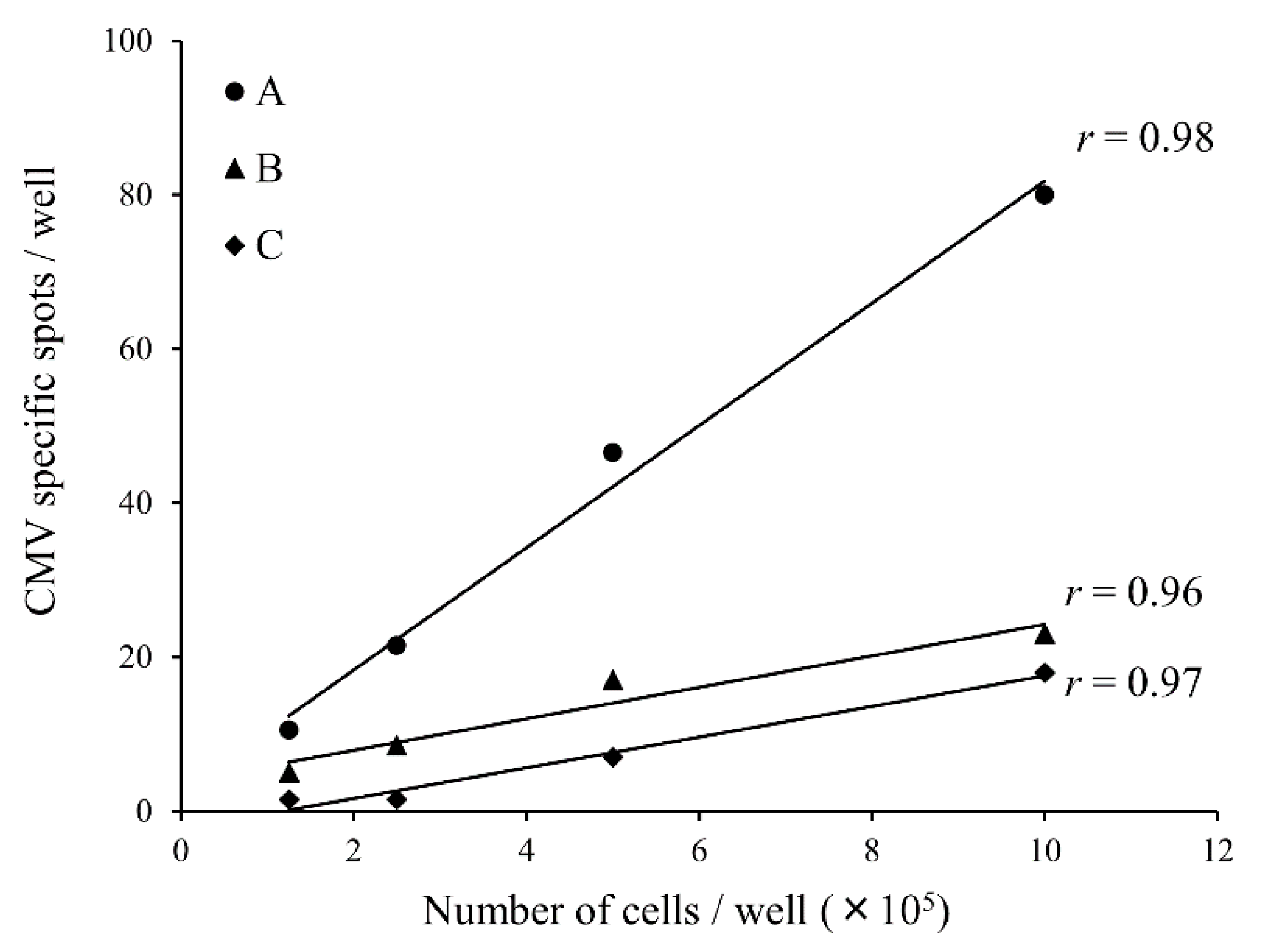 Figure 1
This is an open access article distributed under the
Creative Commons Attribution License
which permits unrestricted use, distribution, and reproduction in any medium, provided the original work is properly cited. (CC BY 4.0).
Share & Cite This Article
MDPI and ACS Style
Higuchi, Y.; Koya, T.; Yuzawa, M.; Yamaoka, N.; Mizuno, Y.; Yoshizawa, K.; Hirabayashi, K.; Kobayashi, T.; Sano, K.; Shimodaira, S. Enzyme-Linked Immunosorbent Spot Assay for the Detection of Wilms' Tumor 1-Specific T Cells Induced by Dendritic Cell Vaccination. Biomedicines 2015, 3, 304-315.
Related Articles
Comments
[Return to top]