Open Access This article is
freely available
re-usable
Review
Oncolytic Adenoviruses in Cancer Treatment
1
Catalan Institute of Oncology (ICO), Av. Gran Via s/n km 2,7, Hospitalet de Llobregat, Barcelona 08907, Spain; Tel.: +34-932607462; Fax: +34-932607466
2
Biomedical Research Institute of Bellvitge (IDIBELL), 3a planta - Gran Via de l'Hospitalet, 199, Hospitalet de Llobregat, Barcelona 08907, Spain
Received: 15 January 2014; in revised form: 13 February 2014 / Accepted: 14 February 2014 / Published: 21 February 2014
Abstract
:
The therapeutic use of viruses against cancer has been revived during the last two decades. Oncolytic viruses replicate and spread inside tumors, amplifying their cytotoxicity and simultaneously reversing the tumor immune suppression. Among different viruses, recombinant adenoviruses designed to replicate selectively in tumor cells have been clinically tested by intratumoral or systemic administration. Limited efficacy has been associated to poor tumor targeting, intratumoral spread, and virocentric immune responses. A deeper understanding of these three barriers will be required to design more effective oncolytic adenoviruses that, alone or combined with chemotherapy or immunotherapy, may become tools for oncologists.
Keywords:
oncolytic; adenovirus; virotherapy; cancer
1. Introduction
Despite advances in treatment, cancer still causes around 7.6 million deaths worldwide each year. Cancer therapy poses multiple challenges. Cancer cells have high mutation and chromosome rearrangement rates due to the loss of DNA repair pathways [
1
]. Some mutations become positively selected as they provide growing advantages to the cell (driving mutations) and other are just carried over without any functional role (passenger mutations). This gives tumor cells a high plasticity to modulate gene expression and signal transduction pathways, adapting to any type of cytotoxic stress within hours or days. Thus, the cytotoxicity produced by chemotherapy drugs that block metabolism (DNA synthesis and other pathways) or inhibit specific molecular targets is just transient, as it is the cytotoxicity caused by the immune system recognizing specific new epitopes generated early during the exposure to mutagens or late during the growth of cells with high mutation rates. This plasticity also causes a very high intratumoral heterogeneity in all aspects: different parts of the same tumor mass express different genes and contain different driving and passenger mutations, so the more knowledge is gathered the less clear and more complex is a molecular classification of tumors in separate entities that would allow a good pharmacogenomic result. Another important challenge is the presence of a dense stroma formed by connective tissue, blood vessels, and inflammatory cells [
2
]. Tumor cells become sparsely embedded in this stroma evading the action of drugs, antibodies or anti-tumor cells. Targeting the stroma with specific agents is not easy because stromal cells are normal, like activated fibroblasts present in multiple sites of the organism, and no tumor-specific stroma target has been found. Destroying the extracellular matrix (ECM) of the stroma (with collagenase, hyaluronidase, and other enzymes) may have unpredictable results as the same enzymes are used by cancer cells to spread and expand through the stroma and, depending on the area of a tumor mass, matrix deposition and matrix degradation are simultaneously ongoing.
Another challenge to keep in mind to develop antitumor drugs is that mutations that affect proteins are much more likely to inhibit the function of the protein than to exacerbate it. Destroying a protein that works, by a frameshift mutation for example, is much easier than creating an overactive protein. Therefore, the contribution of loss of functions of "tumor suppressor" genes is more common that the presence of "gain of function" oncogenic mutations. Drugs can be designed to block protein functions but not to re-establish the missing functions. The lack of a protein function is not directly "druggable", and using drugs that affect proteins regulated or functionally connected to that missing protein is just a partial solution to the problem. Providing the cancer cell with the normal version of the mutated protein would be ideal to correct such genetic defect, and hence cancer gene therapy was proposed. Adenovirus-based vectors looked like a good choice for such gene transfer, as they efficiently infect epithelial cells, origin of most solid tumors. However, only a minor proportion of tumor cells were gene-modified or transduced
in vivo
, even when injecting tumors directly with high amounts of vectors. Given such a poor
in vivo
transduction and the challenges mentioned, it is not surprising that virus spreading and cytotoxicity have been directed against cancer. Virotherapy of cancer is about 100 years old and it has progressed through different phases from the use of wild type viruses to the use of oncolytic viruses designed to target selectively tumor cells (for a historical review see [
3
]). This review focuses on virotherapy with oncolytic adenoviruses.
2. Adenoviruses (Ad) General Biology and Implications for Virotherapy
3. Obstacles Faced by Oncolytic Adenoviruses and Strategies to Circumvent Them: Tumor Targeting
Oncolytic adenoviruses are genetically modified to enter and/or replicate selectively in cancer cells. The generation of recombinant adenovirus has seen different stages. The first Ad recombinant was produced by ligating subgenomic plasmid sequences with purified viral DNA [
14
]. Later a method was developed based on homologous recombination following transfection of plasmids containing overlapping subgenomic fragments that together comprise the complete genome [
15
]. Fragments needed to be linear because the ITR of adenovirus only works as free ends (not embedded in plasmid sequences). This homologous recombination method was improved by Frank Graham after discovering that plasmids with head to head fused ITRs (obtained in rat cells) could be infectious since such fusion worked as terminal ITRs [
16
]. This allowed the use of two plasmids, the shuttle with the genetic modification and the genomic with the rest of the genome and the fused ITRs, with overlapping sequences to obtain the homologous recombination in transfected permissive cells. As the homologous recombination was a rare event in the eukaryotic cells (usually HEK293), the method was further improved by the use of homologous recombination in bacteria [
17
] followed by isolating the proper recombinant plasmid, releasing the virus genome from the plasmid (commonly using the
Pac
I enzyme), and transfecting the permissive eukaryotic cell line. Lately, the genetic engineering of the virus has been facilitated by recombineering technologies using the efficient lambda red recombinases or in yeast [
18
], where the overlapping homology for recombination can be as short as 30 bp, which can be easily added flanking the insert using PCR primers. Applying positive and negative selection, in two homologous recombination steps one can modify any sequence of the genome. The self-excising technology developed by Stanton and collaborators further simplifies the generation of recombinant viruses as the supercoiled recombinant plasmid becomes infectious, that is, the virus genome does not need to be released from the plasmid backbone before transfection [
19
]. With these tools, the adenovirotherapist can focus now on what to modify.
Genetic modifications of oncolytic Ad aim to solve the major obstacles found in virotherapy (
Figure 1
). The first one is the poor systemic tumor targeting. As mentioned, in blood Ad interacts with soluble factors and cellular receptors that are likely to inhibit the amount of free capsid available to reach tumors. The result is a fast clearance for blood with a half life of minutes [
20
]. Likely, in humans the level of neutralizing antibodies will have a major impact on this half live and should be carefully taken into account during clinical development. Extending this half life will have more impact on antitumor efficacy than just avoiding liver transduction, which is a parameter frequently studied but with an impact more on the toxicity side. Ablation of CAR and integrin binding did not affect liver transduction [
21
]. Ablation of FX binding certainly reduces liver transduction, but the effect on tumor targeting is not so clear [
22
] and it can induce a toxic proinflammatory response [
23
]. In mice, where erythrocytes do not express CAR, macrophages, and in particular liver Kupffer cells, are the main cells that remove virus from blood using scavenger receptor A. Ablation of SCR-A binding, as well as the binding to other scavenger receptors that also bind to Ad such as the Scavenger Receptor Expressed on Endothelial cells (SREC-I) [
24
], is an interesting next step. The negative residues of the hypervariable regions 1, 2, 5, and 7 of Ad5 of the hexon present in Ad5 have been identified as the residues that bind to scavenger receptors, and replacing them with the less charged hypervariable region of Ad6 avoids Kupffer uptake [
25
,
26
]. This replacement or the reduced macrophage and endothelial uptake obtained when blocking SCR-A or SREC-1 leads to higher virus availability that results in an increased hepatocyte uptake. It would be interesting to combine genetic mutations that ablate scavenger and FX-binding, as the combined inhibition of these factors using drugs has resulted in tumor targeting [
27
]. Given the complexity of the interactions of Ad capsid in blood, a more radical approach is to shield it with polymers or to use non viral methods to deliver the virus genome [
28
,
29
]. The use on cell carriers as trojan horses to deliver the virus to tumors has also been explored [
30
]. It is important to consider that if systemic tumor targeting is challenging in adenovirus-naïve patients, it is much more challenging in patients that have been previously injected with the virus and have developed neutralizing antibodies. In this setting, although polymer shielding, non-viral vector delivery of the virus or its genome, and cell carriers imply other challenges in terms of product development, these strategies may allow for repeated administration of the oncolytic virus. A virus capsid, even genetically modified with aminoacid deletions or insertion that lead to liver-detargeting, extended half life, and tumor targeting will induce neutralizing antibodies that will block adenovirus transduction even when the virus is intratumorally injected [
31
].
For efficient tumor targeting, the longer half life of Ad in blood obtained after eliminating all capsid residues known to bind to soluble factors or cellular receptors will need to be combined with the capsid display of a tumor-specific ligand. Among different proteins exposed at the surface of the capsid, the fiber has been identified as the best site to insert such a ligand [
32
]. However, the goal to genetically modify the fiber with high affinity ligands such as scFv, affibodies, or darpins has not shown clear
in vivo
tumor targeting improvements, despite good
in vitro
results [
33
]. Therefore, it is likely that only after improving the virus half life such strategies show their
in vivo
potential. In agreement, in our hands one of the few strategies that have shown to improve systemic tumor targeting
in vivo
is the replacement of the KKTK fiber shaft motif with an RGDK motif, a change that provides simultaneously liver detargeting and tumor targeting properties to the fiber [
34
]. Tumor targeting results obtained in mice with chimeric Ad5 viruses containing Ad3 or Ad35 fibers also point in this direction because the Ad3 fiber binds to human DSG2 but not to mouse DSG2, and in mice the Ad35 fiber receptor CD46 is expressed only in testis. Both chimeric fibers therefore provide a clear simultaneous detargeting of normal mouse tissues. However, the proper assessment of tumor targeting with these chimeras will require DSG2 or CD46 transgenic mice.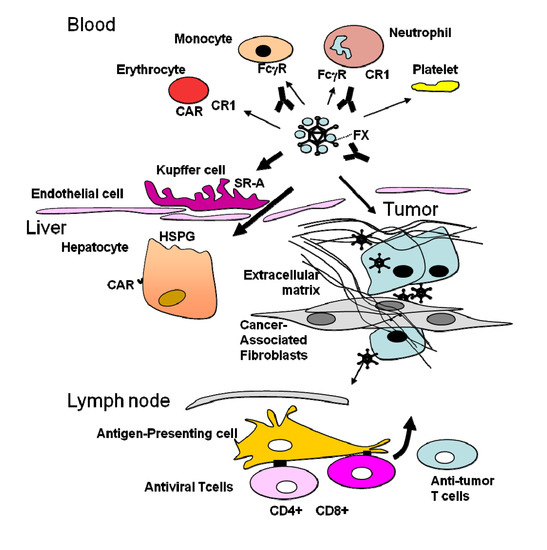 Figure 1. Obstacles to overcome in adenovirus-mediated virotherapy. In blood the Ad capsid binds to erythrocytes, platetes, monocytes, neutrophils, antibodies, complement, and clotting factors. In liver, the capsid binds to Kupffer cells and hepatocytes. In tumors, the diffusion of the virus is blocked by the stroma formed by an extracellular matrix and cells such as cancer-associated fibroblasts. An innate inflammatory response calls antigen presenting cells to the tumor site to capture and transport antigens to lymph nodes to elicit an adaptive responses dominated by the virus.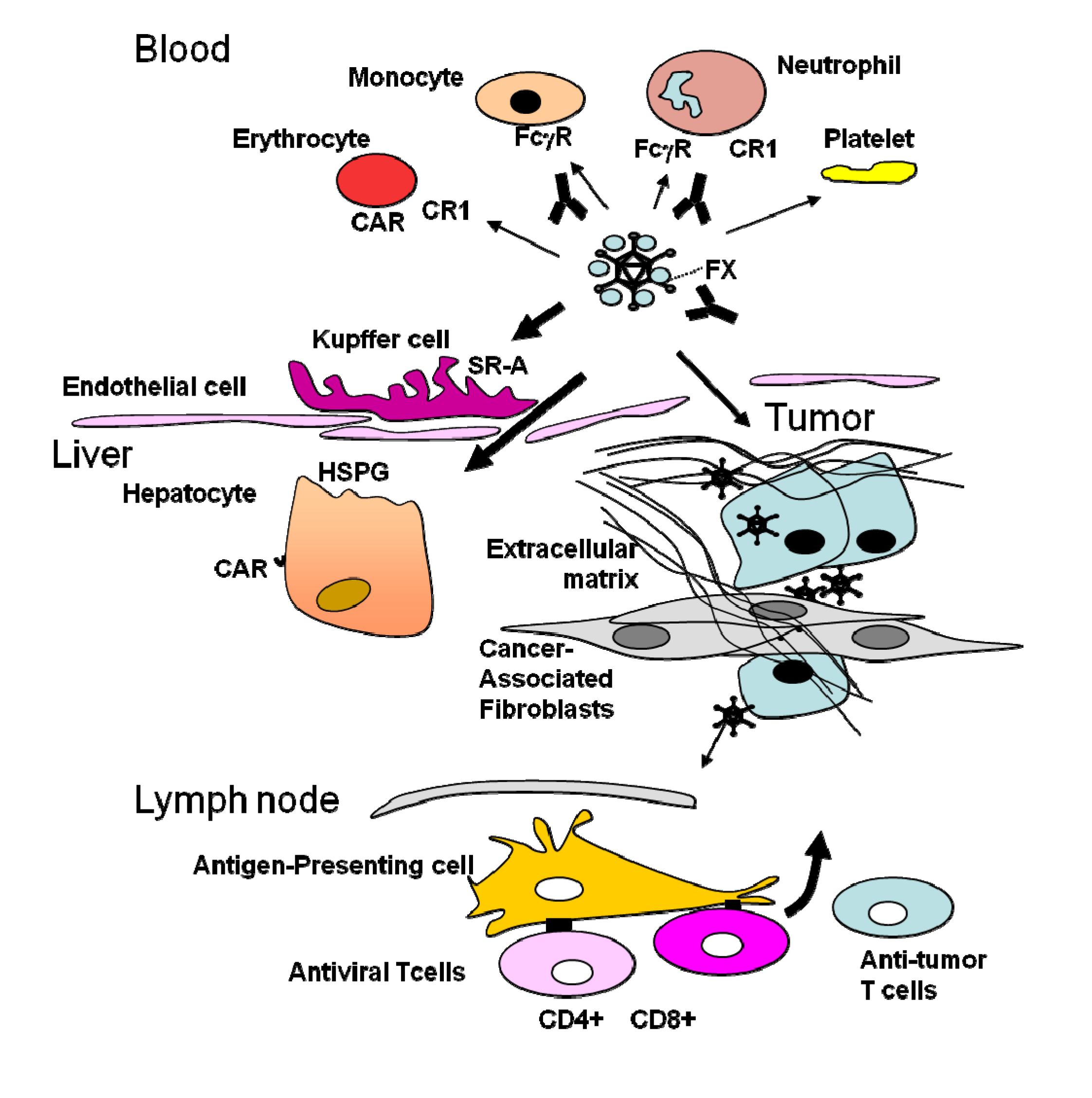 4. The Stromal Barrier to Intratumoral Spread
The extravasation of fibrinogen is considered the first step towards the formation of stroma. Fibrinogen is clotted to form crosslinked fibrin, which attracts fibroblasts and endothelial cells. Then locally synthesized proteins such as fibronectin and tenascin, and hyaluronan embed in this loose matrix. Progressively this loose matrix is transformed into a dense collagenous scar tissue characteristic of tumor desmoplasia. Simultaneously, tumor cells that move to the periphery of the original tumor site recapitulate at the tumor growing edge the same sequence of events, starting by the induction of fibrinogen extravasation. Therefore, desmoplastic tumors consist of older central portions of dense collagenous stroma and a peripheral zone richer in fibrin and hyaluronan. In contrast to collagen, hyaluronic acid localizes at the invasive front of growing tumors. Taking into account this differential localization, targeting collagen or hyaluronan may have very different outcomes on virotherapy.
5. The Dominant Immune Response against the Virus
6. Conclusions
In conclusion, despite decades of research, the oncolytic adenoviruses that so far have been tested in the clinic are very basic in design. To explore the potential of oncolytic Ad in virotherapy, viruses with enhanced bioavailability and persistence in blood, tumor targeting, stroma spreading, and limited immunodominance will have to be designed and tested. The combination of such virus with other immunotherapy approaches may further increase the possibilities of clinical success.
Acknowledgments
Thanks to the Virotherapy Group at the Catalan Institute of Oncology for their contribution to the author's results and to Cristina Balagué for revision of the manuscript. RA is supported by a BIO2011-30299-C02-01 grant from the "Ministerio de Educación y Ciencia" of the Government of Spain (RA) and a 2009SGR283 research grant from the "Generalitat de Catalunya" (RA).
Conflicts of Interest
The author declare no conflict of interest.
© 2014 by the authors. Licensee MDPI, Basel, Switzerland. This article is an open access article distributed under the terms and conditions of the Creative Commons Attribution license ( http://creativecommons.org/licenses/by/3.0/).