Open Access This article is
freely available
re-usable
Review
Enzymes as Tools in MIP-Sensors
1
Institute of Biochemistry and Biology, University of Potsdam, Karl-Liebknecht-Str. 24-25, 14476 Potsdam, Germany
2
Faculty of Science, Molecular Biotechnology, Turkish-German University, Sahinkaya Cad. 86, 34820 Beykoz, Istanbul, Turkey
3
Université de Technologie de Compiègne, Sorbonne Universités, CS60319, 60203 Compiègne, France
†
The authors contributed equally to this work.
*
Author to whom correspondence should be addressed.
Academic Editor: Peter Lieberzeit
Received: 24 December 2016 / Accepted: 20 March 2017 / Published: 26 March 2017
Abstract
:
Molecularly imprinted polymers (MIPs) have the potential to complement antibodies in bioanalysis, are more stable under harsh conditions, and are potentially cheaper to produce. However, the affinity and especially the selectivity of MIPs are in general lower than those of their biological pendants. Enzymes are useful tools for the preparation of MIPs for both low and high-molecular weight targets: As a green alternative to the well-established methods of chemical polymerization, enzyme-initiated polymerization has been introduced and the removal of protein templates by proteases has been successfully applied. Furthermore, MIPs have been coupled with enzymes in order to enhance the analytical performance of biomimetic sensors: Enzymes have been used in MIP-sensors as "tracers" for the generation and amplification of the measuring signal. In addition, enzymatic pretreatment of an analyte can extend the analyte spectrum and eliminate interferences.
Keywords:
enzymatic MIP synthesis; template digestion; enzyme tracer; enzymatic analyte conversion; molecularly imprinted polymers
1. Introduction
Biological receptors such as antibodies and enzymes are widely used in affinity technology, in applications where specific molecular recognition is required. These include biosensors, assays, bioseparation, but also applications in the biomedical field, such as medical treatment or drug delivery. However, these biomacromolecules have some drawbacks that limit their use in technology, in particular their limited stability and availability.
In order to substitute antibodies and enzymes by fully synthetic materials in the above-mentioned applications, the concept of molecularly imprinted polymers (MIPs) has been created: Monomers are polymerized in the presence of the target analyte or a derivative thereof, resulting in cross-linked polymer networks with cavities that mimic the active sites of biopolymers, e.g., antibodies, enzymes, or hormone receptors [
1
,
2
,
3
,
4
]. Molecularly imprinted polymers are more stable under harsh conditions such as high temperature, extreme pH, and organic solvents, and they are potentially cheaper to produce compared to their biological pendants. However, the affinity and especially the selectivity of MIPs are in general lower than those of their biological counterparts, with some honorable exceptions. This research area is therefore raising increasing interest; at present, more than 1200 papers on MIPs are published per year [
5
,
6
,
7
,
8
,
9
]. Some ten percent of MIP papers describe artificial receptors for proteins [
7
,
10
,
11
,
12
,
13
], including enzymes [
13
,
14
,
15
,
16
,
17
,
18
,
19
,
20
,
21
].
Molecularly imprinted polymers have been mostly developed for binding of targets, thus mimicking the function of antibodies. In addition to these "plastic antibodies", synthetic catalysts have been created which mimic the substrate conversion by enzymes. Stable analogs of the postulated transition state of the catalyzed reaction are used as the template of the MIP to mimic the active center of the enzyme [
22
,
23
,
24
]. Redox enzymes have been mimicked by integrating metal ions or metal complexes into the polymer matrix of MIPs [
25
,
26
,
27
,
28
,
29
]. Moreover, catalytic MIPs have been obtained for reactions for which no natural enzyme catalyst exists [
30
].
On the other hand, enzymes are useful tools for the preparation of surface-imprinted MIPs and for the optimization of signal transduction in MIP-sensors. Both aspects have not yet been comprehensively discussed in the literature. This article aims to demonstrate the potential of enzymes in the workflow of MIP preparation and for enhancing the analytical performance of MIP-sensors. The following approaches are presented:
Enzyme-initiated polymerization has been introduced as a green alternative to the well-established chemical polymerization and electrosynthesis.

Removal of protein templates has been achieved under mild conditions by proteases, especially proteinase K.
Furthermore, MIPs have been coupled with enzymes in order to enhance the analytical performance of biomimetic sensors:
Enzyme-labeled "tracers" have been used in analogy to competitive immunoassays in MIP sensors.

The measuring signal of MIP-sensors has been amplified by electro-enzymatic recycling of the redox marker ferricyanide using horseradish peroxidase (HRP).

The enzymatic pretreatment of the analyte allowed the interference-free electrochemical measurement or the conversion of a non-binding analyte into a target analog of the MIP.
2. Enzymes in the Workflow of the Preparation of Surface-Imprinted MIPs
2.1. Preparation of Surface Imprinted MIPs
MIPs for low-molecular weight targets are often prepared by classical bulk-imprinting techniques. However, for biomacromolecular targets such as proteins, this still remains challenging due to their large size, high surface complexity, and conformational flexibility. Better accessibility of large target molecules can be achieved by generating the binding sites directly at the surface [
31
]. Various so-called surface-imprinting techniques were developed in the past few years employing in particular (photo)chemical polymerization, electrochemical synthesis, self-polymerization of dopamine by ambient oxygen, as well as enzyme-initiated polymerization (see
Scheme 1
).
2.2. Template Removal by Enzymes
The essential prerequisite for template removal is not to alter the binding sites and integrity of the polymer structure. In fact, the choice of regeneration conditions is a trade-off between complete removal of the target and preservation of the integrity of the binding sites. Methods applied include the application of chaotropic agents, extraction by organic solvents, the use of highly acidic or basic solutions and/or surfactants such as sodium dodecylsulfate (SDS) or Tween 20, sometimes at elevated temperatures [
7
], and electroelution [
10
,
13
,
31
].
For protein targets, an alternative to harsh solvent extraction is proteolytic digestion, e.g., by proteinase K or trypsin (see
Scheme 1
). Proteinase K is a serine protease with broad cleaving specificity. The predominant site of cleavage is the peptide bond adjacent to the carboxyl group of aliphatic and aromatic amino acids with blocked alpha amino groups [
52
]. It is still active even in the presence of some common chemicals which denature proteins, such as SDS, urea, and ethylenediaminetetraacetic acid (EDTA) [
65
,
66
]. Therefore, proteinase K is commonly used for nucleic acid isolation and for general protein degradation in cell lysates [
65
].
Proteinase K and trypsin have been used for template removal in protein imprinting. The process can be performed under mild conditions, which is favorable for retaining the polymer structure. Since after digestion protein fragments still remain in the binding sites of the MIP, intensive washing is required. Hawkins et al. achieved efficient removal of hemoglobin from a polyacrylamide-based MIP [
67
]. Proteinase K has been successfully used to remove myoglobin (16.7 kDa) from a polyaminophenol-layer [
45
], canceroembryonal antigen (CEA) from a polypyrrole based MIP [
68
], trypsin from methacryloylaminobenzamidine based microgels [
13
], as well as concanavalin A (ConA) (102 kDa) from a polyscopoletin-matrix [
69
]. In the latter case, proteinase K was used in combination with Tween 20.
3. Enzymes for the Enhancement of the Analytical Performance of MIP Sensors
3.1. Signal Amplification in Electrochemical MIP Sensors
In addition to the utilization in the synthesis of MIPs, electrochemical methods are also used for measuring the binding of both low and high molecular weight targets. Amperometry, differential pulse voltammetry (DPV), and impedance spectroscopy are more sensitive and simple compared to quartz crystal microbalance (QCM) or surface plasmon resonance (SPR). Electrochemical pulse methods offer the possibility to eliminate signals of easily oxidizable substances such as ascorbic acid and catecholamines by selecting the potential window, however at the expense of increased measuring times. Two major principles have been applied:
(i)

Electroactive targets, such as morphine, paracetamol, tamoxifen, and diclofenac can permeate through the cavities of the MIP to the electrode and an electrochemical signal can be generated by the conversion of the target using different electrochemical methods. This principle has been frequently used for drugs which contain phenolic structures but also for a few proteins which show direct electron transfer, e.g., cytochrome

c

, hemoglobin, and hexameric tyrosine-coordinated heme protein (HTHP) [

21

,

70

,

71

].

(ii)

Binding of the target modulates the diffusive permeation of redox markers in a concentration-dependent manner. This effect has been frequently applied to characterize each step of MIP preparation for electro-inactive targets, such as melamine, methyl parathion, phenobarbital, caffeine, 17β-estradiol, acetylsalicylic acid, and warfarin [

72

,

73

,

74

,

75

,

76

]. In addition, this method is frequently applied to quantify the binding of the target analyte. However, it supplies an indirect signal which integrates all changes of the MIP-layer. Using this approach, several papers claim measuring ranges over more than four decades of target concentration and lower limits of detection (LOD) in the sub-nanomolar range for both low- [

77

,

78

] and high-molecular weight targets [

79

,

80

,

81

]. Rebinding of the target in the pores of the MIP could be strong for small molecules. On the other hand, the film thickness for surface imprinted layers is lower than the dimension of macromolecular targets. Thus, affinity constants for non-covalent MIPs could hardly reach the sub-nanomolar region. From the practical point of view, it seems questionable to evaluate the tiny current decreases per concentration decade of the cyclic and differential pulse voltammograms.
Enzymes offer further possibilities to enhance the analytical performance and sensitivity of electrochemical MIP sensors as they can be used for signal amplification (see
Scheme 3
). Electro-enzymatic recycling of the redox marker was successfully applied by Lian et al. for signal amplification in the readout of the target binding of MIPs for the antibiotic kanamycin [
82
]. In the first system, the ferrocyanide which is formed at the MIP-covered electrode is enzymatically reoxidized by peroxide in the presence of HRP (see
Scheme 4
). The catalytic action of HRP leads to an increase of the reduction peak in the cyclic voltammogram and the concomitant decrease of the anodic peak. The enzymatic recycling by HRP results in an eight times larger signal for the same MIP system upon addition of peroxide. The authors claim that this signal amplification leads to a shift of the lower limit of detection by two orders of magnitude from 3.9 µM to 28 nM. The second system used the same polypyrrole-based MIP for kanamycin, but used 1,1′-ferrocenedicarboxylic acid as the redox marker and glucose oxidase (GOx). In the presence of glucose—the co-substrate of GOx—the LOD was shifted down to 23 nM, a value comparable with the HRP system. This highly effective principle may be extended for other analytes and the application of alternative electro-enzymatic recycling systems.
3.2. Enzyme-Labels in MIP-Based Affinity Sensors
3.3. Combinations of MIPs with the Enzymatic Conversion of the Analyte
A family of electrochemical MIP sensors for the non-steroidal antiestrogen tamoxifen (TAM) and the analgesic drugs paracetamol and aminopyrine was prepared by electropolymerization. For these three electroactive targets, the signal was generated by a redox marker and by the direct anodic oxidation of the target at the MIP-covered electrode. For improving the selectivity and to prevent fouling of the electrode surface, the target analyte was enzymatically converted before the interaction with the MIP-covered electrode.
4. Conclusions
Up to now the field of MIP-sensors—both for low and high molecular weight analytes—has been dominated by electrochemical transducers which indicate mostly a redox marker or an electroactive analyte. Electrochemical methods have been successfully applied in MIP-sensors for drugs or environmental analysis. On the other hand, QCM and SPR are appropriate means for the indication of macromolecules. The application of enzymes in combination with MIP-sensors has the potential to "upgrade" their analytical performance. Up to now, the degree of applying enzymes in the preparation of MIPs and in signal generation for analyte recognition is at different levels of development.
Enzyme-initiated polymerization is still at the initial stage of development. Whether it will compete with the established methods such as electropolymerization, chemical nanoparticle synthesis, and self-polymerization still remains to be seen. The need of immobilizing the enzyme is an additional working step.
The application of enzymes in the removal of the template is presently restricted to proteinase K for removing proteins. For oligomeric proteins, splitting into subunits by chaotropic reagents seems more straightforward. On the other hand, the application of nucleases for nucleic acids, lipases for lipids, and glycosidases for carbohydrates may come in the near future.
Enzyme labels are the key in highly sensitive luminescence-based MIP-binding assays and in electro-enzymatic recycling for signal amplification.
The enzymatic pretreatment of a target analyte can generate a product which is indicated at a lower electrode potential or a "non-target" substance that can be converted into a target analog. Integrated MIP/enzyme architectures allow for the elimination of interferences in the detection of drugs.
Acknowledgments
The authors gratefully acknowledge financial support from Deutsche Forschungsgemeinschaft (DFG) within the framework of the German Excellence Initiative Unicat (EXC 314), ERA-Chemistry (2014, 61133), and Turkish-German University Scientific Research Projects Commission under the Grant No. 2016BF0011 for financial support. KH and AFC acknowledge the European Union FP7 Marie Curie programme (CHEBANA, PITN-GA-2010-264772) and the Regional Council of Picardy (BIOMIP project) for funding.
Conflicts of Interest
The authors declare no conflict of interest.

Scheme 2.
(
A
) Schematic representation of the synthesis of molecularly imprinted polymer nanoparticles by immobilized HRP-initiated free-radical polymerization. The monomers used here are 4-vinylpyridine (4-VP) and 1,4-bis(acryloyl)piperazine (PDA). H
2
O
2
is the substrate of HRP, and acetylacetone is a mediator. The imprinting template is 2,4-D; (
B
) Simplified catalytic cycle of horseradish peroxidase (HRP) and the commonly accepted formation of radicals. Reproduced from Ref. [
10
], with permission. Copyright from John Wiley and Sons (2017).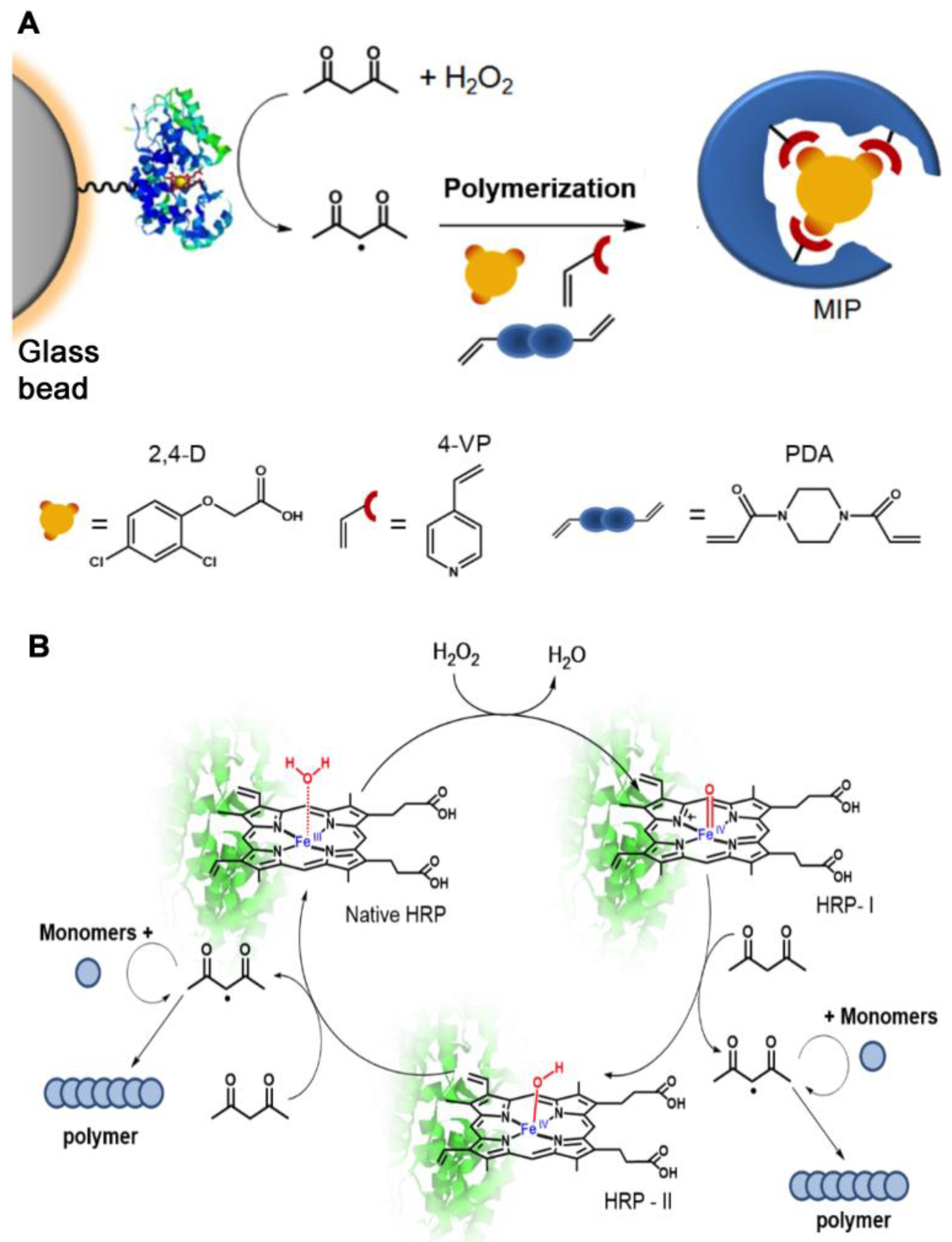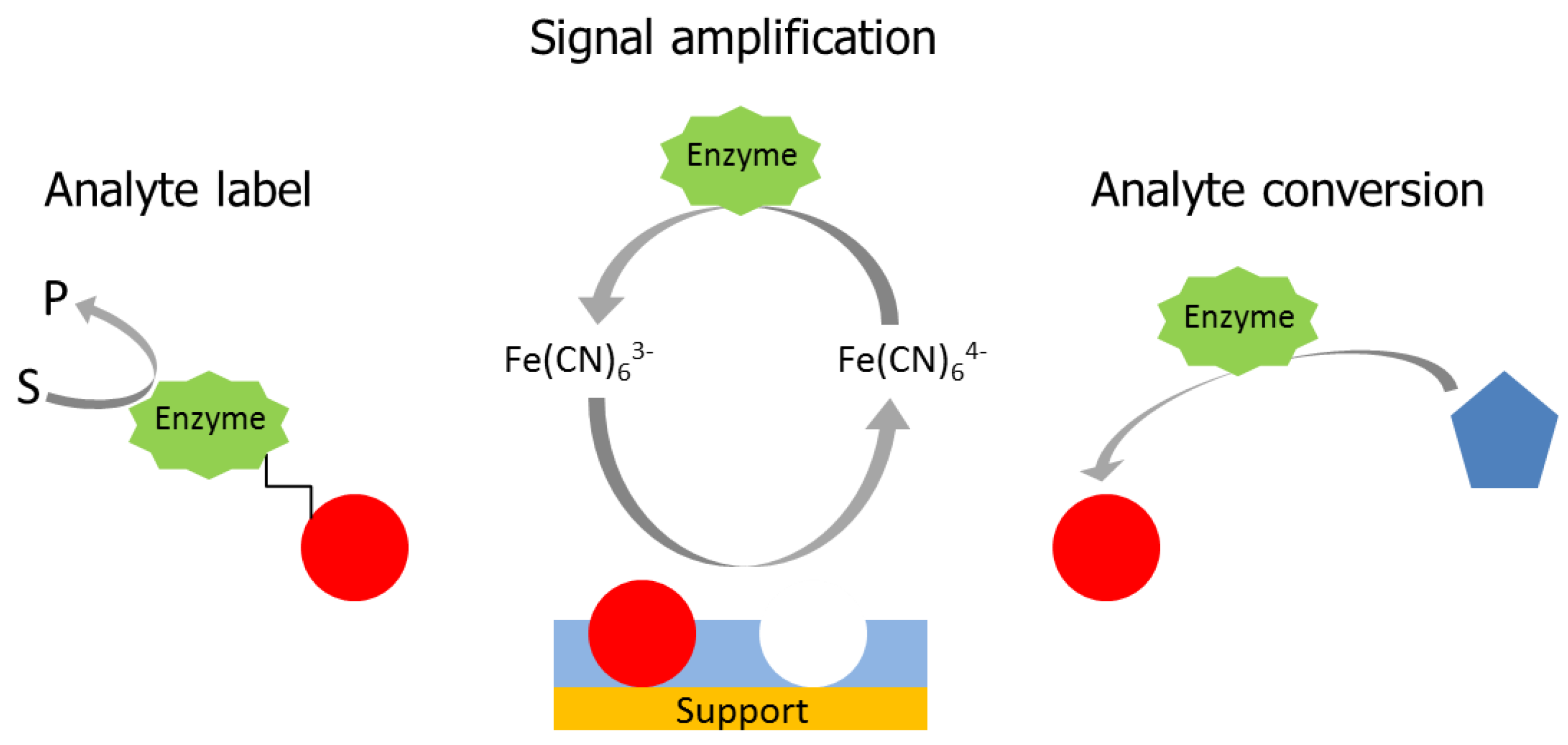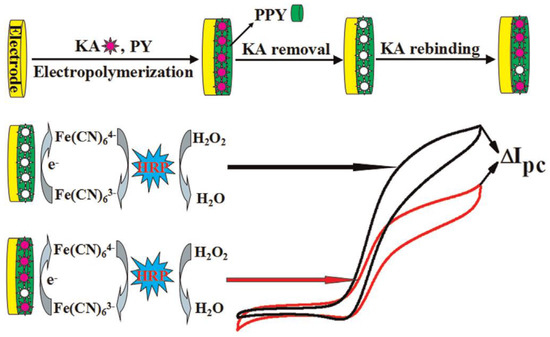 Scheme 4.
Preparation scheme of a polypyrrole-based (PPY) MIP for kanamycin (KA) with electrochemical readout using signal amplification by electro-enzymatic recycling of the redox marker ferricyanide. Reproduced from Ref. [
82
], with permission. Copyright from Elsevier (2017).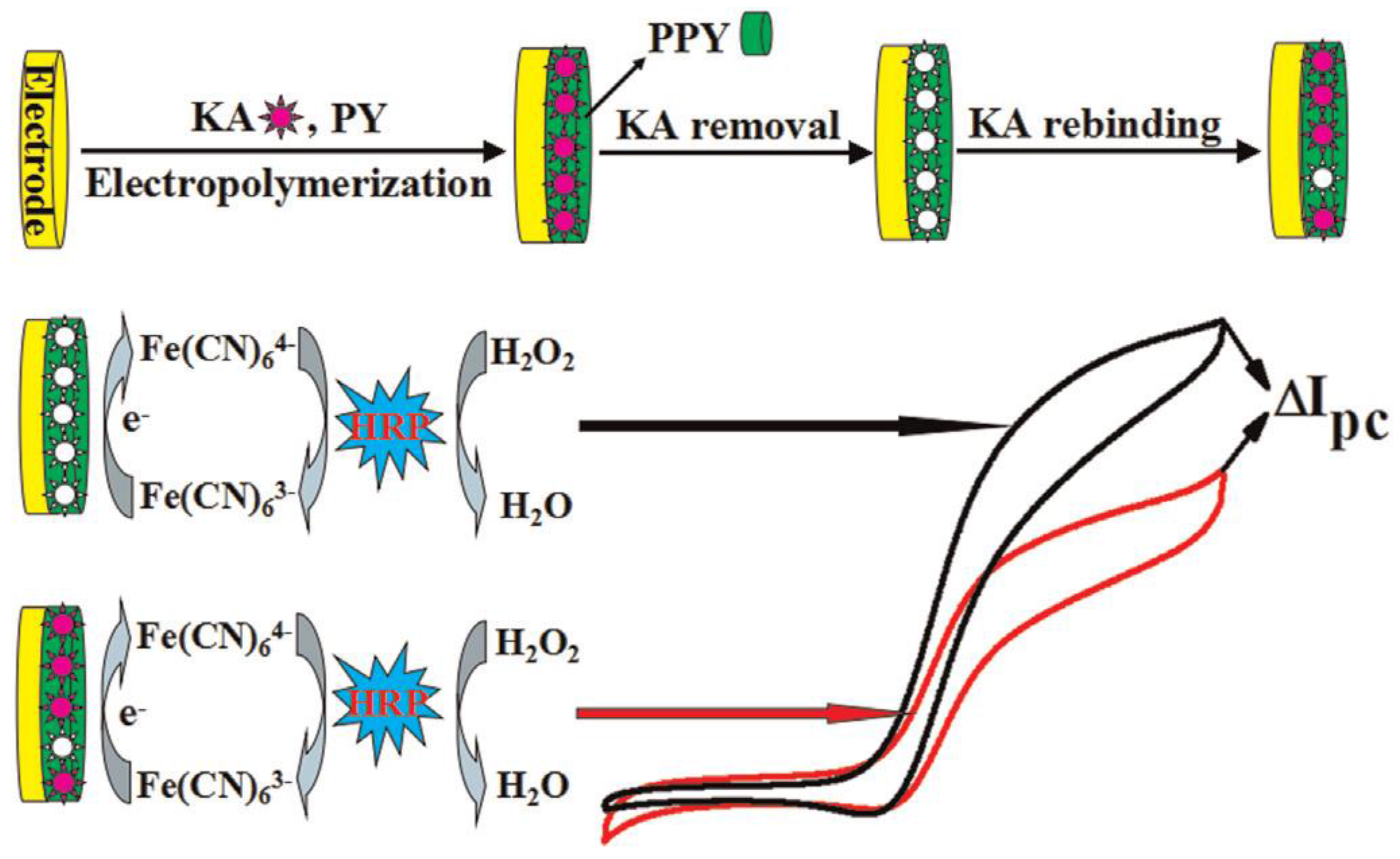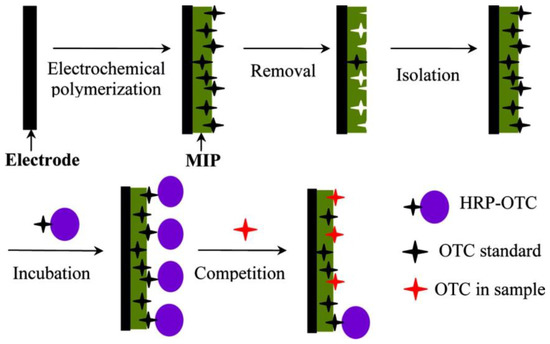 Scheme 5.
Schematic representation of MIP sensor preparation for oxytetracycline (OTC) and the detection principle based on amplification by the horseradish peroxidase-labeled analyte (HRP-OTC). Reproduced from Ref. [
92
], with permission. Copyright from American Chemical Society (2017).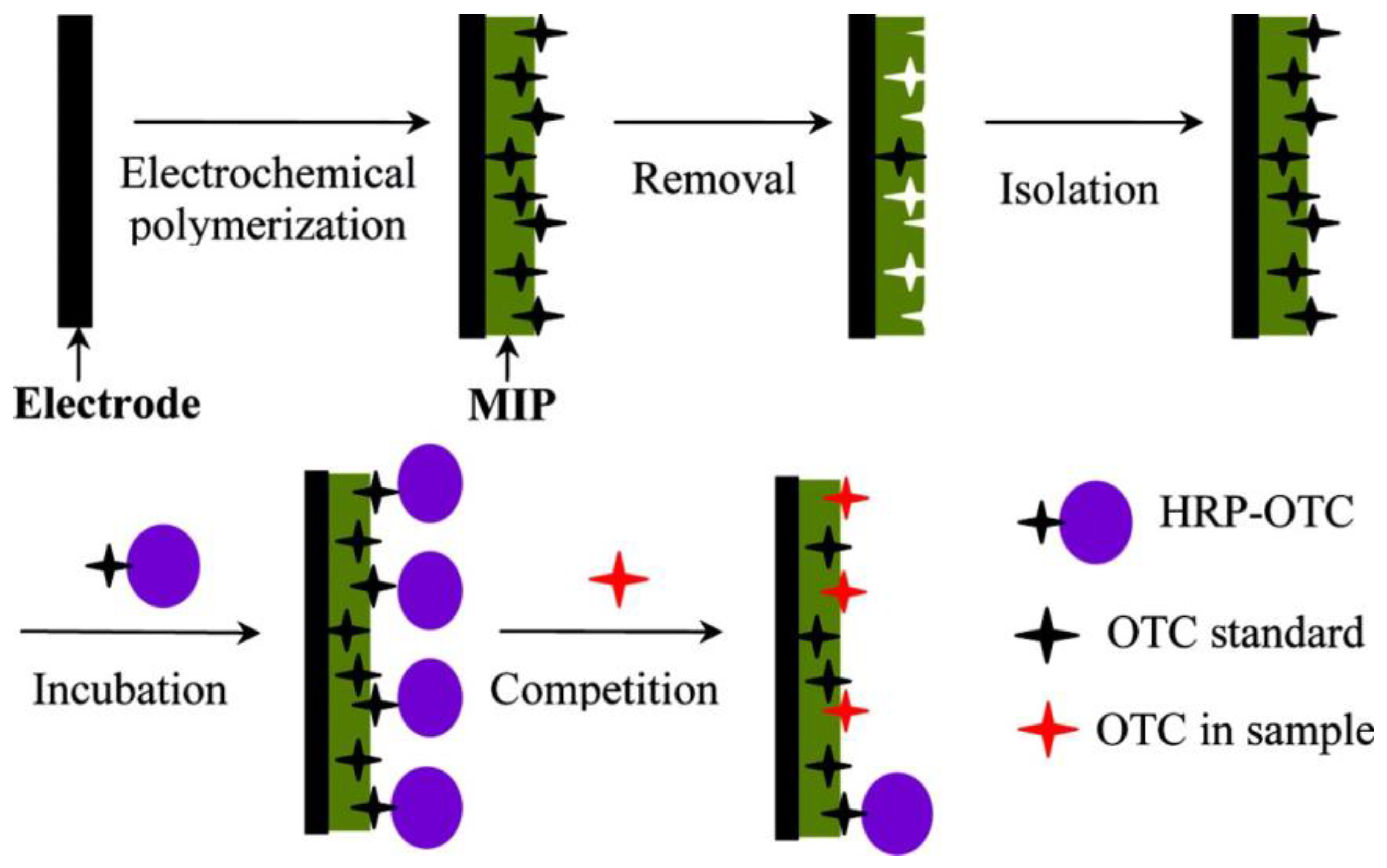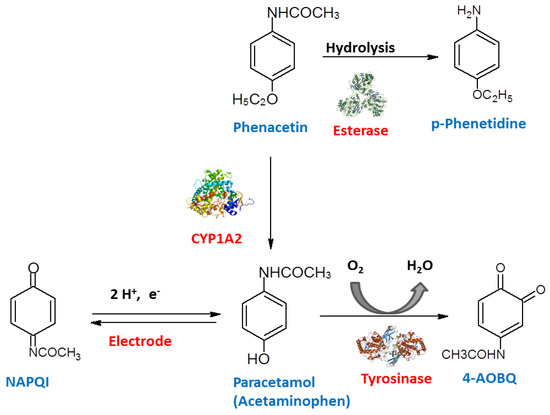 Scheme 6.
Enzymatic and electrochemical conversions of paracetamol. Reproduced from Ref. [
108
], with permission. Copyright from John Wiley and Sons (2016).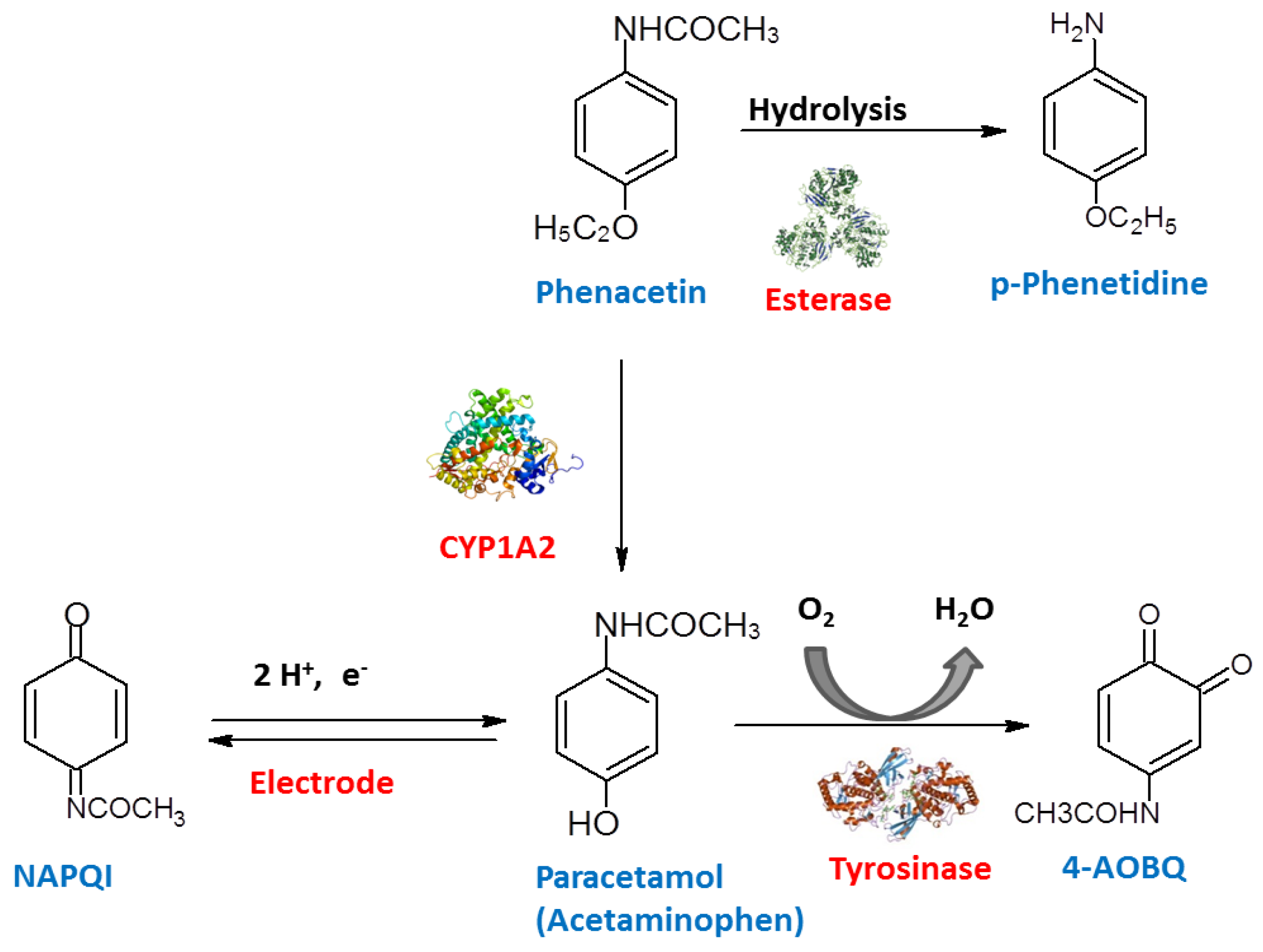 © 2017 by the authors. Licensee MDPI, Basel, Switzerland. This article is an open access article distributed under the terms and conditions of the Creative Commons Attribution (CC BY) license ( http://creativecommons.org/licenses/by/4.0/).