Concurrent Label-Free Mass Spectrometric Analysis of Dystrophin Isoform Dp427 and the Myofibrosis Marker Collagen in Crude Extracts from mdx-4cv Skeletal Muscles
1
Department of Biology, Maynooth University, National University of Ireland, Maynooth Co. Kildare, Ireland
2
Department of Physiology II, University of Bonn, Bonn D-53115, Germany
3
National Institute for Cellular Biotechnology, Dublin City University, Dublin 9, Ireland
*
Author to whom correspondence should be addressed.
Academic Editor: Jatin G Burniston
Received: 30 June 2015 / Revised: 18 August 2015 / Accepted: 3 September 2015 / Published: 16 September 2015
Abstract
The full-length dystrophin protein isoform of 427 kDa (Dp427), the absence of which represents the principal abnormality in X-linked muscular dystrophy, is difficult to identify and characterize by routine proteomic screening approaches of crude tissue extracts. This is probably related to its large molecular size, its close association with the sarcolemmal membrane, and its existence within a heterogeneous glycoprotein complex. Here, we used a careful extraction procedure to isolate the total protein repertoire from normal
versus
dystrophic
mdx-4cv
skeletal muscles, in conjunction with label-free mass spectrometry, and successfully identified Dp427 by proteomic means. In contrast to a considerable number of previous comparative studies of the total skeletal muscle proteome, using whole tissue proteomics we show here for the first time that the reduced expression of this membrane cytoskeletal protein is the most significant alteration in dystrophinopathy. This agrees with the pathobiochemical concept that the almost complete absence of dystrophin is the main defect in Duchenne muscular dystrophy and that the
mdx-4cv
mouse model of dystrophinopathy exhibits only very few revertant fibers. Significant increases in collagens and associated fibrotic marker proteins, such as fibronectin, biglycan, asporin, decorin, prolargin, mimecan, and lumican were identified in dystrophin-deficient muscles. The up-regulation of collagen in
mdx-4cv
muscles was confirmed by immunofluorescence microscopy and immunoblotting. Thus, this is the first mass spectrometric study of crude tissue extracts that puts the proteomic identification of dystrophin in its proper pathophysiological context.
View Full-Text
►

▼

Figures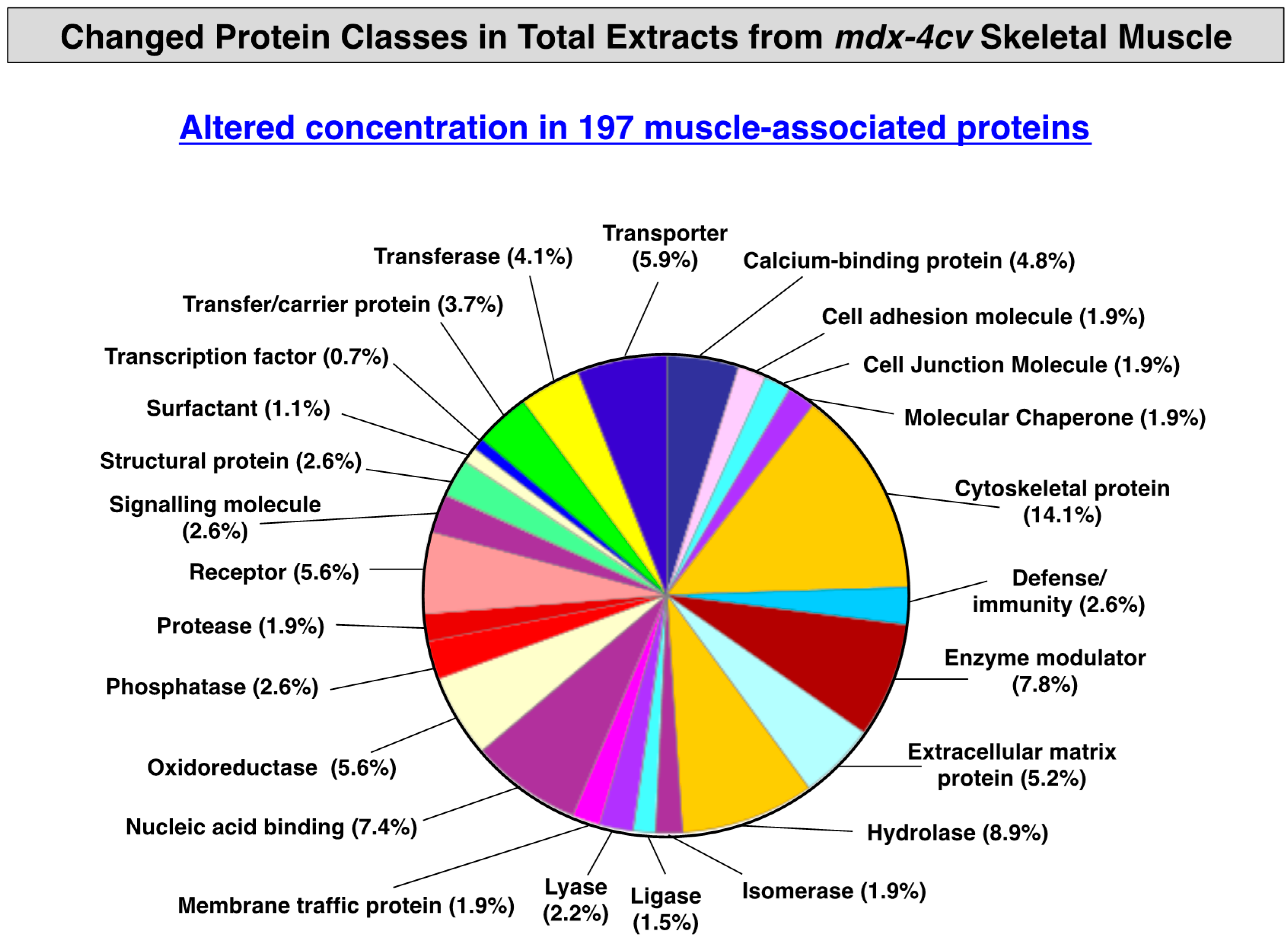 Figure 1
This is an open access article distributed under the
Creative Commons Attribution License
which permits unrestricted use, distribution, and reproduction in any medium, provided the original work is properly cited. (CC BY 4.0).
Share & Cite This Article
MDPI and ACS Style
Murphy, S.; Zweyer, M.; Mundegar, R.R.; Henry, M.; Meleady, P.; Swandulla, D.; Ohlendieck, K. Concurrent Label-Free Mass Spectrometric Analysis of Dystrophin Isoform Dp427 and the Myofibrosis Marker Collagen in Crude Extracts from mdx-4cv Skeletal Muscles. Proteomes 2015, 3, 298-327.
Related Articles
Comments
[Return to top]