Preserving Traditional Botanical Knowledge: The Importance of Phytogeographic and Ethnobotanical Inventory of Peruvian Dye Plants
1
Faculty of Biological Sciences, National University of Trujillo, Jr. San Martin 392, Trujillo 13007, Peru
2
Graduate School of Life and Environmental Sciences, University of Tsukuba, 1-1-1 Tennodai, Tsukuba, Ibaraki 305-8587, Japan
*
Author to whom correspondence should be addressed.
Received: 1 November 2017 / Revised: 12 December 2017 / Accepted: 12 December 2017 / Published: 18 December 2017
Abstract
Peru is a megadiverse country with native species of all kinds, including dye plants, which have been used for hundreds of years by the local population. Despite the fact that many of these natural dyes are of a superior quality compared to synthetic ones and do not have the harmful effects that the latter may cause to human health, due to the lack of documentation and dissemination, ethnobotanical knowledge is unfortunately being lost with the passing of generations. In order to preserve and spread such valuable knowledge, this study conducted a comprehensive taxonomic, phytogeographic, and ethnobotanical inventory of dye plants based on periodical botanical explorations in selected locations of Northern Peru during the span of two decades. A critical review of the specialized bibliography was then carried out and the findings were verified with the personal knowledge and experience of both the researchers and the local and regional people. The results of the inventory record 32 species of dye plants from Northern Peru distributed in 22 families, of which the following stand out due to the number of species: Fabaceae (5), Anacardiaceae (2), Annonaceae (2), Asteraceae (2), Berberidaceae (2), Rosaceae (2), and Solanaceae (2). Of the 32 dye species identified, four are considered endemic from Peru:
Berberis buceronis
J.F. Macbr.,
Caesalpinia paipai
Ruiz & Pav.,
Coreopsis senaria
S.F. Blake & Sherf., and
Lomatia hirsuta
(Lam.) Diels. The study also found that species such as
Bixa orellana
L.,
Indigofera suffruticosa
Mill.,
Sambucus peruviana
, and the lichen
Usnea baileyi
(Stirton) Zahlbr have not been commercially exploited in Peru despite the fact that they already constitute a great economic source for several countries.
View Full-Text
►

▼

Figures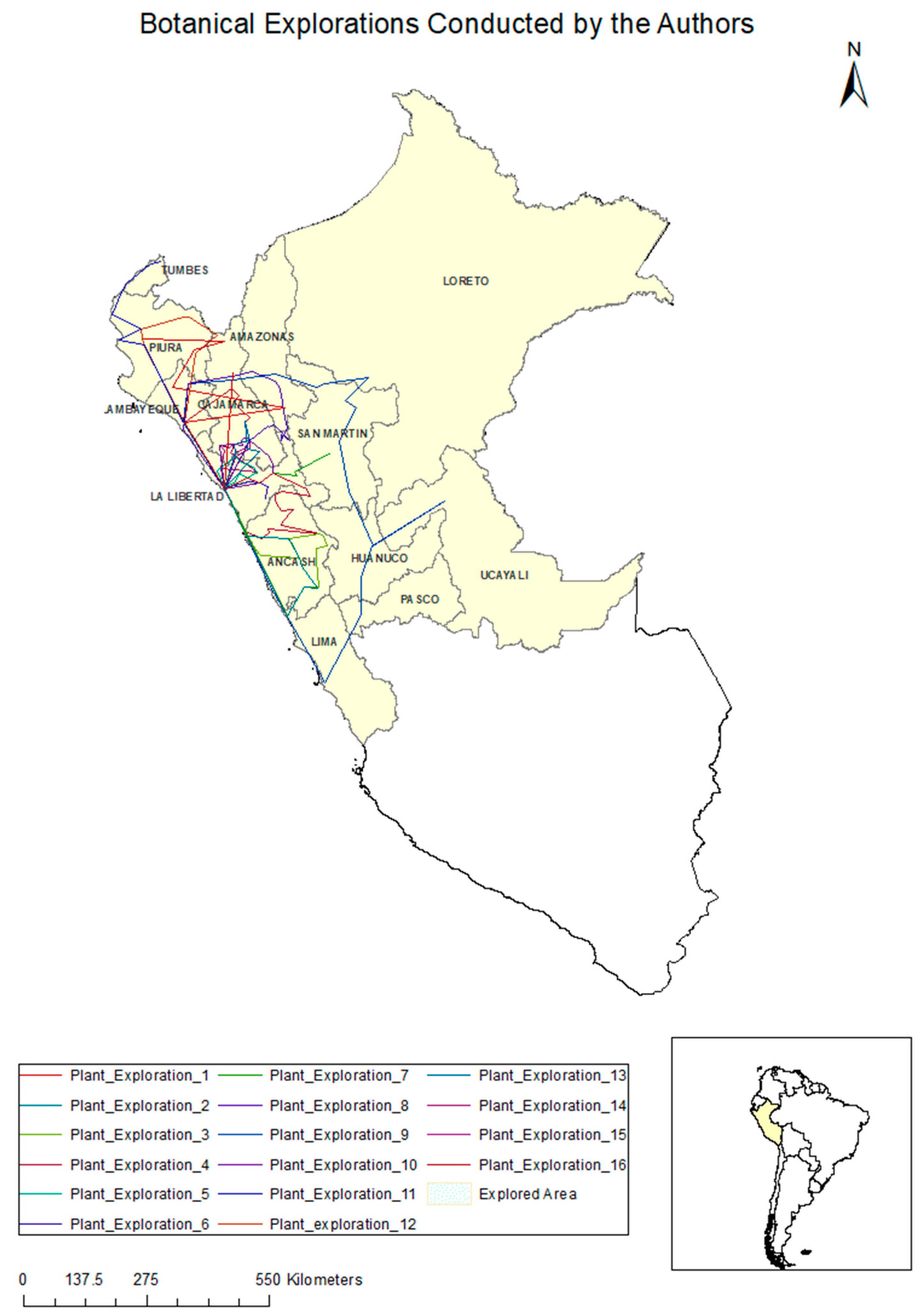 Figure 1
This is an open access article distributed under the
Creative Commons Attribution License
which permits unrestricted use, distribution, and reproduction in any medium, provided the original work is properly cited. (CC BY 4.0).
Share & Cite This Article
MDPI and ACS Style
Mostacero León, J.; López Medina, S.E.; Yabar, H.; De La Cruz Castillo, J. Preserving Traditional Botanical Knowledge: The Importance of Phytogeographic and Ethnobotanical Inventory of Peruvian Dye Plants. Plants 2017, 6, 63.
Note that from the first issue of 2016, MDPI journals use article numbers instead of page numbers. See further details here.
Related Articles
Comments
[Return to top]