Rice Phytochrome B (OsPhyB) Negatively Regulates Dark- and Starvation-Induced Leaf Senescence
Department of Plant Science, Plant Genomics and Breeding Institute, Research Institute of Agriculture and Life Sciences, Seoul National University, Seoul 151-921, Korea
*
Authors to whom correspondence should be addressed.
Academic Editor: Salma Balazadeh
Received: 26 June 2015 / Revised: 18 August 2015 / Accepted: 28 August 2015 / Published: 1 September 2015
Abstract
Light regulates leaf senescence and light deprivation causes large-scale transcriptional reprogramming to dismantle cellular components and remobilize nutrients to sink organs, such as seeds and storage tissue. We recently reported that in Arabidopsis (
Arabidopsis thaliana
), Phytochrome-Interacting Factor4 (PIF4) and PIF5 promote dark-induced senescence and natural senescence by directly activating the expression of typical senescence-associated genes (SAGs), including
ORESARA1
(
ORE1
) and
ETHYLENE INSENSITIVE3
(
EIN3
). In contrast, phytochrome B (PhyB) inhibits leaf senescence by repressing PIF4 and PIF5 at the post-translational level. Although we found how red light signaling represses leaf senescence in Arabidopsis, it remains unknown whether PhyB and/or PhyA are involved in leaf senescence in rice (
Oryza sativa
). Here we show that rice
phyB
knockout mutants (
osphyB-1
,
-2
, and
-3
) exhibited an early senescence phenotype during dark-induced senescence, but an
osphyA
knockout mutant (
osphyA-3
) senesced normally. The RT-qPCR analysis revealed that several senescence-associated genes, including
OsORE1
and
OsEIN3
, were significantly up-regulated in
osphyB-2
mutants, indicating that OsPhyB also inhibits leaf senescence, like Arabidopsis PhyB. We also found that leaf segments of
osphyB-2
senesced faster even under light conditions. Supplementation with nitrogen compounds, such as KNO
3
and NH
4
NO
3
, rescued the early senescence phenotype of
osphyB-2
, indicating that starvation is one of the major signaling factors in the
OsPhyB
-dependent leaf senescence pathway.
View Full-Text
►

▼

Figures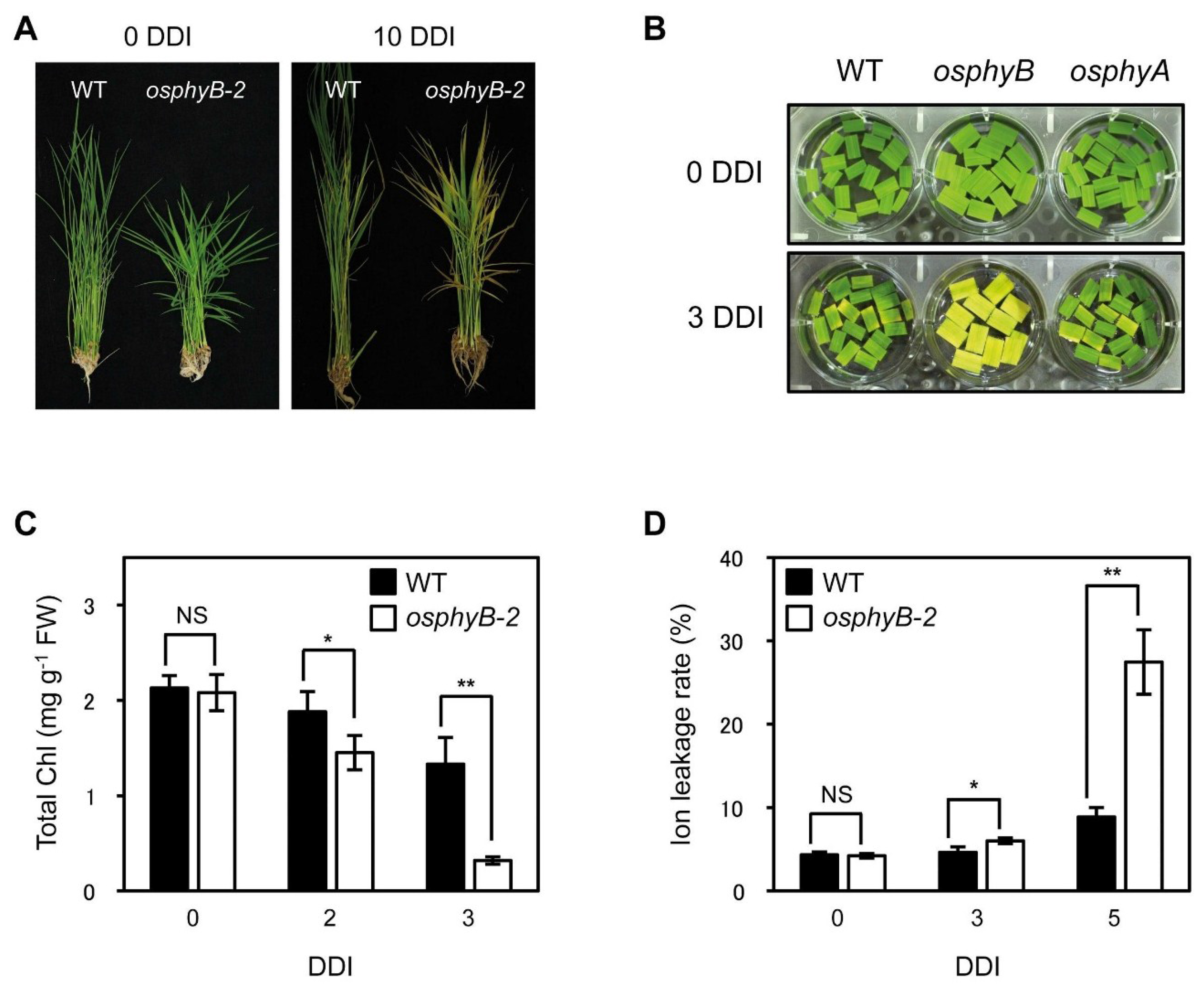 Figure 1
This is an open access article distributed under the
Creative Commons Attribution License
which permits unrestricted use, distribution, and reproduction in any medium, provided the original work is properly cited. (CC BY 4.0).
Share & Cite This Article
MDPI and ACS Style
Piao, W.; Kim, E.-Y.; Han, S.-H.; Sakuraba, Y.; Paek, N.-C. Rice Phytochrome B (OsPhyB) Negatively Regulates Dark- and Starvation-Induced Leaf Senescence. Plants 2015, 4, 644-663.
Related Articles
Comments
[Return to top]