The Half-Size ABC Transporter FOLDED PETALS 2/ABCG13 Is Involved in Petal Elongation through Narrow Spaces in Arabidopsis thaliana Floral Buds
1
Graduate School of Life and Environmental Sciences, Kyoto Prefectural University, Sakyo-ku, Kyoto 606-8522, Japan
2
Biotechnology Research Department, Kyoto Prefectural Agriculture Forestry and Fisheries Technology Center, Seika, Kyoto 619-0244, Japan
3
Laboratory of Plant Organ Development, National Institute for Basic Biology, Okazaki, Aichi 444-8585, Japan
4
Department of Botany, Graduate School of Science, Kyoto University, Kyoto 606-8502, Japan
†
These authors contributed equally to this work.
‡
Present address: National Institute of Natural Sciences, Tokyo 105-0001, Japan.
*
Author to whom correspondence should be addressed.
Received: 20 June 2014 / Revised: 19 July 2014 / Accepted: 11 August 2014 / Published: 15 August 2014
Abstract
Flowers are vital for attracting pollinators to plants and in horticulture for humans. Petal morphogenesis is a central process of floral development. Petal development can be divided into three main processes: the establishment of organ identity in a concentric pattern, primordia initiation at fixed positions within a whorl, and morphogenesis, which includes petal elongation through the narrow spaces within the bud. Here, we show that the
FOLDED PETALS 2
(
FOP2
) gene, encoding a member of the half-size ATP binding cassette (ABC) transporter family ABCG13, is involved in straight elongation of petals in
Arabidopsis thaliana
. In
fop2
mutants, flowers open with folded petals, instead of straight-elongated ones found in the wild type. The epicuticular nanoridge structures are absent in many abaxial epidermal cells of
fop2
petals, and surgical or genetic generation of space in young
fop2
buds restores the straight elongation of petals, suggesting that the physical contact of sepals and petals causes the petal folding. Similar petal folding has been reported in the
fop1
mutant, and the petals of
fop2 fop1
double mutants resemble those of both the
fop1 and fop2
single mutants, although the epidermal structure and permeability of the petal surface is more affected in
fop2
. Our results suggest that synthesis and transport of cutin or wax in growing petals play an important role for their smooth elongation through the narrow spaces of floral buds.
View Full-Text
►

▼

Figures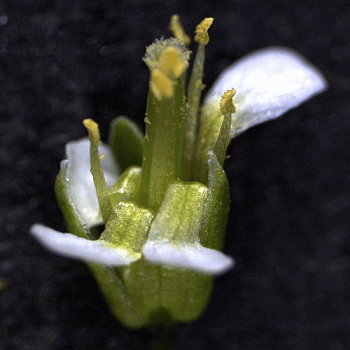 Share & Cite This Article
MDPI and ACS Style
Takeda, S.; Iwasaki, A.; Tatematsu, K.; Okada, K. The Half-Size ABC Transporter FOLDED PETALS 2/ABCG13 Is Involved in Petal Elongation through Narrow Spaces in Arabidopsis thaliana Floral Buds. Plants 2014, 3, 348-358.
Related Articles
Comments
[Return to top]