Abaxial Greening Phenotype in Hybrid Aspen
1
Department of Biological Sciences, University of Toronto Scarborough, 1265 Military Trail, Toronto, ON, M1C 1A4, Canada
2
Botany Department, University of British Columbia, 3529-6270 University Blvd., Vancouver, BC, V6T 1Z4, Canada
*
Author to whom correspondence should be addressed.
Received: 16 February 2013 / Revised: 6 April 2013 / Accepted: 18 April 2013 / Published: 24 April 2013
Abstract
The typical angiosperm leaf, as in
Arabidopsis
, is bifacial consisting of top (adaxial) and bottom (abaxial) surfaces readily distinguishable by the underlying cell type (palisade and spongy mesophyll, respectively). Species of the genus
Populus
have leaves that are either conventionally bifacial or isobilateral. Isobilateral leaves have palisade mesophyll on the top and bottom of the leaf, making the two sides virtually indistinguishable at the macroscopic level. In poplars this has been termed the "abaxial greening" phenotype. Previous work has implicated
ASYMMETRIC LEAVES1
(
AS1
) as an essential determinant of palisade mesophyll development. This gene, as well as other genes (84 in all) putatively involved in setting the dorsiventral axis of leaves, were investigated in two
Populus
species: black cottonwood (
Populus trichocarpa
) and hybrid aspen (
P. tremula
x
tremuloides
), representative of each leaf type (bifacial and isobilateral, respectively). Poplar orthologs of
AS1
have significantly higher expression in aspen leaf blade and lower in the petiole, suggestive of a potential role in the isobilateral leaf phenotype consistent with the previously observed phenotypes. Furthermore, an
ABERRANT TESTA SHAPE
(
ATS
) ortholog has significantly lower expression in aspen leaf tissue, also suggesting a possible contribution of this gene to abaxial greening.
View Full-Text
►

▼

Figures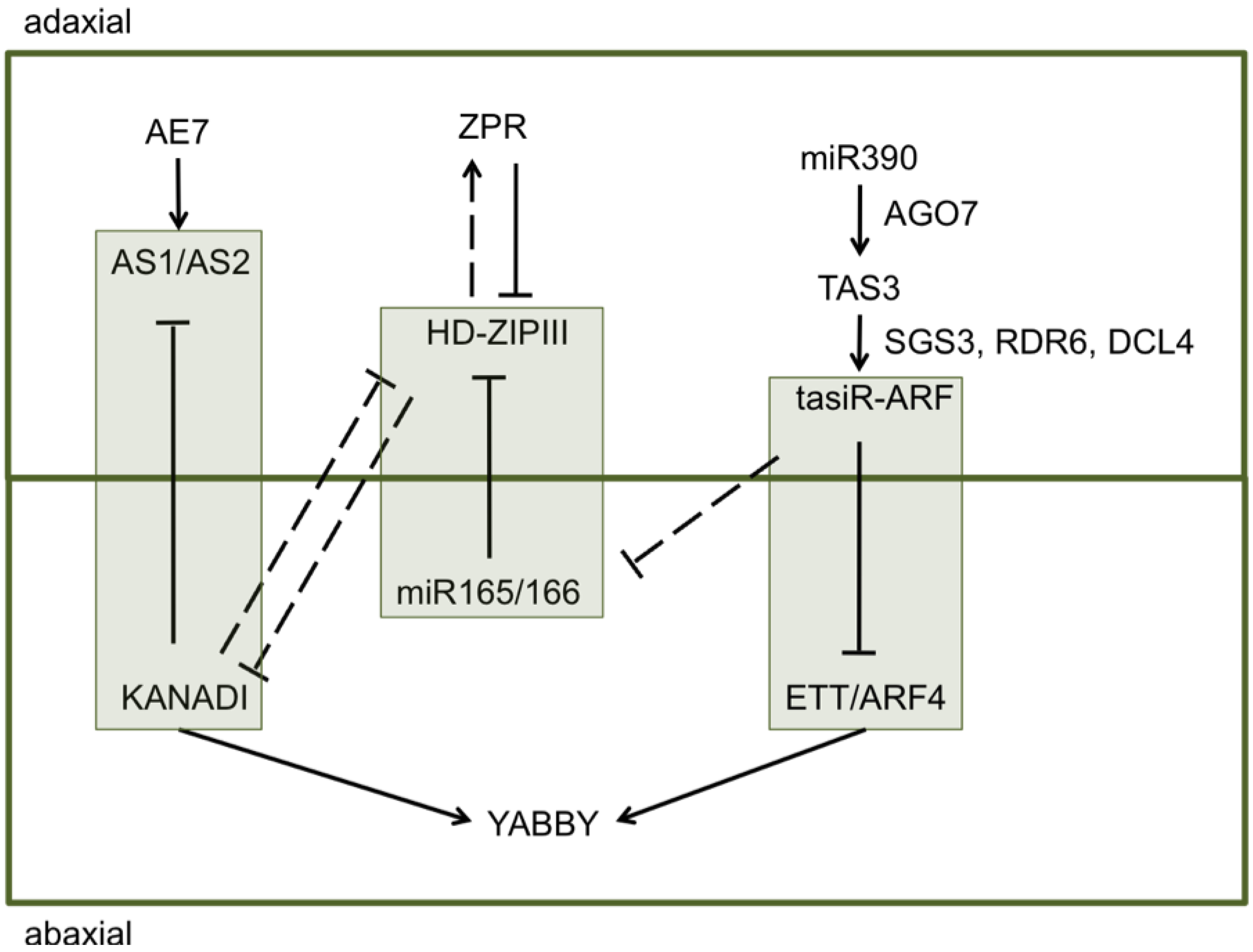 Figure 1
Share & Cite This Article
MDPI and ACS Style
Nowak, J.S.; Douglas, C.J.; Cronk, Q.C. Abaxial Greening Phenotype in Hybrid Aspen. Plants 2013, 2, 279-301.
Related Articles
Comments
[Return to top]