Tackling Critical Catalytic Residues in Helicobacter pylori L-Asparaginase
1
Unit of Immunology and General Pathology, Department of Molecular Medicine, University of Pavia, Via Ferrata 9, Pavia 27100, Italy
2
Laboratory of Protein Biochemistry, Department of Biology and Biotechnologies "L. Spallanzani", University of Pavia, Viale Taramelli 3/B, Pavia 27100, Italy
3
Laboratory of Molecular Microbiology, Department of Biology and Biotechnologies "L. Spallanzani", University of Pavia, Via Ferrata 9, Pavia 27100, Italy
†
These authors contributed equally to this work.
*
Author to whom correspondence should be addressed.
Academic Editor: Jürg Bähler
Received: 12 December 2014 / Revised: 19 February 2015 / Accepted: 19 March 2015 / Published: 27 March 2015
Abstract
Bacterial asparaginases (amidohydrolases, EC 3.5.1.1) are important enzymes in cancer therapy, especially for Acute Lymphoblastic Leukemia. They are tetrameric enzymes able to catalyze the deamination of L-ASN and, to a variable extent, of L-GLN, on which leukemia cells are dependent for survival. In contrast to other known L-asparaginases,
Helicobacter pylori
CCUG 17874 type II enzyme (HpASNase) is cooperative and has a low affinity towards L-GLN. In this study, some critical amino acids forming the active site of HpASNase (T16, T95 and E289) have been tackled by rational engineering in the attempt to better define their role in catalysis and to achieve a deeper understanding of the peculiar cooperative behavior of this enzyme. Mutations T16E, T95D and T95H led to a complete loss of enzymatic activity. Mutation E289A dramatically reduced the catalytic activity of the enzyme, but increased its thermostability. Interestingly, E289 belongs to a loop that is very variable in L-asparaginases from the structure, sequence and length point of view, and which could be a main determinant of their different catalytic features.
View Full-Text
►

▼

Figures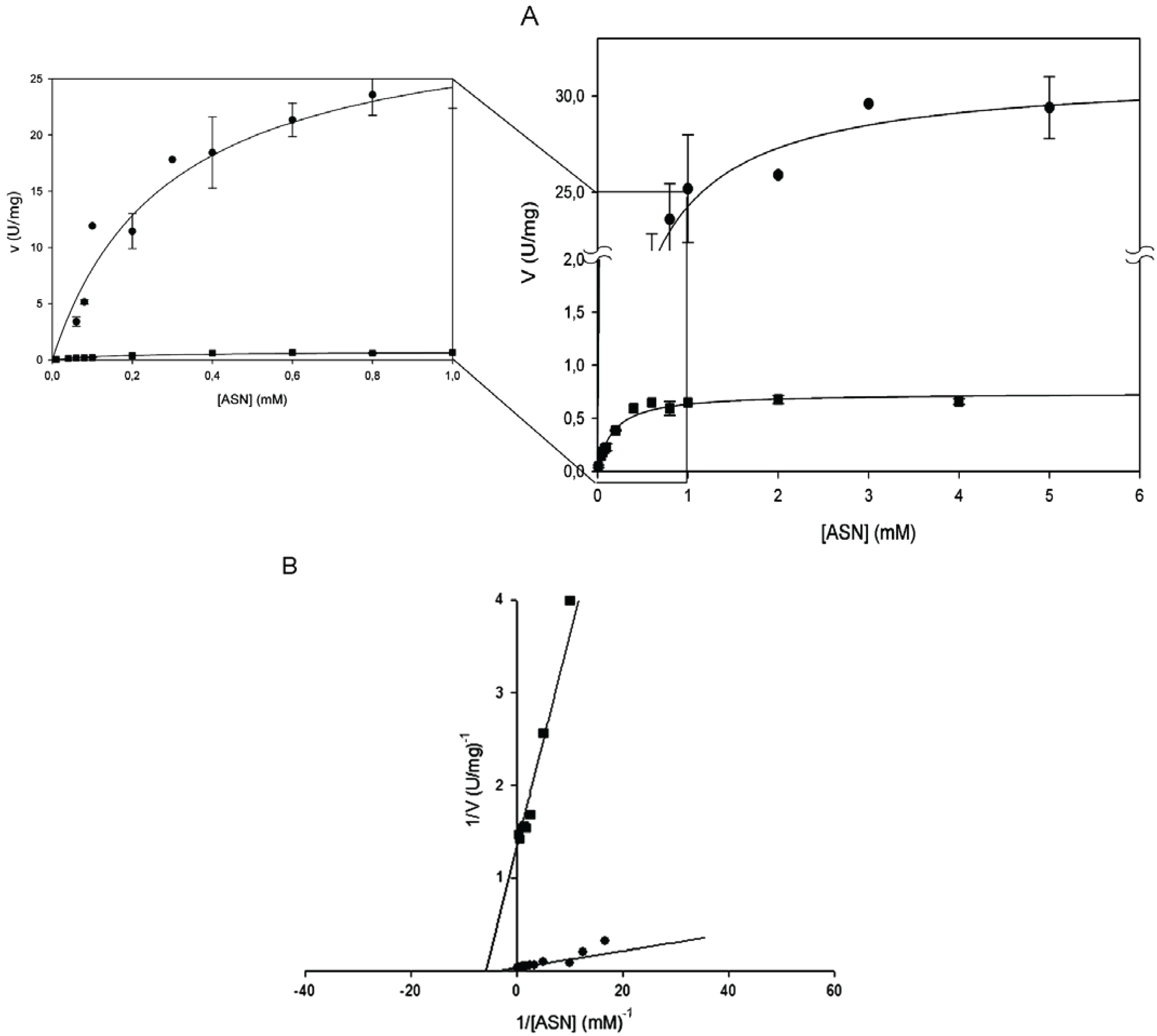 Figure 1
This is an open access article distributed under the
Creative Commons Attribution License
which permits unrestricted use, distribution, and reproduction in any medium, provided the original work is properly cited. (CC BY 4.0).
Share & Cite This Article
MDPI and ACS Style
Maggi, M.; Chiarelli, L.R.; Valentini, G.; Scotti, C. Tackling Critical Catalytic Residues in Helicobacter pylori L-Asparaginase. Biomolecules 2015, 5, 306-317.
Related Articles
Comments
[Return to top]