Protein Quality Control in the Nucleus
Department of Biology, University of Copenhagen, Ole Maaløes Vej 5, DK-2200 Copenhagen N, Denmark
†
These authors contributed equally to this work.
*
Author to whom correspondence should be addressed.
Received: 31 March 2014 / Revised: 20 May 2014 / Accepted: 4 June 2014 / Published: 9 July 2014
Abstract
In their natural environment, cells are regularly exposed to various stress conditions that may lead to protein misfolding, but also in the absence of stress, misfolded proteins occur as the result of mutations or failures during protein synthesis. Since such partially denatured proteins are prone to aggregate, cells have evolved several elaborate quality control systems to deal with these potentially toxic proteins. First, various molecular chaperones will seize the misfolded protein and either attempt to refold the protein or target it for degradation via the ubiquitin-proteasome system. The degradation of misfolded proteins is clearly compartmentalized, so unique degradation pathways exist for misfolded proteins depending on whether their subcellular localization is ER/secretory, mitochondrial, cytosolic or nuclear. Recent studies, mainly in yeast, have shown that the nucleus appears to be particularly active in protein quality control. Thus, specific ubiquitin-protein ligases located in the nucleus, target not only misfolded nuclear proteins, but also various misfolded cytosolic proteins which are transported to the nucleus prior to their degradation. In comparison, much less is known about these mechanisms in mammalian cells. Here we highlight recent advances in our understanding of nuclear protein quality control, in particular regarding substrate recognition and proteasomal degradation.
View Full-Text
►

▼

Figures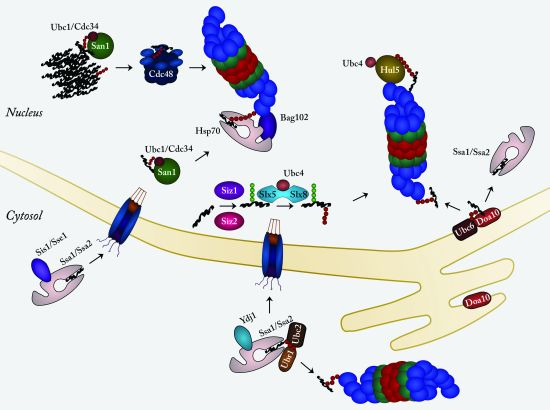 Share & Cite This Article
MDPI and ACS Style
Nielsen, S.V.; Poulsen, E.G.; Rebula, C.A.; Hartmann-Petersen, R. Protein Quality Control in the Nucleus. Biomolecules 2014, 4, 646-661.
Related Articles
Comments
[Return to top]