DeSUMOylation Controls Insulin Exocytosis in Response to Metabolic Signals
1
BIOTEC TU-Dresden, Tatzberg 47/49 01307, Germany
2
Alberta Diabetes Institute and Department of Pharmacology, University of Alberta, Edmonton T6G 2E1, AB, Canada
*
Author to whom correspondence should be addressed.
Received: 3 May 2012 / Revised: 14 May 2012 / Accepted: 16 May 2012 / Published: 24 May 2012
Abstract
The secretion of insulin by pancreatic islet β-cells plays a pivotal role in glucose homeostasis and diabetes. Recent work suggests an important role for SUMOylation in the control of insulin secretion from β-cells. In this paper we discuss mechanisms whereby (de)SUMOylation may control insulin release by modulating β-cell function at one or more key points; and particularly through the acute and reversible regulation of the exocytotic machinery. Furthermore, we postulate that the SUMO-specific protease SENP1 is an important mediator of insulin exocytosis in response to NADPH, a metabolic secretory signal and major determinant of β-cell redox state. Dialysis of mouse β-cells with NADPH efficiently amplifies β-cell exocytosis even when extracellular glucose is low; an effect that is lost upon knockdown of SENP1. Conversely, over-expression of SENP1 itself augments β-cell exocytosis in a redox-dependent manner. Taken together, we suggest that (de)SUMOylation represents an important mechanism that acutely regulates insulin secretion and that SENP1 can act as an amplifier of insulin exocytosis.
View Full-Text
►

▼

Figures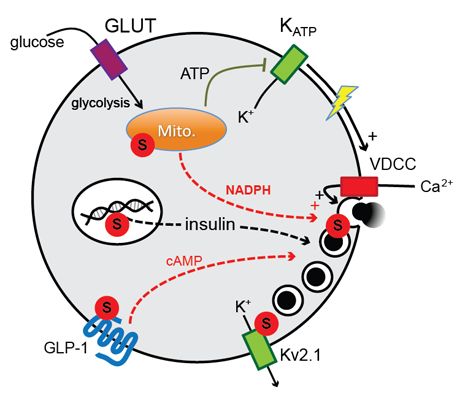 Share & Cite This Article
MDPI and ACS Style
Vergari, E.; Plummer, G.; Dai, X.; MacDonald, P.E. DeSUMOylation Controls Insulin Exocytosis in Response to Metabolic Signals. Biomolecules 2012, 2, 269-281.
Related Articles
Comments
[Return to top]