X-ray Diffraction Evidence for Low Force Actin-Attached and Rigor-Like Cross-Bridges in the Contractile Cycle
1
Faculty of Medicine, Imperial College London, Exhibition Road, London SW7 2AZ, UK
2
Biophysics Group, Optometry & Vision Sciences, University of Cardiff, Cardiff CF10 3XQ, UK
3
Daresbury Laboratory, Warrington WA4 4AD, UK
4
Muscle Contraction Group, School of Physiology, Pharmacology & Neuroscience, Faculty of Biomedical Sciences, University of Bristol, Bristol BS8 1TH, UK
†
Current address: School of Biomedicine, Faculty of Medical and Human Sciences, University of Manchester, Manchester M13 9PL, UK.
*
Author to whom correspondence should be addressed.
Academic Editor: Chris O'Callaghan
Received: 26 August 2016 / Revised: 1 October 2016 / Accepted: 10 October 2016 / Published: 26 October 2016
Abstract
Defining the structural changes involved in the myosin cross-bridge cycle on actin in active muscle by X-ray diffraction will involve recording of the whole two dimensional (2D) X-ray diffraction pattern from active muscle in a time-resolved manner. Bony fish muscle is the most highly ordered vertebrate striated muscle to study. With partial sarcomere length (SL) control we show that changes in the fish muscle equatorial A-band (10) and (11) reflections, along with (10)/(11) intensity ratio and the tension, are much more rapid than without such control. Times to 50% change with SL control were 19.5 (±2.0) ms, 17.0 (±1.1) ms, 13.9 (±0.4) ms and 22.5 (±0.8) ms, respectively, compared to 25.0 (±3.4) ms, 20.5 (±2.6) ms, 15.4 (±0.6) ms and 33.8 (±0.6) ms without control. The (11) intensity and the (10)/(11) intensity ratio both still change ahead of tension, supporting the likelihood of the presence of a head population close to or on actin, but producing little or no force, in the early stages of the contractile cycle. Higher order equatorials (e.g., (30), (31), and (32)), more sensitive to crossbridge conformation and distribution, also change very rapidly and overshoot their tension plateau values by a factor of around two, well before the tension plateau has been reached, once again indicating an early low-force cross-bridge state in the contractile cycle. Modelling of these intensity changes suggests the presence of probably two different actin-attached myosin head structural states (mainly low-force attached and rigor-like). No more than two main attached structural states are necessary and sufficient to explain the observations. We find that 48% of the heads are off actin giving a resting diffraction pattern, 20% of heads are in the weak binding conformation and 32% of the heads are in the strong (rigor-like) state. The strong states account for 96% of the tension at the tetanus plateau.
View Full-Text
►

▼

Figures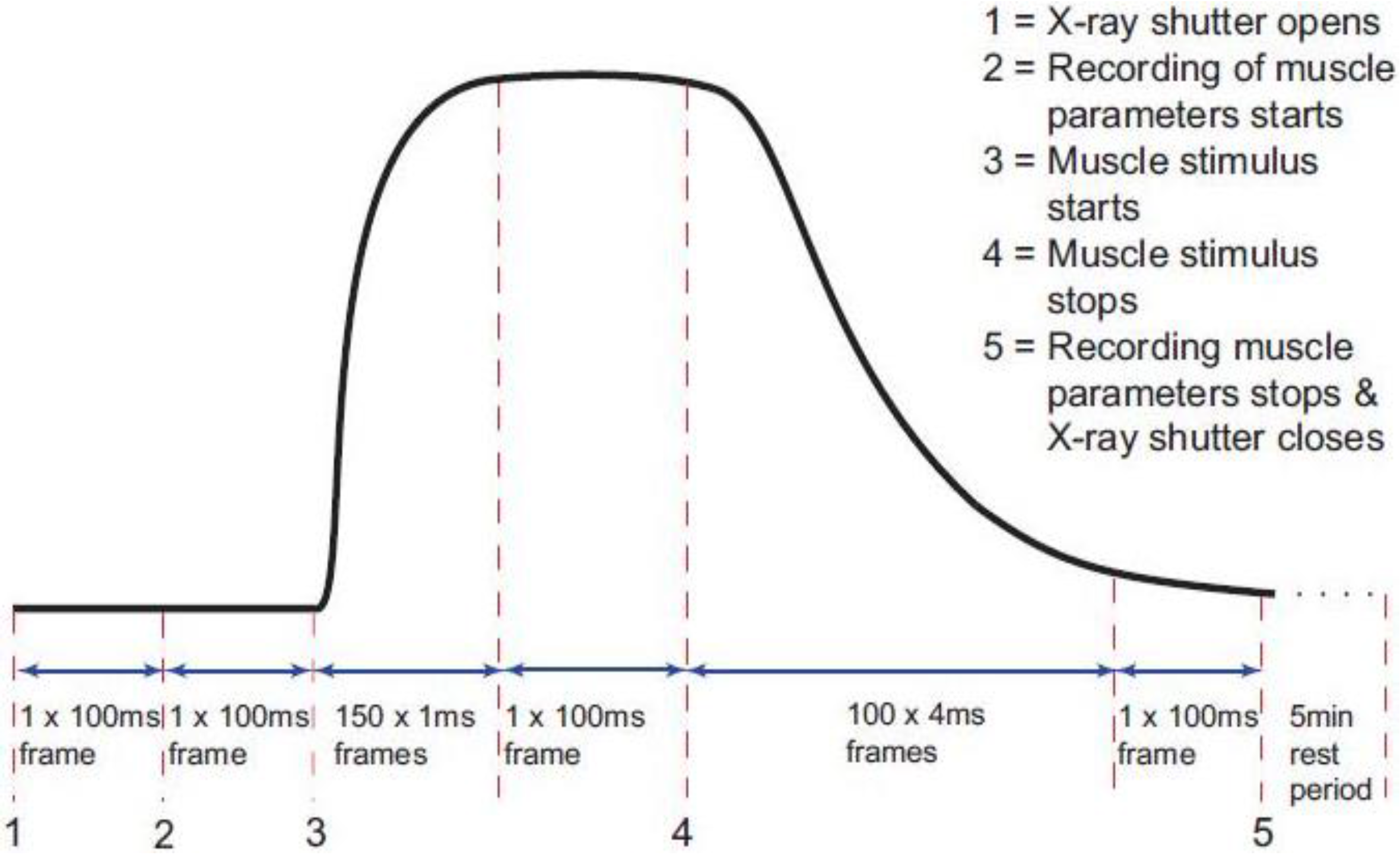 Figure 1
This is an open access article distributed under the
Creative Commons Attribution License
which permits unrestricted use, distribution, and reproduction in any medium, provided the original work is properly cited. (CC BY 4.0).
Share & Cite This Article
MDPI and ACS Style
Eakins, F.; Pinali, C.; Gleeson, A.; Knupp, C.; Squire, J.M. X-ray Diffraction Evidence for Low Force Actin-Attached and Rigor-Like Cross-Bridges in the Contractile Cycle. Biology 2016, 5, 41.
Note that from the first issue of 2016, MDPI journals use article numbers instead of page numbers. See further details here.
Related Articles
Comments
[Return to top]