Ciprofloxacin Affects Host Cells by Suppressing Expression of the Endogenous Antimicrobial Peptides Cathelicidins and Beta-Defensin-3 in Colon Epithelia
1
Centre for Vaccine Science, International Centre for Diarrhoeal Disease Research, Bangladesh (icddr,b), 68 Shaheed Tajuddin Ahmed Sharani, Mohakhali, Dhaka 1212, Bangladesh
2
Department of Laboratory Medicine, Division of Clinical Microbiology (F68), Karolinska University Hospital Huddinge, S-141 86 Stockholm, Sweden
3
Institute of Biology and Biomedical Center, University of Iceland, 101 Reykjavik, Iceland
†
Current address: Department of Environmental Physiology, Shimane University Faculty of Medicine, Izumo-shi, Shimane 693-8501, Japan.
*
Author to whom correspondence should be addressed.
Received: 27 May 2014 / Revised: 14 July 2014 / Accepted: 15 July 2014 / Published: 25 July 2014
Abstract
Antibiotics exert several effects on host cells including regulation of immune components. Antimicrobial peptides (AMPs), e.g., cathelicidins and defensins display multiple functions in innate immunity. In colonic mucosa, cathelicidins are induced by butyrate, a bacterial fermentation product. Here, we investigated the effect of antibiotics on butyrate-induced expression of cathelicidins and beta-defensins in colon epithelial cells. Real-time PCR analysis revealed that ciprofloxacin and clindamycin reduce butyrate-induced transcription of the human cathelicidin LL-37 in the colonic epithelial cell line HT-29. Suppression of LL-37 peptide/protein by ciprofloxacin was confirmed by Western blot analysis. Immunohistochemical analysis demonstrated that ciprofloxacin suppresses the rabbit cathelicidin CAP-18 in rectal epithelia of healthy and butyrate-treated
Shigella
-infected rabbits. Ciprofloxacin also down-regulated butyrate-induced transcription of the human beta-defensin-3 in HT-29 cells. Microarray analysis of HT-29 cells revealed upregulation by butyrate with subsequent down-regulation by ciprofloxacin of additional genes encoding immune factors. Dephosphorylation of histone H3, an epigenetic event provided a possible mechanism of the suppressive effect of ciprofloxacin. Furthermore, LL-37 peptide inhibited
Clostridium difficile
growth
in vitro
. In conclusion, ciprofloxacin and clindamycin exert immunomodulatory function by down-regulating AMPs and other immune components in colonic epithelial cells. Suppression of AMPs may contribute to the overgrowth of
C. difficile
, causing antibiotic-associated diarrhea.
View Full-Text
►

▼

Figures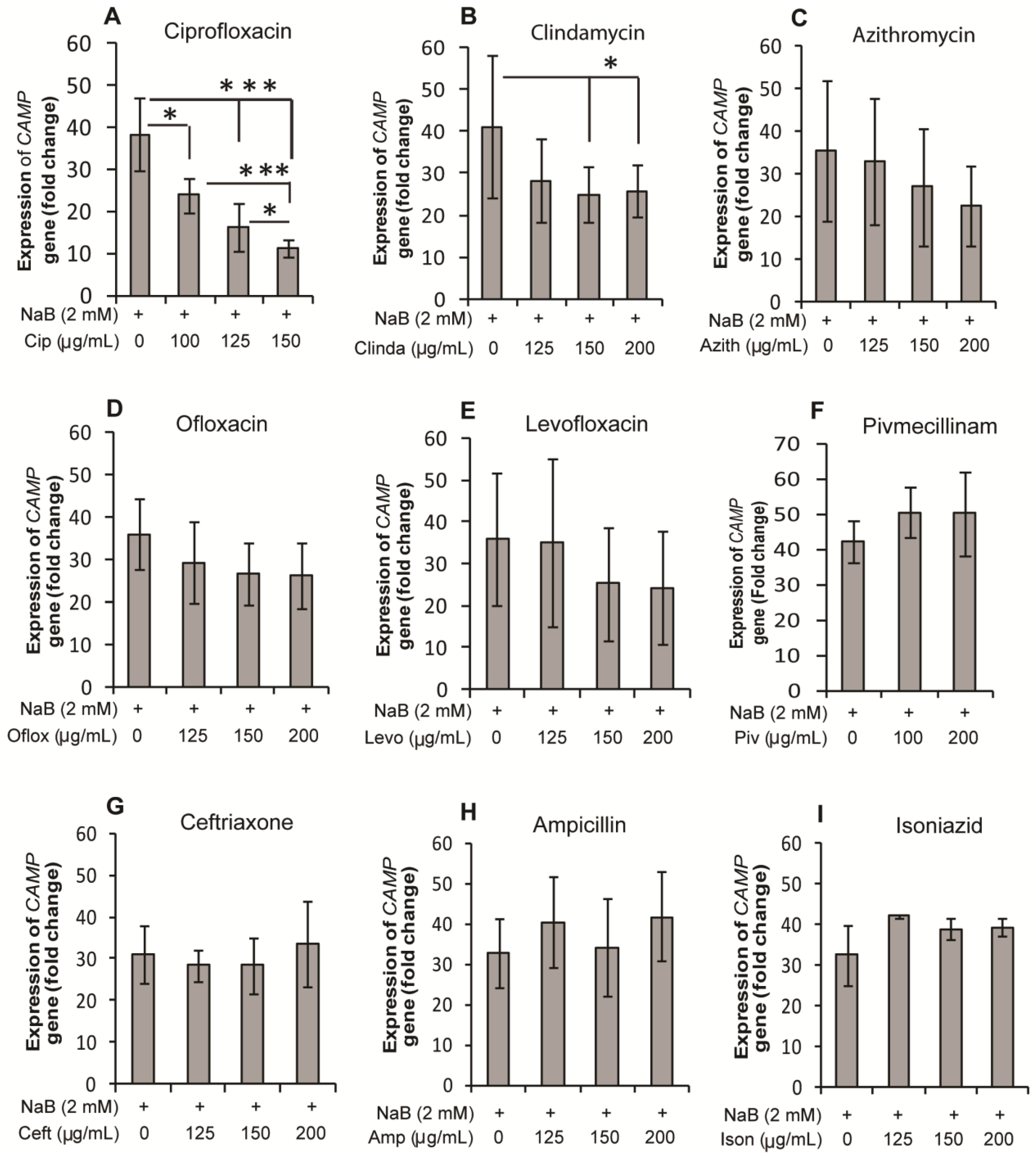 Figure 1
Share & Cite This Article
MDPI and ACS Style
Sarker, P.; Mily, A.; Mamun, A.A.; Jalal, S.; Bergman, P.; Raqib, R.; Gudmundsson, G.H.; Agerberth, B. Ciprofloxacin Affects Host Cells by Suppressing Expression of the Endogenous Antimicrobial Peptides Cathelicidins and Beta-Defensin-3 in Colon Epithelia. Antibiotics 2014, 3, 353-374.
Related Articles
Comments
[Return to top]