Open Access This article is
freely available
re-usable
Article
Differential Effects of Surface-Functionalized Zirconium Oxide Nanoparticles on Alveolar Macrophages, Rat Lung, and a Mouse Allergy Model
1
IBE R&D Institute for Lung Health gGmbH, Mendelstr. 11, 48149 Münster, Germany
2
Center of Allergy and Environment (ZAUM), Technical University of Munich and Helmholtz Center Munich, Member of the German Center for Lung Research (DZL), Ingolstädter Landstr. 1, 85764 Neuherberg, Germany
*
Author to whom correspondence should be addressed.
Received: 21 August 2017 / Accepted: 12 September 2017 / Published: 19 September 2017
Abstract
:
Nanoparticles (NPs) may affect the lung via their chemical composition on the surface. Here, we compared the bioactivity of zirconium oxide (ZrO2) NPs coated with either aminopropilsilane (APTS), tetraoxidecanoic acid (TODS), polyethyleneglycol (PGA), or acrylic acid (Acryl). Supernatants from NPs-treated cultured alveolar macrophages (NR8383) tested for lactate dehydrogenase, glucuronidase, tumor necrosis factor α, and H2O2 formation revealed dose-dependent effects, with only gradual differences among particles whose gravitational settling and cellular uptake were similar. We selected TODS- and Acryl-coated NPs for intratracheal administration into the rat lung. Darkfield and hyperspectral microscopy combined with immunocytochemistry showed that both NPs qualities accumulate mainly within the alveolar macrophage compartment, although minute amounts also occurred in neutrophilic granulocytes. Dose-dependent signs of inflammation were found in the broncho-alveolar lavage fluid on day 3 but no longer on day 21 post-application of ≥1.2 mg per lung; again only minor differences occurred between TODS- and Acryl-coated NPs. In contrast, the response of allergic mice was overall higher compared to control mice and dependent on the surface modification. Increases in eosinophils, lymphocytes and macrophages were highest following ZrO2-PGA administration, followed by ZrO2-Acryl, ZrO2-TODS, and ZrO2-APTS. We conclude that surface functionalization of ZrO2 NPs has minor effects on the inflammatory lung response of rats and mice, but is most relevant for an allergic mouse model. Allergic individuals may therefore be more susceptible to exposure to NPs with specific surface modifications.
Keywords:
macrophage model; intratracheal administration; ZrO
2
nanoparticles; inflammation; surface labelling; polyethylene glycol; allergy
Supplementary Materials
The following are available online at
http://www.mdpi.com/2079-4991/7/9/280/s1
, Figure S1: In vitro effects of supernatants generated from particle ZrO
2
NPs preparations, Figure S2: Size distribution of rat serum albumin-coated ZrO
2
particles as prepared for intratracheal administration in rats, Figure S3: Size distribution of ZrO
2
nanoparticles dispersed in 0.9% NaCl/PBS as used for an administration study in ovalbumin-sensitized mice. Table S1: Characteristics of zirconia nanoparticles as published by the NanoGEM consortium.
Acknowledgments
This study was part of the projects NanoGEM and NanoBioDetect, both sponsored by the German Federal Ministry of Education and Research (BMBF) under the accession numbers 03X0105H and 03X0146A (given to Martin Wiemann), and 03X0105O (given to Francesca Alessandrini). The authors would like to thank all contributors to the NanoGEM consortium for providing and carefully characterizing the nanomaterials.
Author Contributions
Antje Vennemann and Martin Wiemann conceived, designed, and performed the experiments on cells and rats; Francesca Alessandrini conceived, designed, and performed the experiments on the allergic mouse model. Martin Wiemann, Antje Vennemann and Francesca Alessandrini wrote the paper.
Conflicts of Interest
The authors declare no conflict of interest.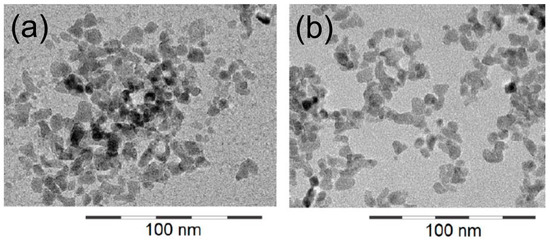 Figure 1.
Transmission electron microscopic images of ZrO
2
-TODS (
a
) and ZrO
2
-Acryl (
b
). Images were taken from a previous characterization study [
24
].

Figure 2. Progressive gravitational settling of ZrO2-TODS in the presence of NR8383 cells. Phase contrast images were taken from a time-lapse observation series 3 min (a), 75 min (b), and 150 min (c) after addition of particles (11.25 μg/mL). A moving NR8383 cell has just cleared a small area (arrow in c) from particles.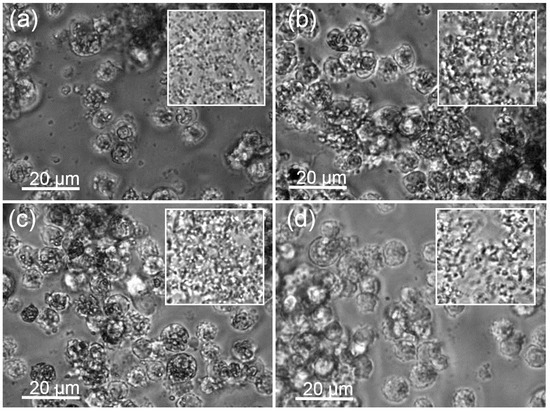 Figure 3. Uptake of ZrO2 particle agglomerates by alveolar macrophages under testing conditions. (a) ZrO2-Acryl, (b) ZrO2-TODS, (c) ZrO2-APTS, and (d) ZrO2-PGA. Cultures of 3 × 105 cells per well of a 96-well plate were laden with differently coated ZrO2 NPs (90 μg/mL), as indicated and incubated for 16 h. Insets show particles settled under identical conditions in the absence of cells. Note that the space between cells is largely cleared from particles and that cells contain dark material.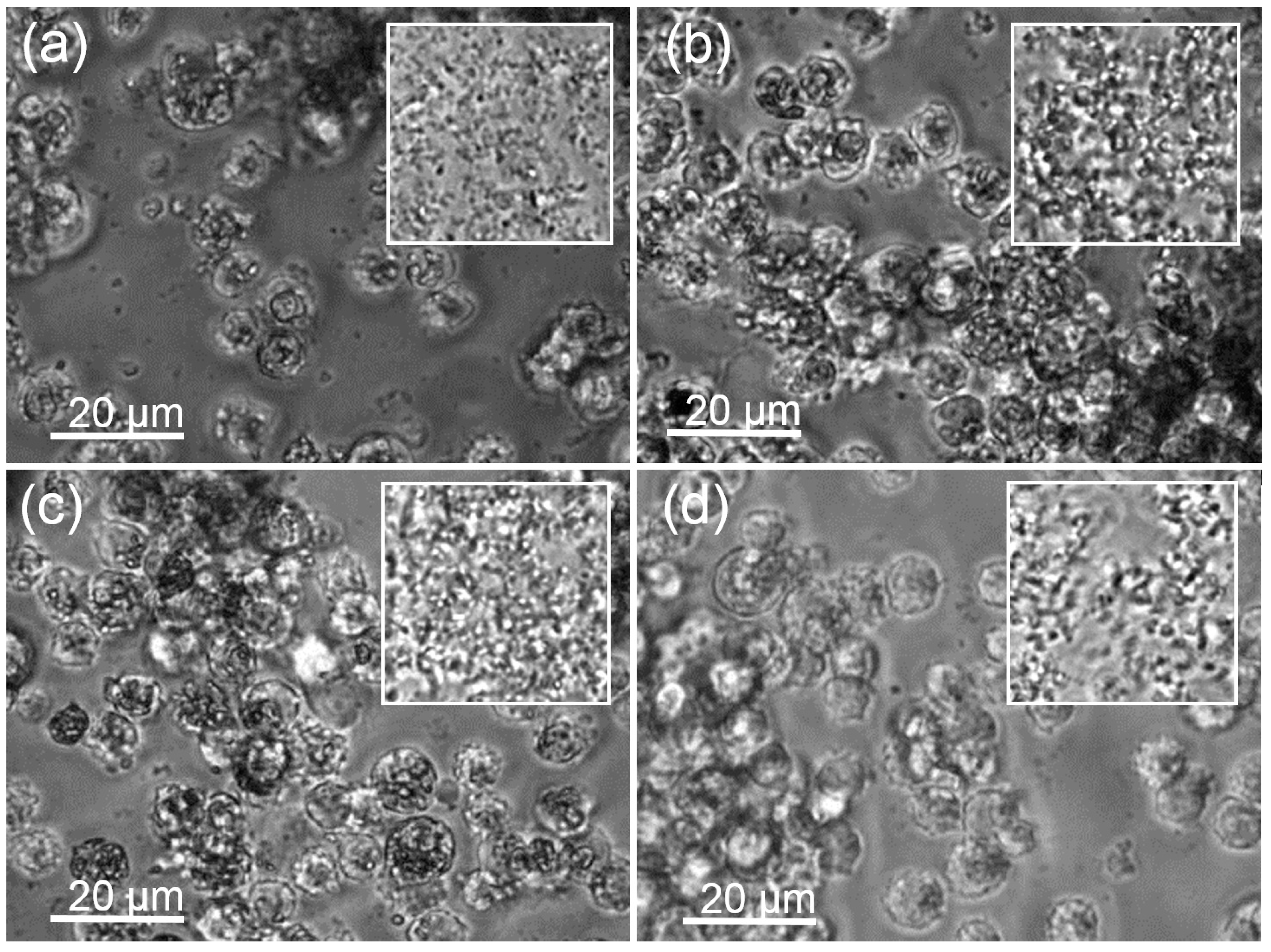 Figure 4.
Dose-dependent effects of the four differently coated ZrO
2
NPs on NR8383 alveolar macrophages in vitro. Cultures of 3 × 10
5
cells per well of a 96-well plate were laden with either ZrO
2
-Acryl, ZrO
2
-APTS, ZrO
2
-TODS, or ZrO
2
-PGA and incubated for 16 h. Culture supernatants were assessed for (
a
) activity of lactate dehydrogenase (LDH) in percent of triton X-100 lysed control cells, (
b
) activity of glucuronidase (GLU) in percent of triton X-100 lysed control cells, (
c
) extracellular H
2
O
2
in percent of the zymosan-treated positive control, and (
d
) tumor necrosis factor α (TNF alpha), as indicated by the lysis of L929 fibroblasts. Values are means ± SD from three independent experiments; Level of untreated controls (CTL) is indicated by solid lines; concentration values were corrected according to post hoc gravimetric measurements (see Methods section). Values from ZrO
2
-Acryl and ZrO
2
-TODS were taken from [
8
].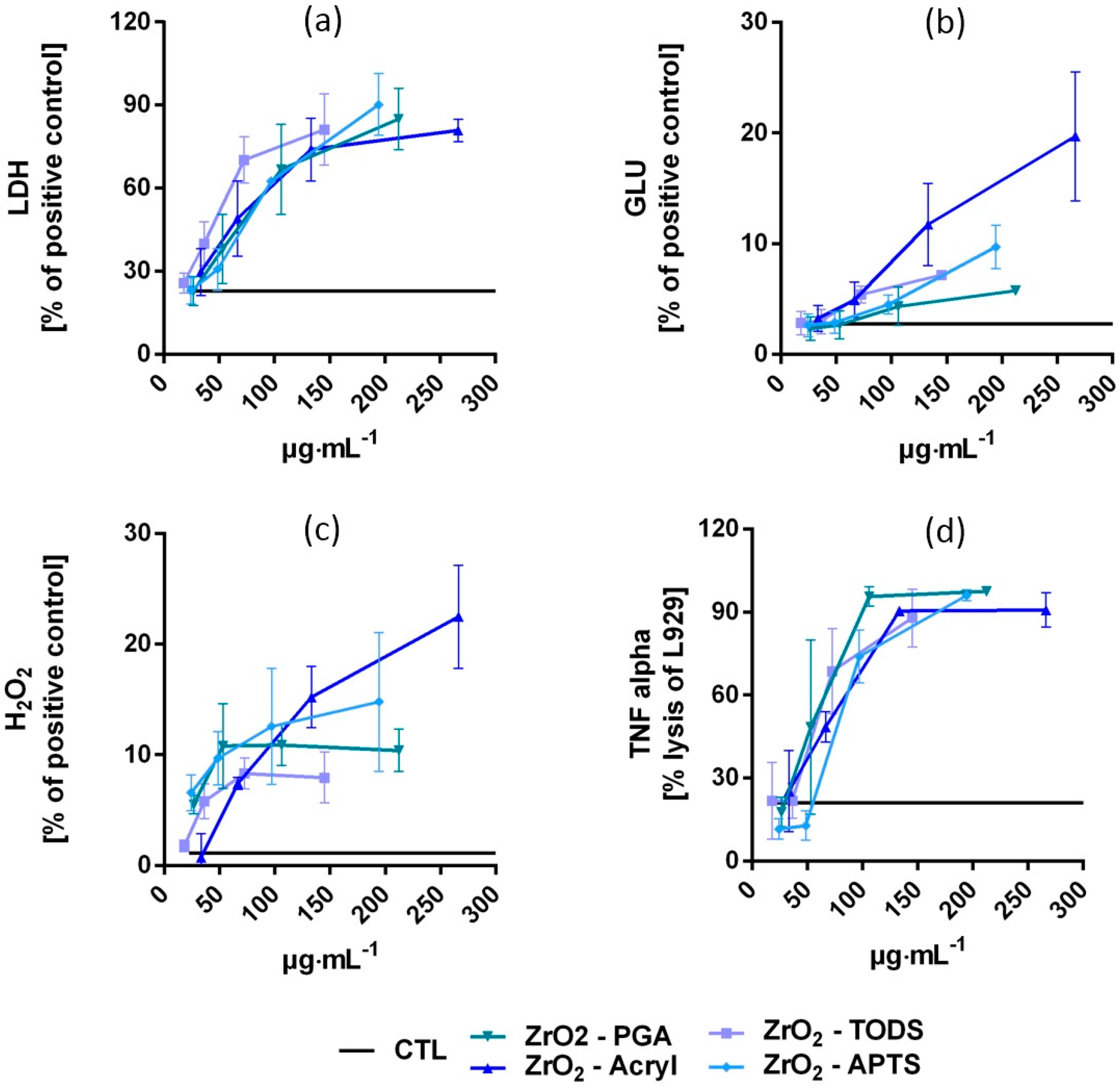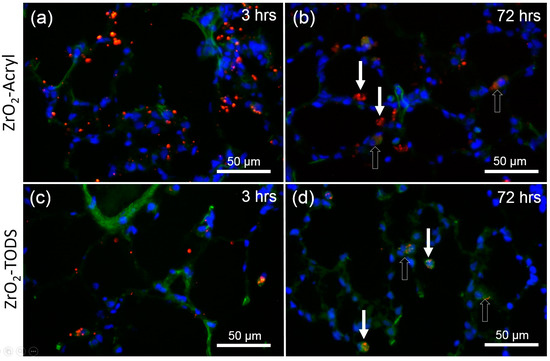 Figure 5. Early distribution of ZrO2 NPs in the lung. Rat lungs were dosed with 1.2 mg of fluorescent ZrO2-Acryl (a,b) or ZrO2-TODS (c,d) and sections were evaluated after 3 h (a,c) and three days (b,d). Particles (red) were labeled with Texas Red NHS covalently linked to a protein corona of rat serum albumin adsorbed to nanoparticles prior to administration. Cell nuclei are stained blue with 4′,6-diamidino-2-phenylindole (DAPI). Alveolar tissue components show green autofluorescence upon illumination with blue light (488 nm). Note that 3 h post-administration, numerous fluorescent particles or agglomerates line the alveolar septae (a,c). After three days, red fluorescence is concentrated in phagocytic cells (b,d) located in alveoli or in lung epithelium (open arrows).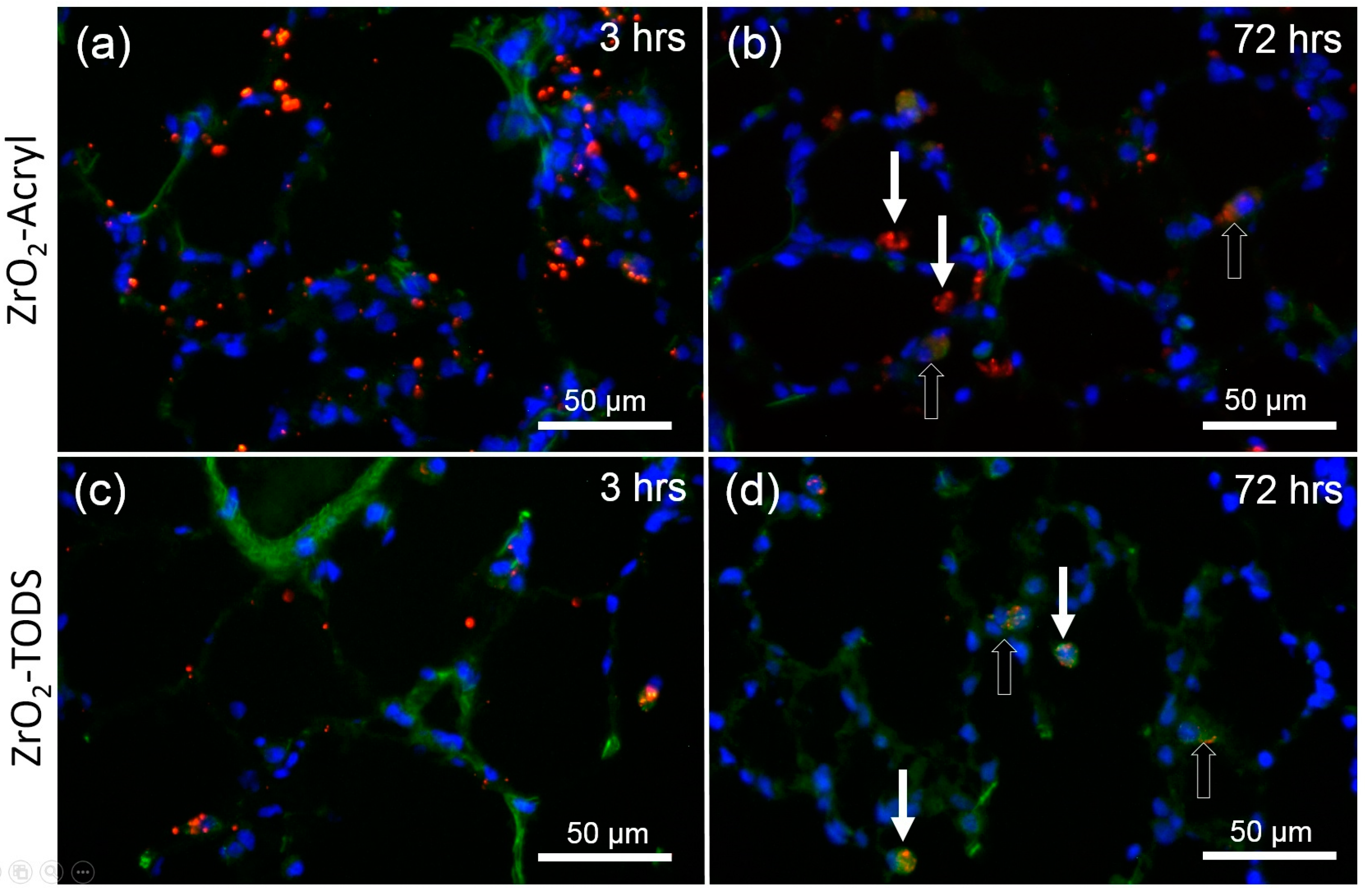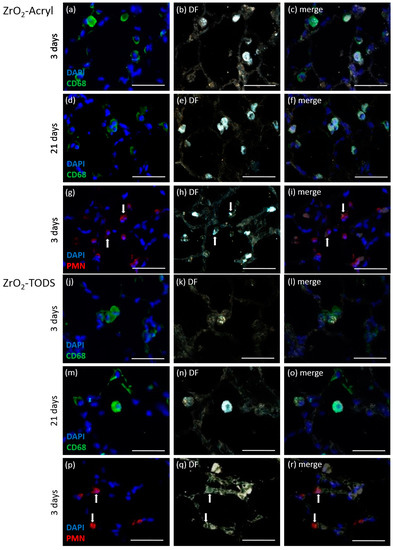 Figure 6. Identification of ZrO2-Acryl- and ZrO2-TODS- containing lung cells. Immunocytochemical detection of macrophages and polymorphonuclear leukocytes (PMN) was combined and merged with dark field (DF) images. Sections were from rat lungs dosed with 2.4 mg ZrO2-Acryl (a–i) or ZrO2-TODS (j–r) and evaluated after three days (a–c,g–i,i–l,p–r) and 21 days (d–f,m–o). CD68-positive alveolar macrophages show green fluorescence (a,d and j,m), PMN are immunolabeled in red (g–i,p–r). Cell nuclei are stained blue with 4′,6-diamidino-2-phenylindole (DAPI). Dark field images (b,e,h and k,n,q) show light scattering material concentrated in CD68 positive alveolar macrophages (c,f and l,o), or, to lower extent, in some PMN (i,r), as indicated by white arrows. Bars: 50 µm.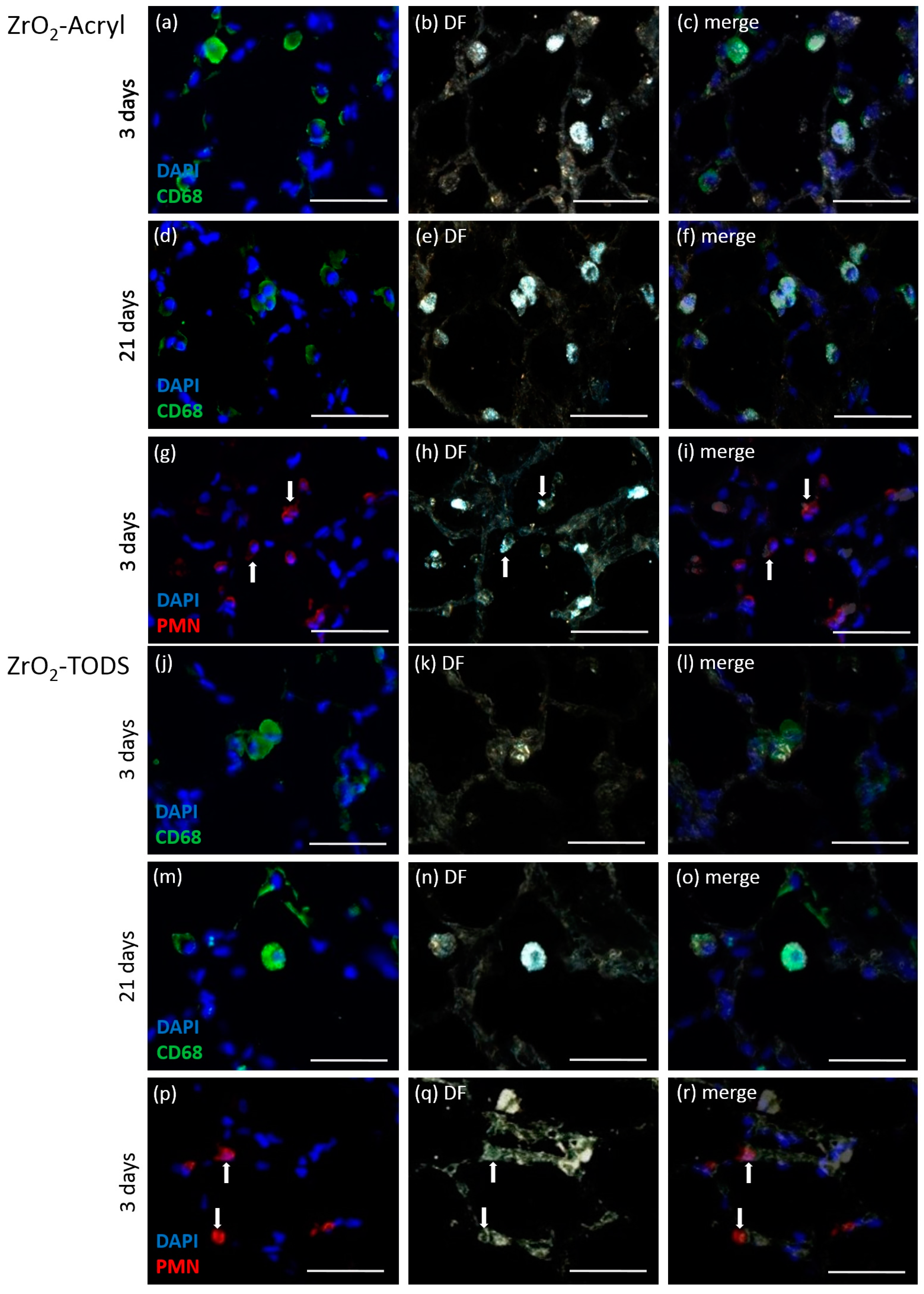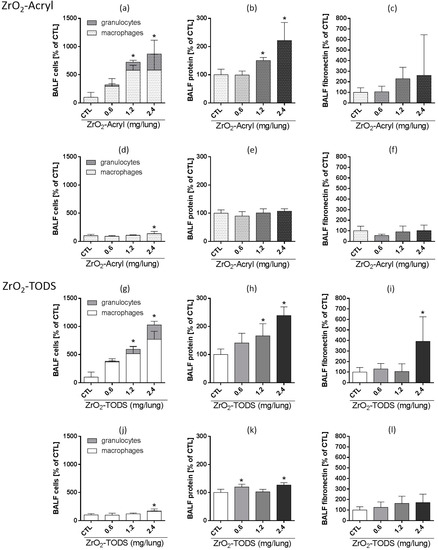 Figure 7.
Effects of ZrO
2
-Acryl and ZrO
2
-TODS on the rat lung. Indicated doses of ZrO
2
-Acryl were intratracheally delivered and effects on BALF parameters are shown as percent vehicle control at three (
a
–
c
,
g
–
i
), and 21 days (
d
–
f
,
j
–
l
) post-administration. (
a
,
d
and
g
,
j
) Differential cell counts reveal alveolar macrophages and neutrophilic granulocytes as the dominant cell types. (
b
,
e
and
h
,
k
) Protein concentration as measured with the Lowry method. (
c
,
f
and
i
,
l
) Fibronectin was quantified by a specific enzyme-linke immunosorbent assay (ELISA). Values are mean ± SD from
n
= 5 rats; *
p
< 0.05 was revealed by one-way analysis of variance (ANOVA) followed by Dunnett's multiple comparison test.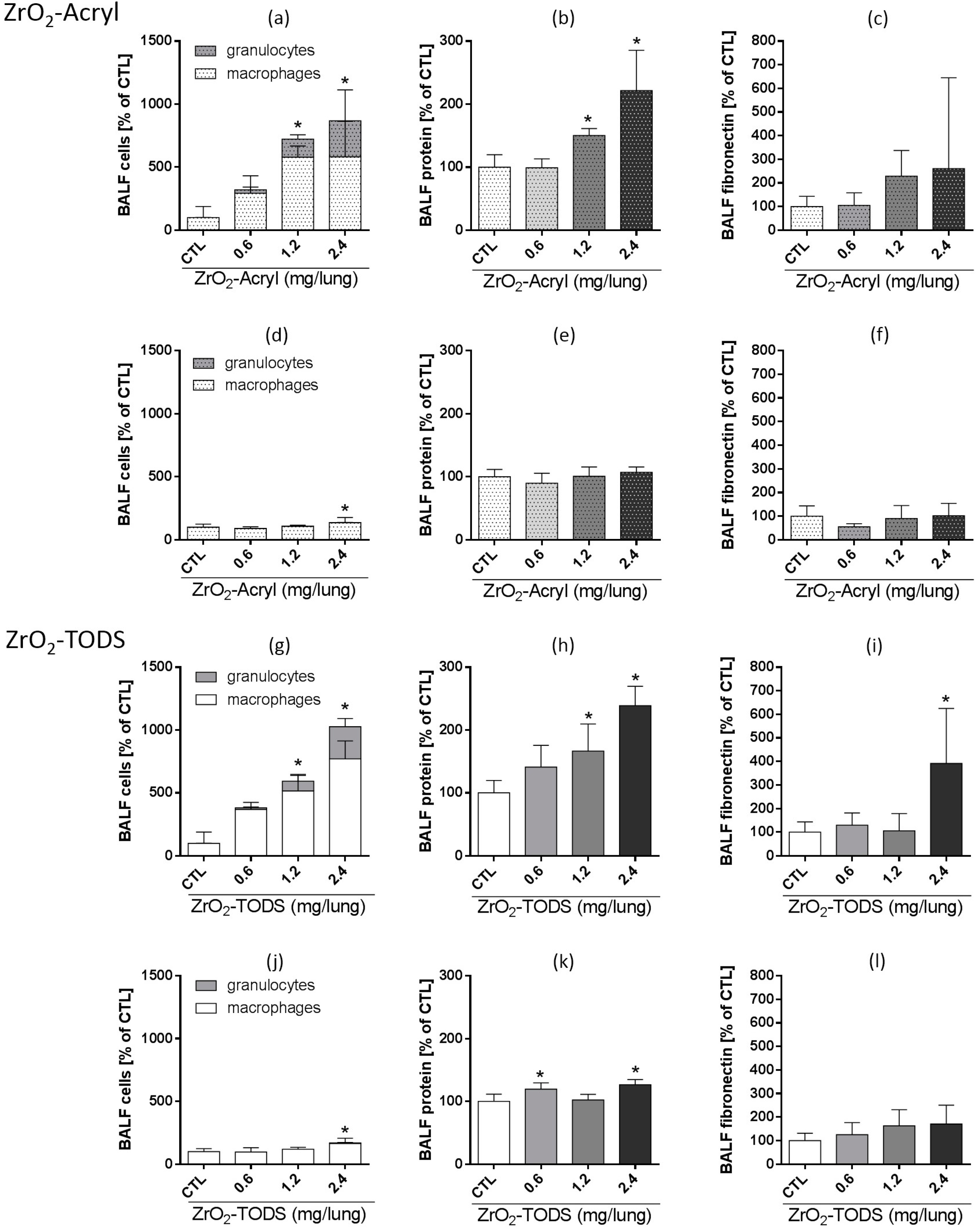 Figure 8. Identification of ZrO2-Acryl NPs and ZrO2-TODS in Pappenheim-stained cytospin preparations from rat BALF. Rats were administered 2.4 mg ZrO2-Acryl (a–d) or ZrO2-TODS NPs per lung (e–h) and lavaged three days post-administration. (a,e) Bright field images showing alveolar macrophages (encircled) and granulocytes. (b,f) Corresponding dark field images; light scattering material is contained in alveolar macrophages. (c,g) Corresponding pseudo-color HSI images; the spectral libraries for ZrO2-Acryl and ZrO2-TODS (insets) were collected from encircled macrophages laden with light-scattering material. (d,h) Matching of the spectral libraries from (c,g) with all data points according to the spectral angle mapping (SAM) method. ZrO2-Acryl- and ZrO2-TODS-positive pixels (superimposed in red) occur in macrophages and to a lesser extent in some granulocytes (arrows in a,b,d and e,f,h).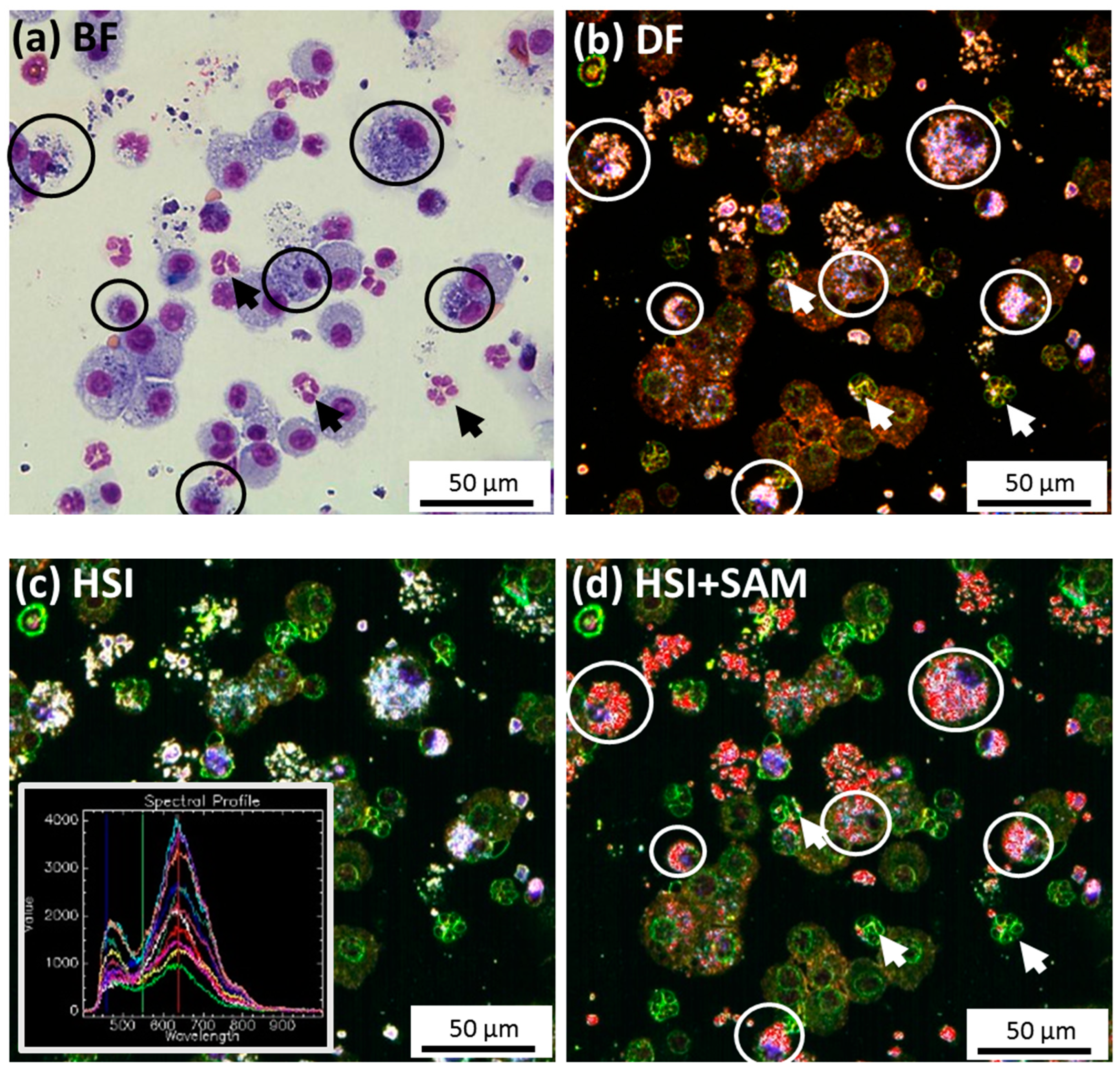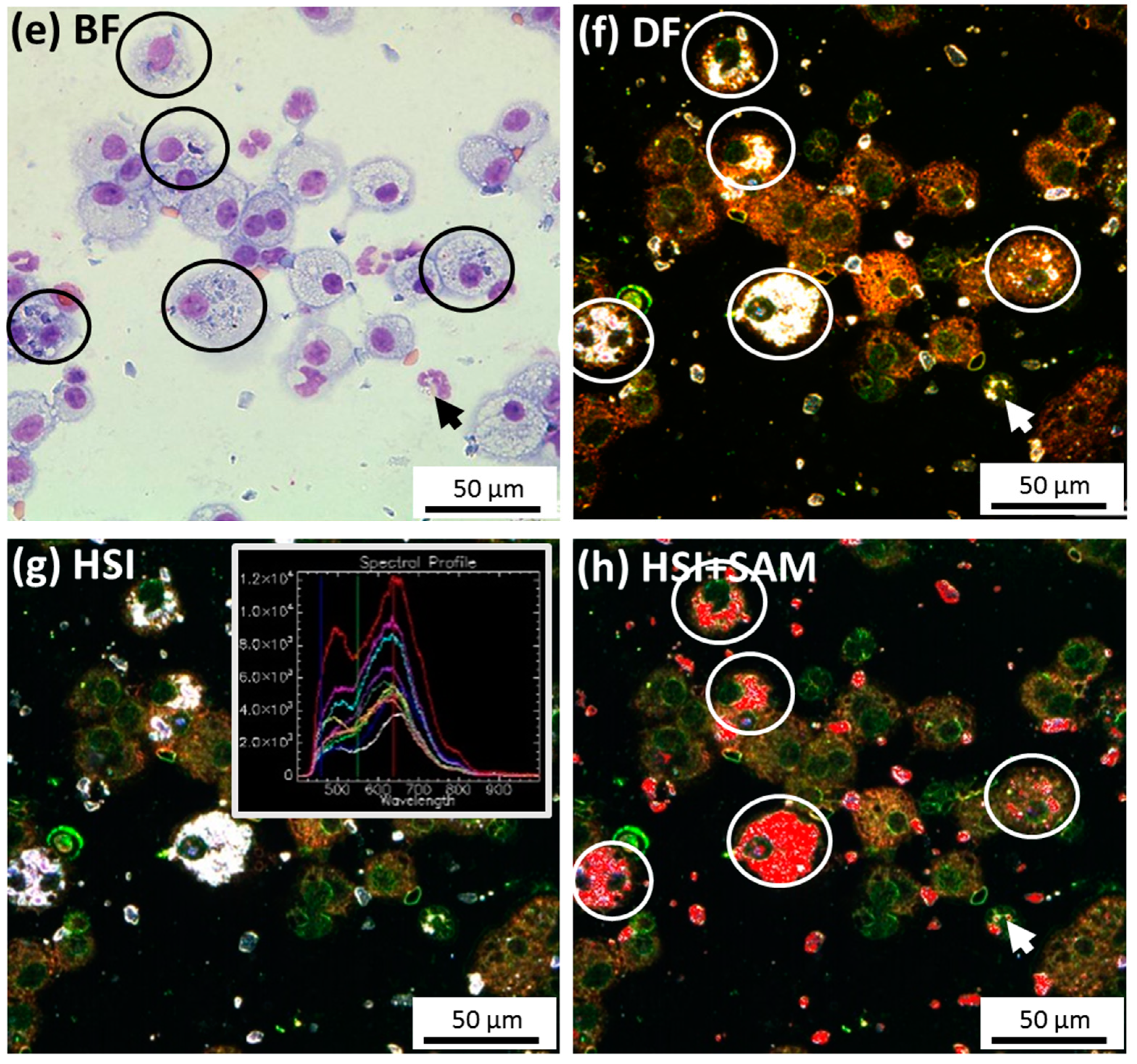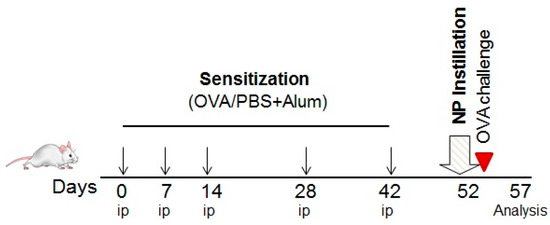 Figure 9. Experimental scheme for ovalbumin sensitization, NPs administration, and ovalbumin challenge. OVA, ovalbumin; PBS, Dulbecco's phosphate buffer saline; Alum, aluminum hydroxide; ip, intraperitoneal injection.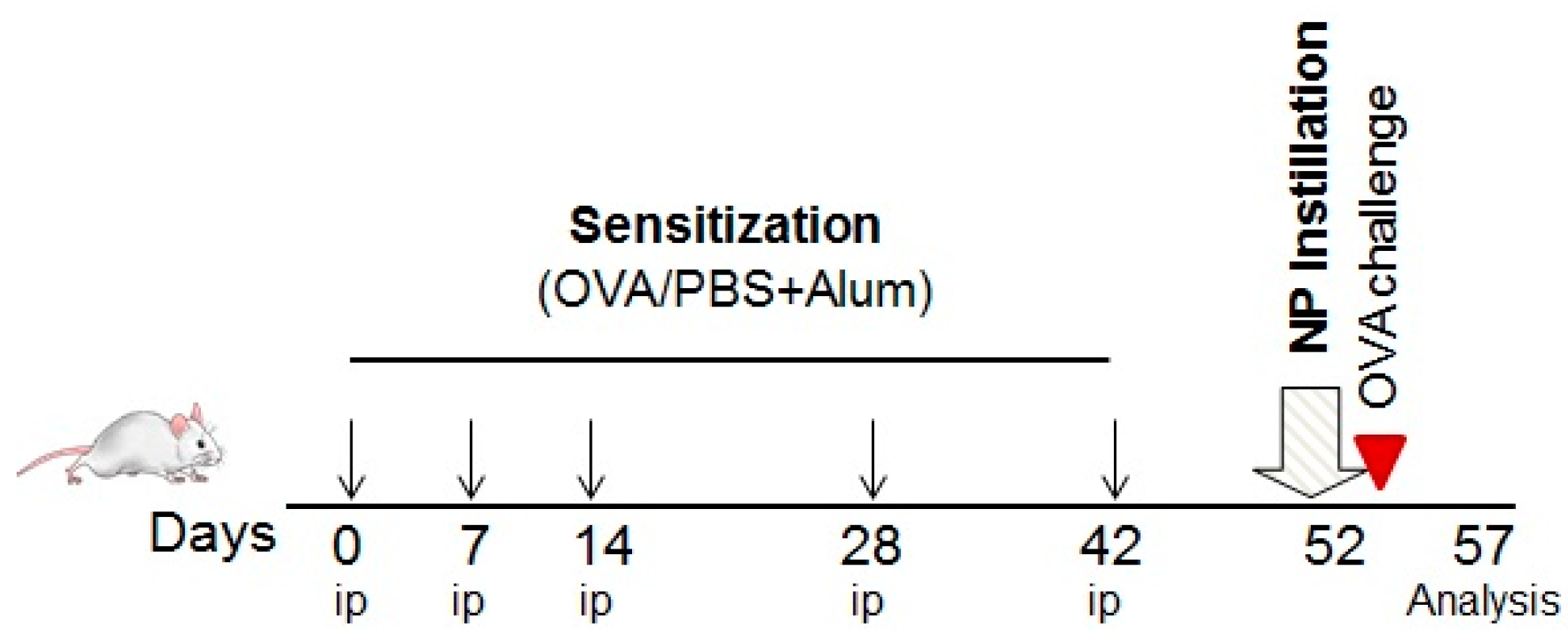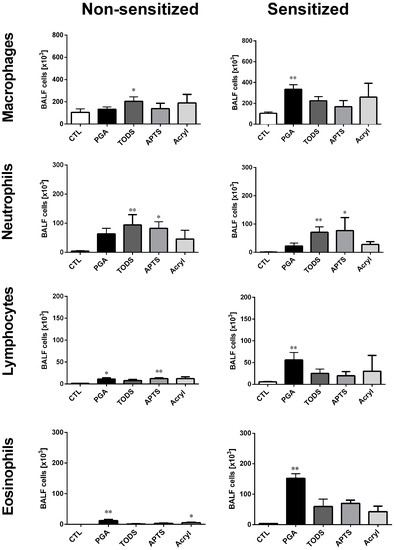 Figure 10.
Effect of surface-modified ZrO
2
NPs on bronchoalveolar lavage cells of ovalbumin-sensitized and non-sensitized mice. Each group of mice (
n
= 5) received 100 μg per mouse of ZrO
2
-APTS, ZrO
2
-TODS, ZrO
2
-Acryl, or ZrO
2
-PGA prior to OVA challenge. CTL: supernatant-treated controls. *
p
< 0.05; **
p
< 0.01 vs. CTL was revealed by one-way ANOVA followed by Kruskal-Wallis test.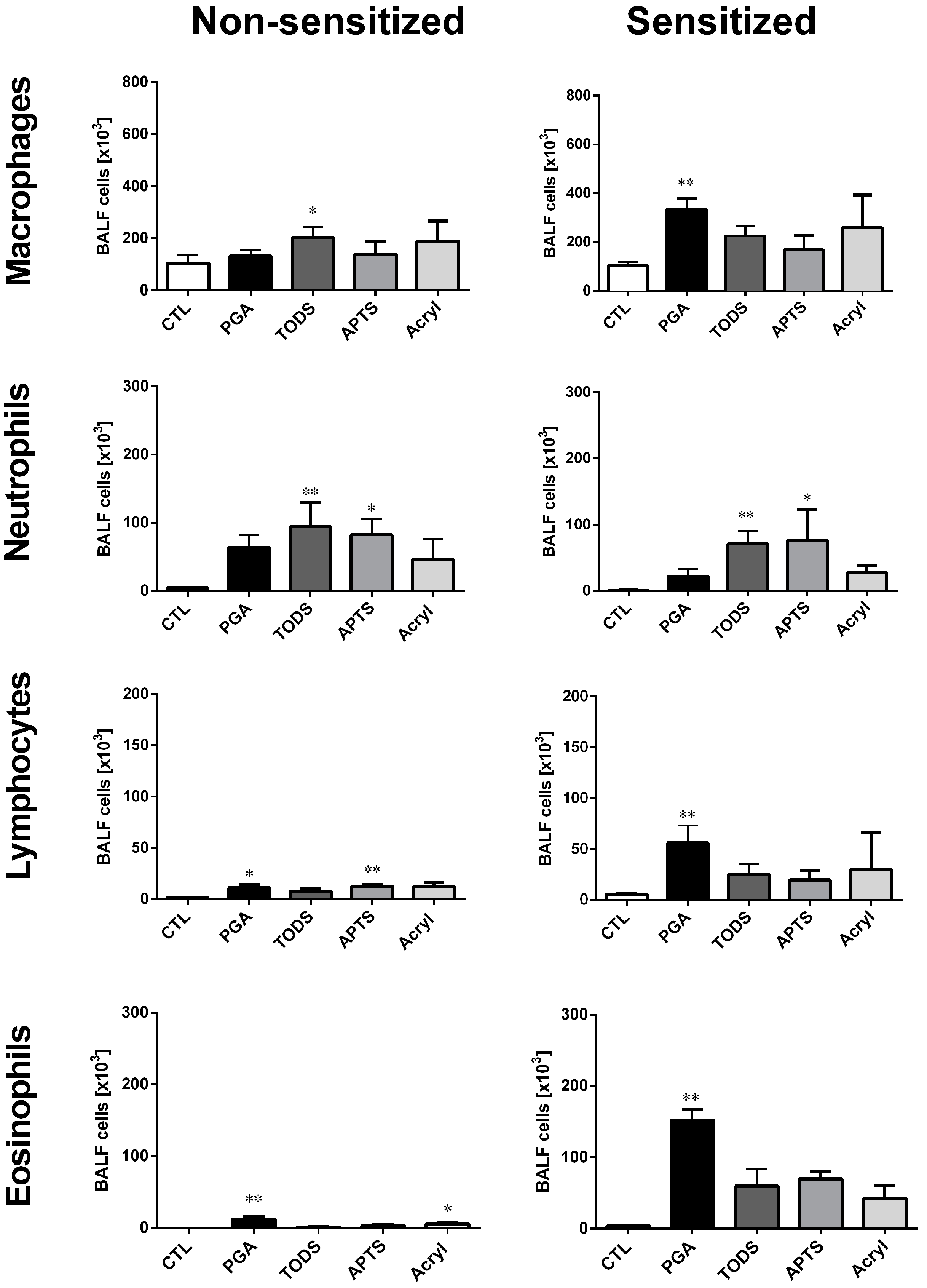 Table 1. EC50 values of in vitro effects on NR8383 cells.

| Assayed Parameter | ZrO2–TODS | ZrO2–Acryl | ZrO2–PGA | ZrO2APTS |
| --- | --- | --- | --- | --- |
| LDH | 43.7 (0.89) 1 | 66.5 (0.85) | 67.9 (0.85) | 68.5 (0.91) |
| GLU | 68.5 (0.87) | 143.43 (0.83) | 100.0 (0.66) | 162.8 (0.88) |
| H2O2 | 31.7 (0.8) | 97.7 (0.91) | n.d. | n.d. |
| TNFα | 53.8 (0.83) | 61.6 (0.91) | 51.1 (0.85) | 75.5 (0.97) |
1 Numbers give concentration values in μg/mL;

R

2 values are shown in brackets. n.d. values could not be calculated.
© 2017 by the authors. Licensee MDPI, Basel, Switzerland. This article is an open access article distributed under the terms and conditions of the Creative Commons Attribution (CC BY) license (http://creativecommons.org/licenses/by/4.0/).