Open Access This article is
freely available
re-usable
Article
N-Doped Graphene with Low Intrinsic Defect Densities via a Solid Source Doping Technique
1
State Key Laboratory of Electronic Thin Films and Integrate Devices, University of Electronic Science and Technology of China, Chengdu 610054, China
2
Department of Electronic Engineering, Chang Gung University, Taoyuan 33302, Taiwan
3
Institute of Electro-Optical Engineering, Chang Gung University, Taoyuan 33302, Taiwan
4
Biosensor Group, Biomedical Engineering Research Center, Chang Gung University, Taoyuan 33302, Taiwan
5
Department of General Surgery, Chang Gung Memorial Hospital, Linkou 33305, Taiwan
6
Department of Nephrology, Chang Gung Memorial Hospital, Linkou 33305, Taiwan
7
Department of Materials Engineering, Ming Chi University of Technology, New Taipei City 24301, Taiwan
†
These authors contributed equally to this work.
*
Author to whom correspondence should be addressed.
Received: 18 August 2017 / Accepted: 25 September 2017 / Published: 30 September 2017
Abstract
:
N-doped graphene with low intrinsic defect densities was obtained by combining a solid source doping technique and chemical vapor deposition (CVD). The solid source for N-doping was embedded into the copper substrate by NH3 plasma immersion. During the treatment, NH3 plasma radicals not only flattened the Cu substrate such that the root-mean-square roughness value gradually decreased from 51.9 nm to 15.5 nm but also enhanced the nitrogen content in the Cu substrate. The smooth surface of copper enables good control of graphene growth and the decoupling of height fluctuations and ripple effects, which compensate for the Coulomb scattering by nitrogen incorporation. On the other hand, the nitrogen atoms on the pre-treated Cu surface enable nitrogen incorporation with low defect densities, causing less damage to the graphene structure during the process. Most incorporated nitrogen atoms are found in the pyrrolic configuration, with the nitrogen fraction ranging from 1.64% to 3.05%, while the samples exhibit low defect densities, as revealed by Raman spectroscopy. In the top-gated graphene transistor measurement, N-doped graphene exhibits n-type behavior, and the obtained carrier mobilities are greater than 1100 cm2·V−1·s−1. In this study, an efficient and minimally damaging n-doping approach was proposed for graphene nanoelectronic applications.
Keywords:
solid source doping technique; CVD; N-doped graphene; low defects; field-effect transistors
2. Results and Discussion
3. Conclusions
In summary, a CVD synthesis process for low defect density N-doped graphene based on the NH3 plasma pretreatment of the Cu foil catalyst was proposed. Approximately 80% of the nitrogen dopant atoms in the graphene lattice are present in the pyrrolic configuration, and the nitrogen concentration was negatively correlated with Cu surface roughness. For synthesis on the pre-treated Cu catalyst, N-doping does not induce a high density of defects or disorder in the graphene lattice, as revealed by the Raman spectra. The electrical transport measurement shows that N-doping effectively modulates the electrical properties of graphene to n-type behavior with high conductivity and carrier mobility. This study provides a low defect density approach for N-doped graphene synthesis and significantly advances the modulation and improvement of the performance of graphene in nanoelectronic applications.
4. Methods
4.1. NH3 Plasma Pretreatment and AFM Scanning
Cu foil (99.8% purity, 25 μm, Alfa Aesar, Ward Hill, MA, USA) was loaded into the plasma-enhanced CVD (PECVD) system, and the chamber was evacuated to 2 mTorr at room temperature. NH3 flowed into the chamber at 20 sccm while the pressure was maintained at 0.5 Torr, and radio frequency power of 100 W was applied to generate the NH3 plasma. The degree of plasma treatment of each sample was adjusted by controlling the exposure time (from 1 min to 5 min) after the plasma was ignited. The Cu surface morphology was scanned using an Innova AFM (Bruker Company, Billerica, MA, USA) equipped with an Olympus AC160TS probe (tip radius of 7 nm, Kuboyama-cho, Hachioji-shi, Tokyo, Japan). The AFM tip was operated in tapping mode and set to map a 5 × 5 μm2 area across the samples.
4.2. Graphene Growth and Transfer Process
Copper foils with and without NH
3
plasma pretreatment were loaded into a low-pressure tube furnace separately [
50
]. The growth temperature was set to 1000 °C under a H
2
flow rate of 50 standard cubic centimeters per minute (sccm, cm
3
/min) to remove the native Cu oxide. Then, 20 sccm CH
4
was introduced to grow graphene on the Cu foils for 20 min. After the graphene synthesis was complete, the furnace was cooled to room temperature at a rate of ~5 °C/s. A layer of polymethyl methacrylate (PMMA) was spin-coated onto the graphene on the Cu surface. The films were then treated with a Cu etchant and rinsed with deionized (DI) water before they were transferred to the 300 nm SiO
2
/Si substrates. The PMMA support layer was removed from each film using acetone, and the remaining graphene films were rinsed with isopropyl alcohol.
4.3. Raman Spectral Analysis and X-ray Photoelectron Spectroscopy
Raman spectra were collected using a RAMaker confocal Raman microscope system (PROTRUSTECH, east district, Tainan, Taiwan, laser excitation photon energy of ~2.62 eV; laser spot-size of ~0.5 μm). The Raman peak of Si at 520 cm−1 was used as the calibration signal for each sample. For Raman probing, each sample was exposed for 3 s, which was repeated 3 times to obtain an average value and to eliminate unintentional cosmic ray effects. The chemical configurations were determined using an X-ray photoelectron spectrometer (VG Scientific, Microlab 350, East Grinstead, UK) with an Auger electron beam gun (LEG 300-F electron column). The energies were calibrated relative to the C1s peak to eliminate the charge distribution of the sample during analysis.
4.4. Top-Gated Graphene Field-Effect Transistors Fabrication and Measurement
After transferring the graphene onto the 300 nm SiO
2
/Si substrate, 50 nm of Ni was deposited as the source and drain (100 μm × 100 μm). The graphene channel (20 µm in width and 50 µm in length) was patterned using lithography methods followed by an O
2
plasma etching step; finally, 1500 nm of Al was deposited followed by a 1.5-nm Al deposition as a buffer layer. Both of these Al layers were exposed to air for more than 8 h to form a thin AlO
x
dielectric layer between the graphene channel and the Al gate [
51
]. Graphene transistors were measured using a B1500-Agilent semiconductor analyzer (Santa Clara, CA, USA).
Supplementary Materials
The following are available online at
http://www.mdpi.com/2079-4991/7/10/302/s1
, Figure S1: XPS spectra for N-doped graphene. (a,b) C1s core level for NG3 and NG5; (c,d) N1s core level for NG3 and NG5. Figure S2: Raman spectrum of graphene without and with a 1 min, 3 min, and 5 min NH
3
plasma treatment. Figure S3: (a) The
I
g
/
V
g
curve of pristine graphene and N-doped graphene; (b) the
I
d
/
V
d
curve of pristine graphene and N-doped graphene; (c) gate capacitance of pristine graphene and N-doped graphene, the inset illustration shows the structure of the capacitance measurement.
Acknowledgments
This research was supported by the Ministry of Science and Technology, Taiwan (106-2221-E-182-059-MY3, 106-2632-E-182-001, and 106-2911-I-182-504), Chang Gung Memorial Hospital (CMRPD2F0022 and CMRPD2G0101).
Author Contributions
Bo Liu carried out literature search, experiments, figures drawing, data collection, data analysis, organization and writing. Chia-Ming Yang performed data analysis, organization and writing. Zhiwei Liu performed data analysis and manuscript revision. Chao-Sung Lai initiated the idea, designed the study, and performed data analysis, organization and manuscript revision.
Conflicts of Interest
The authors declare no conflict of interest.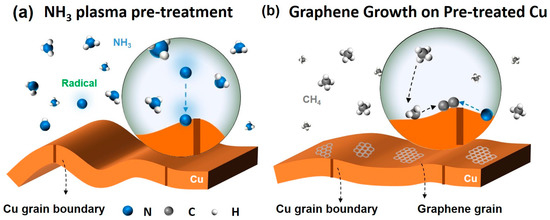 Figure 1. Schematic of (a) NH3 plasma pretreatment of the Cu surface and (b) N-doped graphene synthesis on the pre-treated Cu surface using low-pressure chemical vapor deposition (LPCVD).

Figure 2. Atomic force microscopy (AFM) images of the Cu surface without and with NH3 plasma treatment for different durations: (a) original Cu, (b) 1 min, (c) 3 min, and (d) 5 min. RMS is the abbreviation of roughness mean square.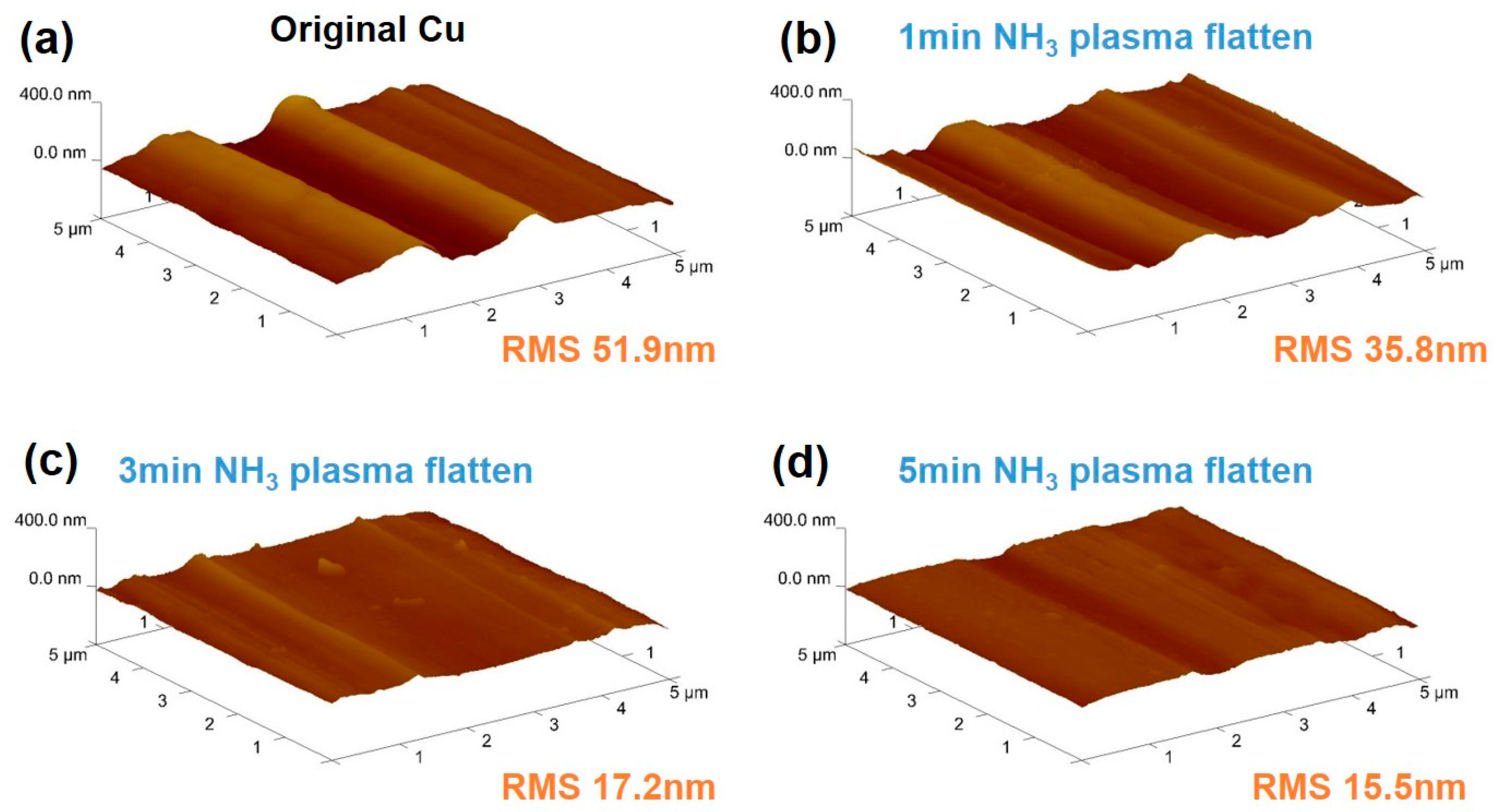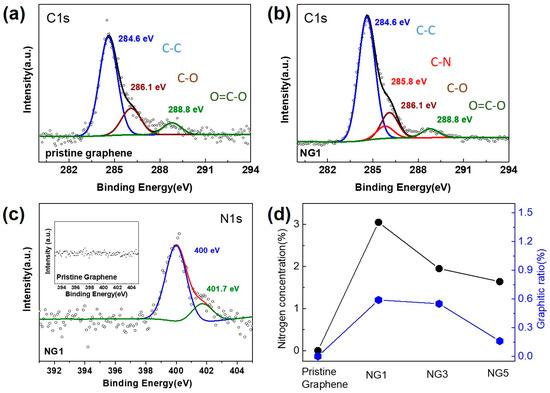 Figure 3. Analysis of X-ray photoelectron spectroscopy (XPS) spectra for pristine graphene and N-doped graphene. (a,b) C1s spectrum for pristine graphene and NG1; (c) N1s core level for NG1 (inset is the N1s spectrum for pristine graphene); (d) N content ratio and graphitic configuration ratio for NG1, NG3, and NG5.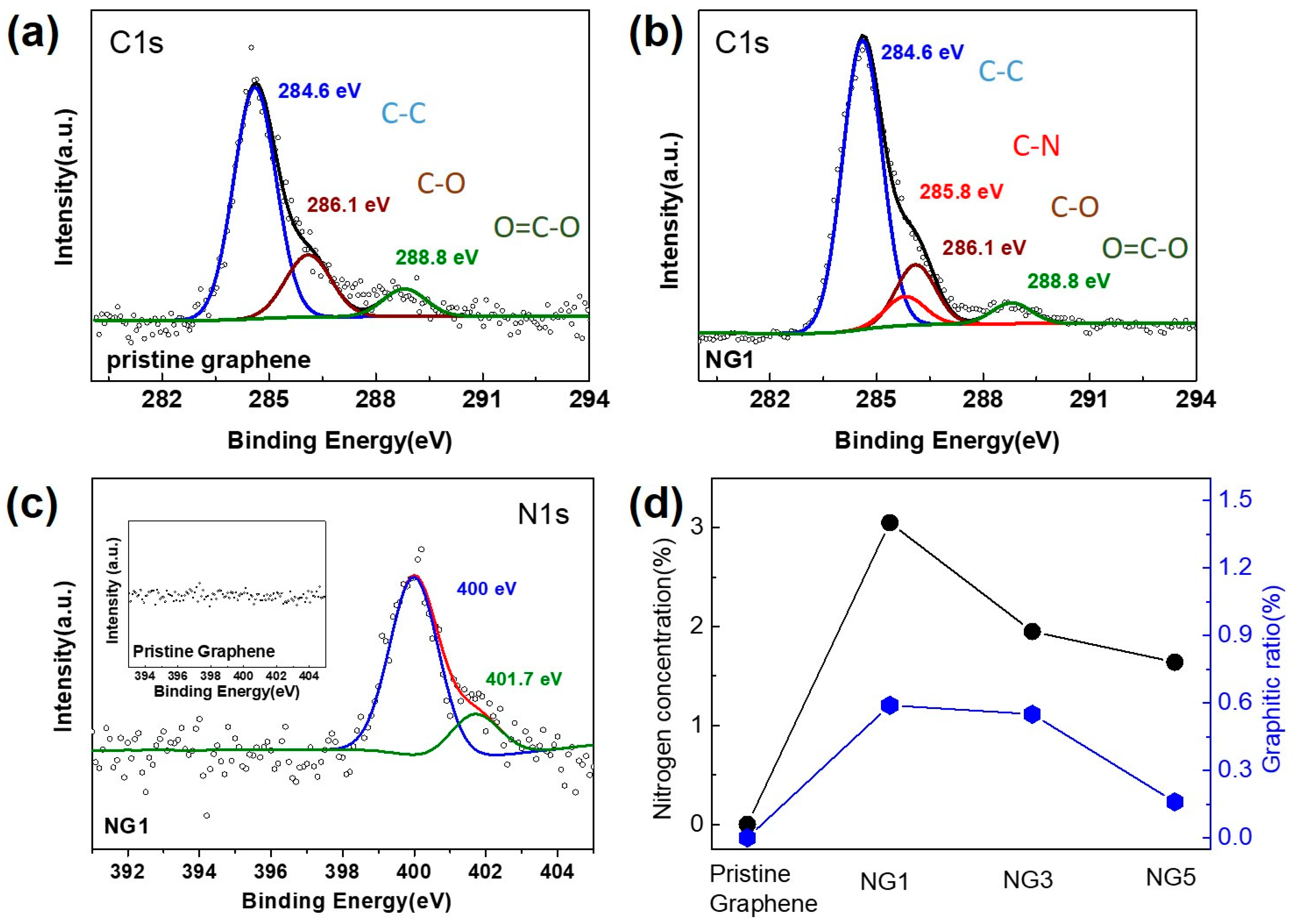 Figure 4. Raman spectra for pristine graphene and N-doped graphene. (a) Raman spectrum and (b) G and 2D band positions (derived from the Raman spectra).


Figure 5.
Transport characteristics for pristine graphene and N-doped graphene. (
a
) Schematic structure of top-gated graphene field-effect transistors (GFETs) (
b
)
I
d
–
V
g
curves for pristine, NG1, NG3, and NG5 FETs, with the drain voltage maintained at 0.1 V and a gate voltage sweep from −2.5 to 1 V; and (
c
) Mobility as a function of carrier density for pristine graphene, NG1, NG3, and NG5 FETs.

Table 1. Comparison of N-doping and the electrical performance for N-doped graphene obtained using different growth approaches.
Table 1. Comparison of N-doping and the electrical performance for N-doped graphene obtained using different growth approaches.
N-Doped Graphene Synthesis Method
Synthesis Temperature
Nitrogen Content (*)
Nitrogen Configurations (#)

I

D/

I

G
Dirac Point Shift
Carrier mobility N-Doped Graphene/Pristine Graphene (cm2·V−1·s−1)
Ref.
CVD monolayer graphene growth on NH3 plasma pre-treated Cu foil
1000 °C
3%
Pyrrolic, Graphitic
0.17
0.7 to −1.2 V (top gate)
~1100/~1000 (electron branch)
~1100/800 (hole branch)
This work
CVD monolayer graphene growth on Cu using C2H2, H2 and NH3 as precursors
900 °C
16%
Pyridinic
>2
N/A
N/A
[47]
CVD monolayer graphene growth on Cu using CH4 and NH3 as precursors
1000 °C
6.4%
Pyrrolic
~0.7
N/A
N/A
[48]
CVD monolayer graphene growth on Cu (CH4 + NH3)
800 °C
8.9%
Graphitic
~0.30
N/A
450/1200
[35]
CVD few-layered (2–8 layers) graphene growth on Ni (CH4 + NH3 + Ar)
1000 °C
4%
Pyrrolic, Pyridinic
0.06–0.25
N/A
N/A
[49]
CVD few-layered graphene growth on Ni with embedded nitrogen
1000 °C
2.9%
Pyrrolic, Pyridinic, Graphitic
2.1
more than 60 to −50 V (back gate)
N/A
[29]
CVD on Cu using pyridine as the precursor
1000 °C
2.4%
Pyridinic, Pyrrolic
0.3–0.4
10 to −10 V (back gate)
5/2000
[9]
PECVD growth of NG on SiO2/Si using C2H2 and NH3 plasma as precursors
475 °C
N/A
Pyridinic
~0.7
20 to −20 V (back gate)
400/NA
[17]
Post-annealing of CVD graphene (on Cu foil) in NH3 gas
850 °C
0.25%
Pyrrolic, Pyridinic
~1
N/A
N/A
[7]
Exfoliated graphene with N2 ion implantation and post-annealing in NH3
1100 °C
1.1%
Pyridinic
~0.6
~2 V to ~−7 V (back gate)
6000/6700 (electron branch)
6000/15000 (hole branch)
[2]
(*) Only the highest nitrogen content samples were chosen in each study; (#) The nitrogen configurations were sequenced by the nitrogen content ratio for each study. The nitrogen pyridinic, pyrrolic, and graphitic configurations accounted for a binding energy of approximately 398.2, 400.3, and 401.5 eV, respectively. CVD = chemical vapor deposition. PECVD = plasma-enhanced CVD.
© 2017 by the authors. Licensee MDPI, Basel, Switzerland. This article is an open access article distributed under the terms and conditions of the Creative Commons Attribution (CC BY) license (http://creativecommons.org/licenses/by/4.0/).