Open Access This article is
freely available
re-usable
Review
Recent Advances in the Application of Magnetic Nanoparticles as a Support for Homogeneous Catalysts
1
School of Chemistry and CRANN, Trinity College Dublin, Dublin 2, Ireland
2
St. Petersburg National Research University of Information Technologies, Mechanics and Optics, St. Petersburg 197101, Russia
*
Author to whom correspondence should be addressed; Tel.: +353-1-896-3543.
Received: 16 February 2014; in revised form: 17 March 2014 / Accepted: 20 March 2014 / Published: 2 April 2014
Abstract
:
Magnetic nanoparticles are a highly valuable substrate for the attachment of homogeneous inorganic and organic containing catalysts. This review deals with the very recent main advances in the development of various nanocatalytic systems by the immobilisation of homogeneous catalysts onto magnetic nanoparticles. We discuss magnetic core shell nanostructures (e.g., silica or polymer coated magnetic nanoparticles) as substrates for catalyst immobilisation. Then we consider magnetic nanoparticles bound to inorganic catalytic mesoporous structures as well as metal organic frameworks. Binding of catalytically active small organic molecules and polymers are also reviewed. After that we briefly deliberate on the binding of enzymes to magnetic nanocomposites and the corresponding enzymatic catalysis. Finally, we draw conclusions and present a future outlook for the further development of new catalytic systems which are immobilised onto magnetic nanoparticles.
Keywords:
magnetic nanoparticles; catalysis; magnetic recovery; homogeneous catalysts
2. Immobilisation of Inorganic Catalysts on Magnetic Nanoparticles
3. Immobilisation of Organic Catalysts onto Magnetic Nanostructures
As we mentioned, there is a considerable interest in the immobilization of organic catalyst molecules onto heterogeneous substrates. In this case magnetic nanoparticles offer a number of advantages as a substrate enabling the retrieval and recycling of organic catalysts which are normally impossible to remove from the reaction mixture.
4. Immobilisation of Enzyme Catalysts onto Magnetic Nanoparticles
Since nanoparticles are close in size to biomolecules it is likely that they may exhibit some size related properties close to that of the molecules themselves. Enzymes are very active biomolecules, which can serve as highly specific and efficient catalysts. Many enzyme nanomimics which have been produced from nanoparticles showed specific catalytic activities [
77
]. Enzymes can be attached to the surface of magnetic nanoparticles or beads through the use of EDC coupling [
78
] and these nanocomposites can then be used for a range of reactions for the production of useful pharmaceuticals and organic materials [
76
,
79
] as well as other applications in fields such as sensing [
79
], for proteomic sample preparation and peptidomic analysis [
80
]. However, in spite of advantages enabling the retention and removal of the often expensive enzymes from the reaction medium, there are problems associated with the use of enzyme based catalytic systems with regard to their activity and selectivity and there is a need for prudence. Therefore, further innovative approaches are necessary to develop new immobilized enzymatic catalysts.
In one recent work magnetic nanoparticles were produced via precipitation in the presence of gum Arabic by Huizhou
et al.
[
81
]. To these nanocomposites Lipase was bound, derived from
Candida rugosa
stabilised with surfactant. The resulting nanocomposites were then used for the multi-step synthesis of ethyl-isovalerate. Conversion rates of near 80% were reported. It was observed that across a number of catalytic cycles the bound enzyme retained greater catalytic activity than the free enzyme.
Chitosan stabilised magnetic nanoparticles were used by Kow-Jen Duan
et al.
[
82
] for the immobilisation of β-Fructanfuranosidase. This catalyst was then used for the production of fructo-oligosaccarides from sucrose. The activity of these nanoparticles was tested across various pH and temperature ranges and showed greater activity in altered conditions compared to the free enzyme (
Figure 11
).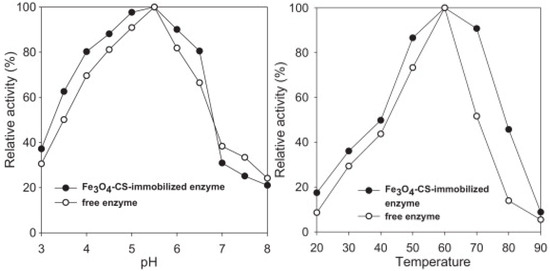 Figure 11.
Change in enzymatic activity with changing pH (
Left
) and temperature (
Right
) to compare enzymes immobilized on nanoparticles with the free enzyme. Reproduced from Duan
et al.
[
82
]. Copyright 2013 with permission of Elsevier.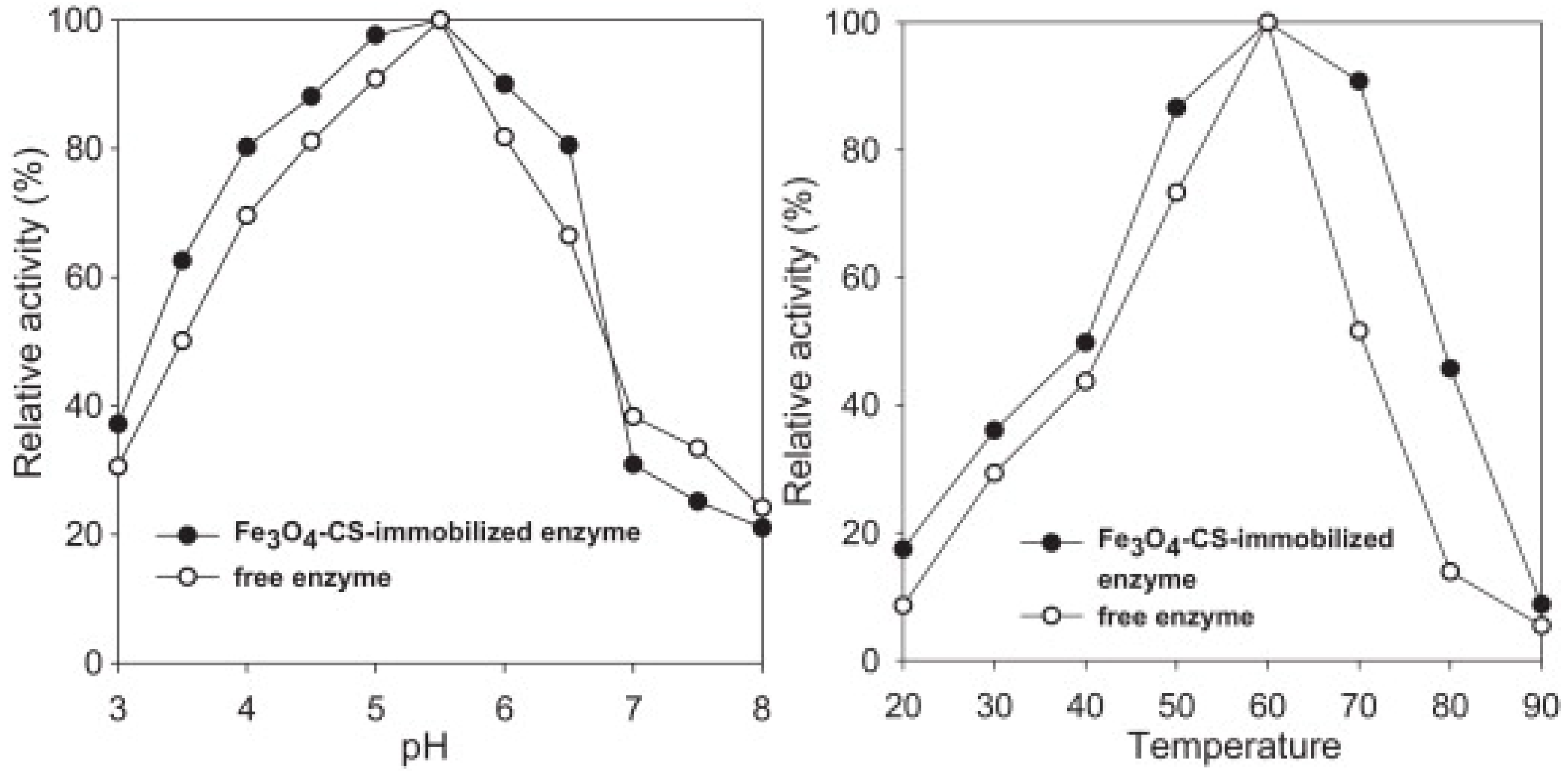 Vali
et al.
[
83
] developed the chemical linkage of glucose oxidase to the surface of silica modified magnetic nanoparticles which were then tested for their activity over twelve reuse and regeneration cycles and were observed to have retained up to 98% activity after 45 days attached to nanoparticles. These composites were tested for both cellular and environmental assays and shown very limited toxicity.
In similar work by Kim
et al.
[
84
] epoxide hydrolase was bound within a framework of mesoporous silica and then used for the enantioselective hydrolysis of racemic epoxides as a method for the separation of stereoisomers. These nanocomposites retained activity over a longer time than the free enzyme. It was also noted that up to 100% conversion was reported over four cycles of use and magnetic retention.
Nanocomposites of carbon nanotubes, amyloglucosidase, and magnetic iron oxides were reported by Goh
et al.
[
85
] that were used for the hydrolysis of starch for use in biofuel synthesis. The bound enzymes still showed strong activity after at least a month at 4 °C in a buffer solution. A similar method was also employed by Peijun
et al.
[
86
] which involved the binding of a lipase from
Yarrowia lipolytica
to carbon nanotubes further functionalised with iron oxide nanoparticles. These nanocomposites were shown to be highly effective for the chiral resolution of (R,S)-1-Phenyl ethanol in heptane. They reported the resistance of the nanocomposites to sonication for up to 30 min.
5. Conclusions and Future Outlook
As we can see from the review above, there are some interesting new developments in catalytic systems immobilised on magnetic nanoparticles. Still there is a clear domination of the standard approach involving silica coating of magnetic iron oxide core followed by functionalisation using appropriate alkoxysilane derivatives. However, very important steps have also been made in the development of various functional polymeric coatings. In addition to mesoporous silica shells, significant progress has also been achieved in the preparation of new mesoporous zeolite-like [
53
] and MOF [
52
] coatings on magnetic nanoparticles, that enabled the combination of the advantages of porous, magnetic and molecular catalytic systems in one. We believe that this research has a great potential for the development of new multifunctional catalysts with high reactivity and selectivity.
Another interesting development is the immobilization of polydentate dendritic ligands [
54
,
55
] on magnetic nanoparticles, that enables effective removal of toxic transition metal based catalysts from important pharmaceutical products in drug synthesis. This approach should find relevant industrial applications in biopharmaceutical, food additives, fragrances and other sectors. In addition, reported by the same group new palladium nanoparticles supported on magnetic carbon-coated cobalt nanobeads are of high commercial potential and might replace the conventional and widely used palladium on charcoal reagents [
58
].
The report on the background catalytic activity of uncoated magnetite nanoparticles [
75
] serves as a serious notification for the research community working in the field of magnetically supported catalysts. However, this finding also opens up new intriguing opportunities for the development of novel hybrid inorganic/organic multifunctional nanocatalytic systems which could enable the conductance of very complex multistep catalytic transformations in one pot reactions with magnetically retrievable and re-usable catalysts.
Another important aspect is the development of new magnetically immobilised enzymatic catalysts. Despite the number of challenges and difficulties in this field, there is a great potential, particularly for biopharmaceutical applications of enzyme based catalysts.
Finally, we think that hyperthermic capabilities of magnetic substrates should be explored in the near future. This field is still very poorly developed despite the great potential opportunities to combine the catalysis with the selective local heating of reagents at the substrate. This should provide significant cost and energy savings, particularly for high temperature catalytic reactions.
Acknowledgments
Financial support by the EU-ITN network Mag(net)icFun (PITN-GA-2012-290248), EU FP7 (FutureNanoNeeds), Science Foundation Ireland (SFI) and the Ministry of Education and Science of the Russian Federation (Grant No. 14.B25.31.0002) is gratefully acknowledged.
Author Contributions
The authors have made equal contributions in the preparation of this review.
Conflicts of Interest
The authors declare no conflict of interest.
© 2014 by the authors; licensee MDPI, Basel, Switzerland. This article is an open access article distributed under the terms and conditions of the Creative Commons Attribution license (http://creativecommons.org/licenses/by/3.0/).