Open Access This article is
freely available
re-usable
Review
A Survey on Information Diffusion in Online Social Networks: Models and Methods
School of Information Science and Engineering, Hebei University of Science and Technology, Shijiazhuang 050018, China
*
Author to whom correspondence should be addressed.
Received: 16 August 2017 / Accepted: 22 September 2017 / Published: 29 September 2017
Abstract
:
By now, personal life has been invaded by online social networks (OSNs) everywhere. They intend to move more and more offline lives to online social networks. Therefore, online social networks can reflect the structure of offline human society. A piece of information can be exchanged or diffused between individuals in social networks. From this diffusion process, lots of latent information can be mined. It can be used for market predicting, rumor controlling, and opinion monitoring among other things. However, the research of these applications depends on the diffusion models and methods. For this reason, we survey various information diffusion models from recent decades. From a research process view, we divide the diffusion models into two categories—explanatory models and predictive models—in which the former includes epidemics and influence models and the latter includes independent cascade, linear threshold, and game theory models. The purpose of this paper is to investigate the research methods and techniques, and compare them according to the above categories. The whole research structure of the information diffusion models based on our view is given. There is a discussion at the end of each section, detailing related models that are mentioned in the literature. We conclude that these two models are not independent, they always complement each other. Finally, the issues of the social networks research are discussed and summarized, and directions for future study are proposed.
Keywords:
social networks; information diffusion; theoretical diffusion model; explanatory models; predictive models
Acknowledgments
This paper is supported by Natural Science Foundation of Hebei Education Department (No. QN2015207), National Science Foundation of China (No. 61272362), the Key Research Project for University of Hebei Province (No. ZD2014029), the Basic Research Project of Hebei Province (No. F2017208012), and the Research Project for College of Information Science and Engineering, Hebei University of Science and Technology.
Author Contributions
Mei Li and Xiang Wang gathered all of the literature; Mei Li, Xiang Wang, Kai Gao and Shanshan Zhang read and analyzed the literature; Mei Li, Xiang Wang, Kai Gao and Shanshan Zhang wrote the paper; all of the authors have read and checked the final manuscript.
Conflicts of Interest
The authors declare no conflict of interest.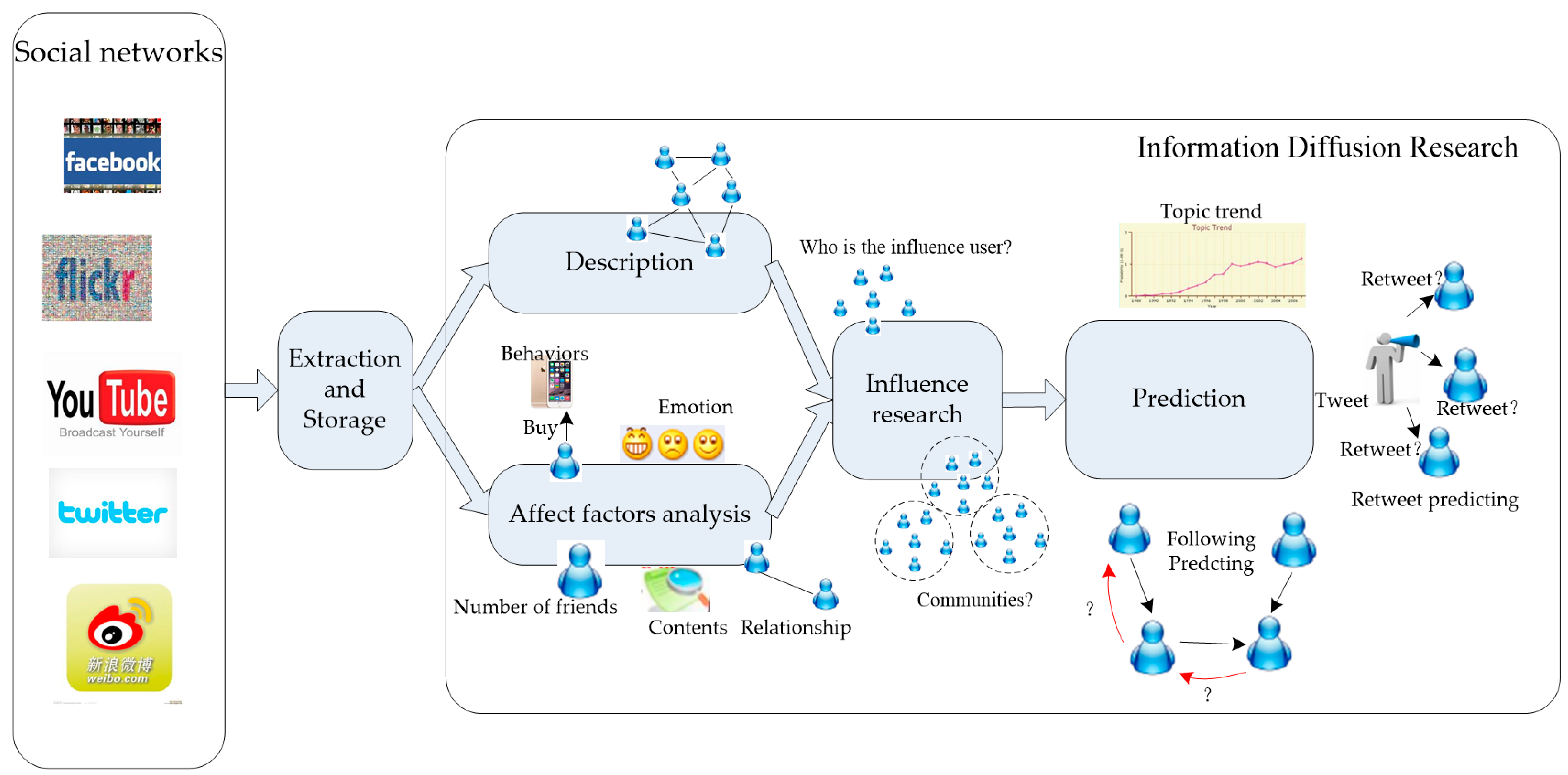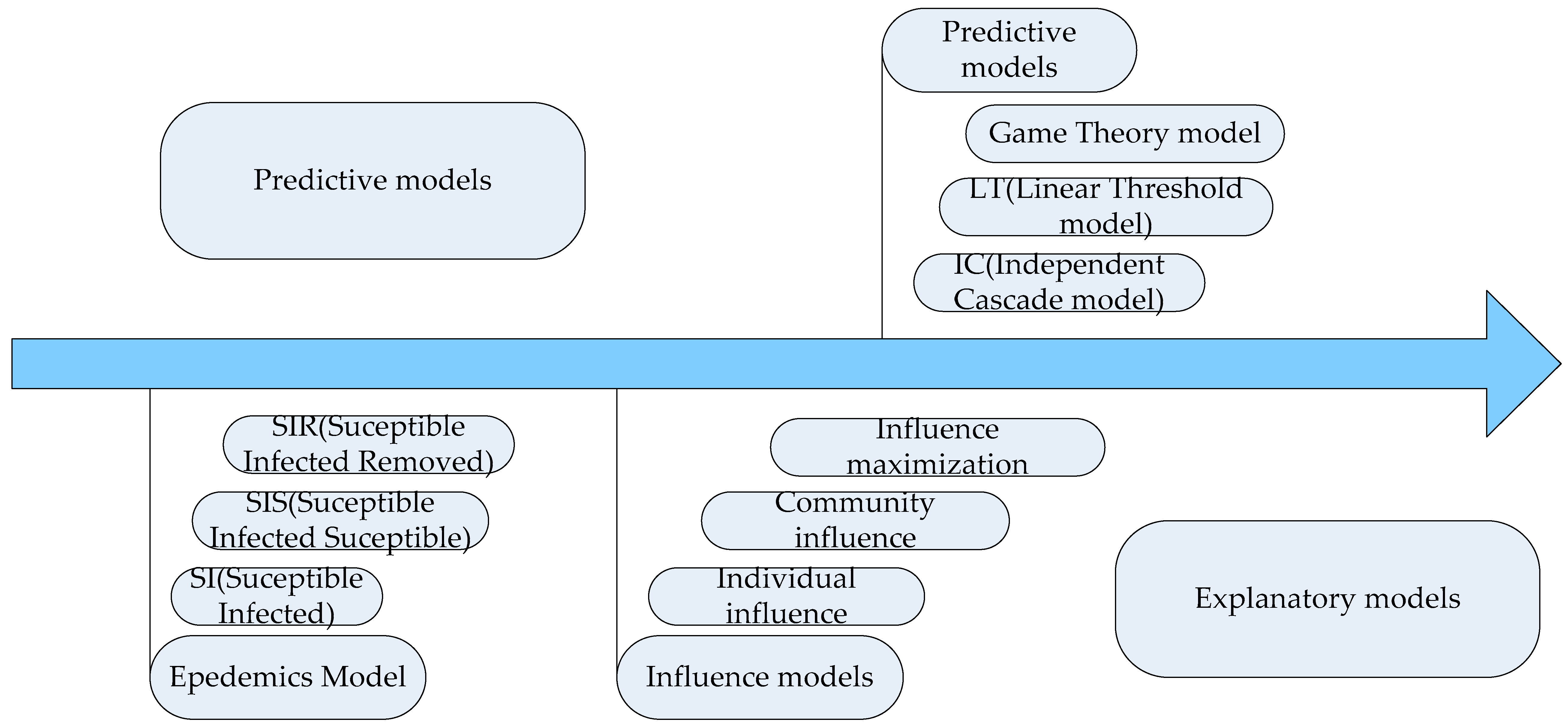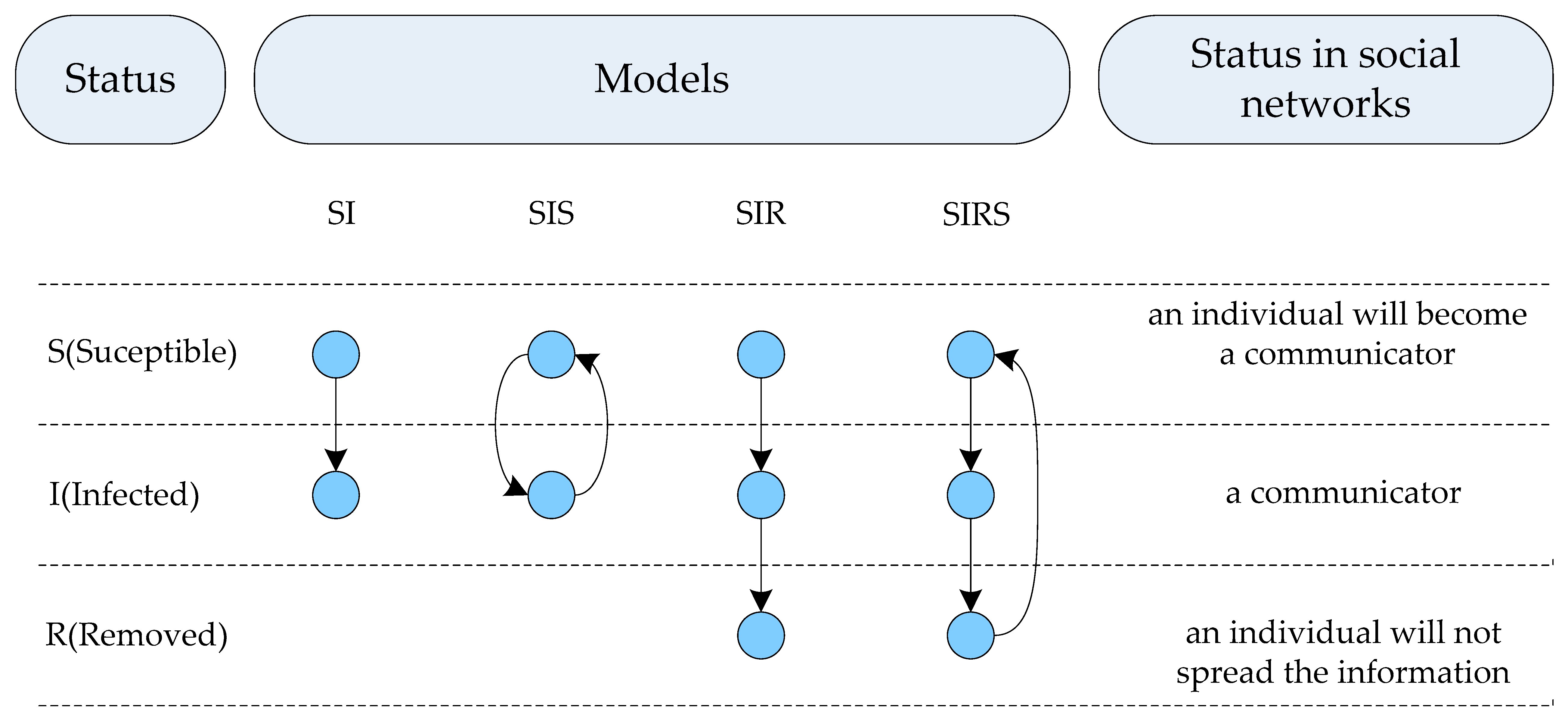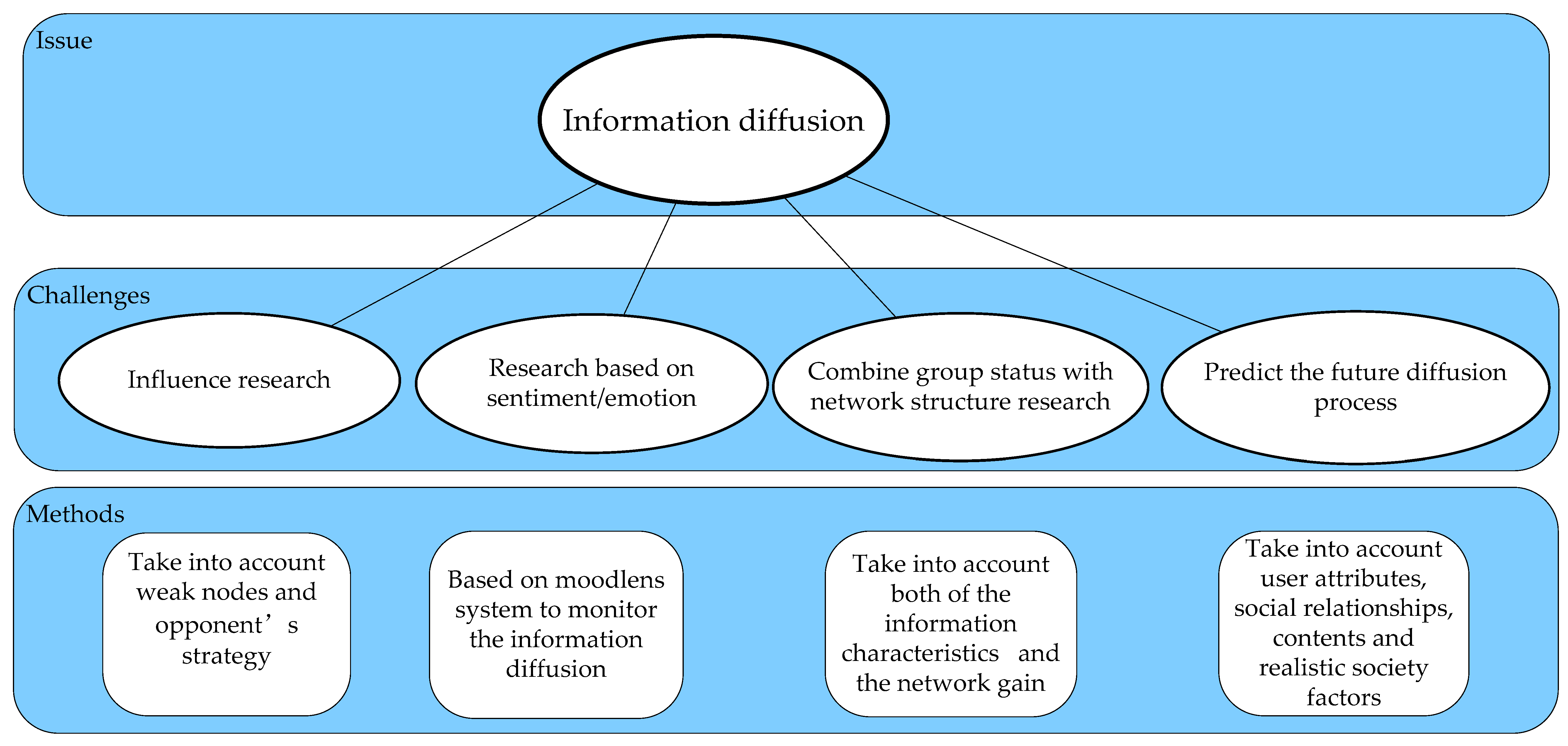 Table 1. Comparison of Epidemic Models in the Literature.
Scalable Model
Method
Consider the User's Different Behaviors
Expression of the Diffusion Process
Dynamic Infected Rate and Recovery Rate
Performance Metrics
Applications
SEIR [26]
add Exposed node
-
-
distribution of nodes density
detect the affect factors: login frequency and number of friends
S-SEIR [27]
information value is considered
√



δ

= user behavior
-
distribution of S, E, I, and R
simulate the diffusion process
SCIR [28]
add Contacted node
-
-
distribution of I and R
represent the regularity of online topic spreading
irSIR [29]
add Infection Recovery dynamics
-

v = an infectious recovery rate
√
degree of fitting with real data
describe OSN abandonment
FSIR [30]
consider the behavior of the neighbors
√

= node degree
√
degree of fitting with real data
detect the affect factors: information numbers and friends numbers
ESIS [31]
consider the information weight with emotion
-

= the probability of I to S; = the strength of edge

e

from

i

to

j

√
degree of fitting with real data
detect the affect factors: propagation probability and transmission intensity
OSN: online social network. S: suceptible. E: exposed. I: infected. R: removed.
Table 2. Comparison of the Individual Influence Methods.
Researcher
Network Structure
User Interactions
User Attributes
Method
Quantitative Criterion
Applications
User behaviors
Other features
Chenxu [38]
√
-
-
-
social network analysis
out-degree
identify opinion leaders and prediction
Bo [39]
-
√
√
centrality
competency
activists, centrality and intermediary
identify opinion leaders and influence maximization
Jiaxin [40]
√
-
√
access time
social network analysis
capability of diffusion
influence predicting
Xianhui [41]
√
√
√
topic and weight
page-rank
coverage and coreratio
mining topic opinion leader
Ullah [42]
√
√
√
neighbors-of-neighbors
social network analysis
activists
identify influential nodes
Table 3. Comparison of the Main Algorithms Aforesaid.

| Model | Links | Attributes or Contents | Sentiment | Method | Quantitative Criterion |
| --- | --- | --- | --- | --- | --- |
| PCL-DC [44] | √ | √ | - | probability | - |
| SA-Cluster-Inc [45] | √ | prolific and topic | - | cluster | density and entropy function |
| CODICIL [46] | √ | stemmed words, title and context, tags | - | cluster | quality function |
| sentiment-topic based [48] | √ | user, text | √ | probability | sentiment-topic similarity |
| SVO [50] | √ | interests | √ | cluster | homophily |
| interest and trust based [51] | √ | interest, trust | - | both | quality function |
Table 4. Comparison of Influence Maximization Method.
Model
Find Seeds
Techniques for Choosing Seed Nodes
Data/Model Driven
Multi-Round
Multi Innovations/Items/Information
Application
OIM [58]
√
explore-exploit, heuristic
model
√
-
individual influence maximization
Adaptively Seeding [60]
√
friendship paradox
data
-
-
CASINO [62]
√
conformity aware is mentioned
data
√
-
Optimal percolation [64]
√
the important of weak nodes
data
-
-
STORM [59]
√
maximization the total gain
data
√
√
competitive influence maximization
GETREAL [63]
√
game theory
model
-
√
Table 5. Comparison of Independent Cascade Model (ICM), Linear Threshold Model (LTM) and Game Theory Model (GTM).
Table 5. Comparison of Independent Cascade Model (ICM), Linear Threshold Model (LTM) and Game Theory Model (GTM).
Model
Basic Model
Research Views
Application
IC
LT
GT
EM [66]
√
-
-
the likelihood for information diffusion episodes
prediction of propagation probability
ASIM [68]
√
-
-
combine running-time with memory-consumption
influence maximization
TIC, TLT [69]
√
√
-
Topic-aware
prediction of topic distribution
DRUC [73]
-
√
-
information content and user profile
find affect factors
Heuristic and Greedy [74]
-
√
-
influence of nodes and the node's activation threshold
select the greatest influence nodes
Microscopic [76]
-
-
√
relationship and cost
prediction of the information spread
Evolutionary game [77]
-
-
√
individual information behavior in micro level
prediction of information diffusion in dynamic network
Game Coalitional [78]
-
-
√
structure of social network and interactive features
relationships prediction

© 2017 by the authors. Licensee MDPI, Basel, Switzerland. This article is an open access article distributed under the terms and conditions of the Creative Commons Attribution (CC BY) license (http://creativecommons.org/licenses/by/4.0/).