The Roles of Epithelial-to-Mesenchymal Transition (EMT) and Mesenchymal-to-Epithelial Transition (MET) in Breast Cancer Bone Metastasis: Potential Targets for Prevention and Treatment
Division of Medical Oncology, Department of Internal Medicine, Faculty of Medicine, Dokuz Eylul University, Izmir 35340, Turkey
Received: 20 September 2013 / Revised: 25 October 2013 / Accepted: 8 November 2013 / Published: 22 November 2013
Abstract
Many studies have revealed molecular connections between breast and bone. Genes, important in the control of bone remodeling, such as receptor activator of nuclear kappa (RANK), receptor activator of nuclear kappa ligand (RANKL), vitamin D, bone sialoprotein (BSP), osteopontin (OPN), and calcitonin, are expressed in breast cancer and lactating breast. Epithelial-mesenchymal transition (EMT) and mesenchymal-epithelial transition (MET) effectors play critical roles during embryonic development, postnatal growth, and epithelial homeostasis, but also are involved in a number of pathological conditions, including wound repair, fibrosis, inflammation, as well as cancer progression and bone metastasis. Transforming growth factor β (TGFβ), insulin-like growth factor I & II (IGF I & II), platelet-derived growth factor (PDGF), parathyroid hormone-related protein (PTH(rP)), vascular endothelial growth factor (VEGF), epithelial growth factors II/I (ErbB/EGF), interleukin 6 (IL-6), IL-8, IL-11, IL-1, integrin αvβ3, matrix metalloproteinases (MMPs), catepsin K, hypoxia, notch, Wnt, bone morphogenetic proteins (BMP), and hedgehog signaling pathways are important EMT and MET effectors identified in the bone microenviroment facilitating bone metastasis formation. Recently, Runx2, an essential transcription factor in the regulation of mesenchymal cell differentiation into the osteoblast lineage and proper bone development, is also well-recognized for its expression in breast cancer cells promoting osteolytic bone metastasis. Understanding the precise mechanisms of EMT and MET in the pathogenesis of breast cancer bone metastasis can inform the direction of therapeutic intervention and possibly prevention.
View Full-Text
►

▼

Figures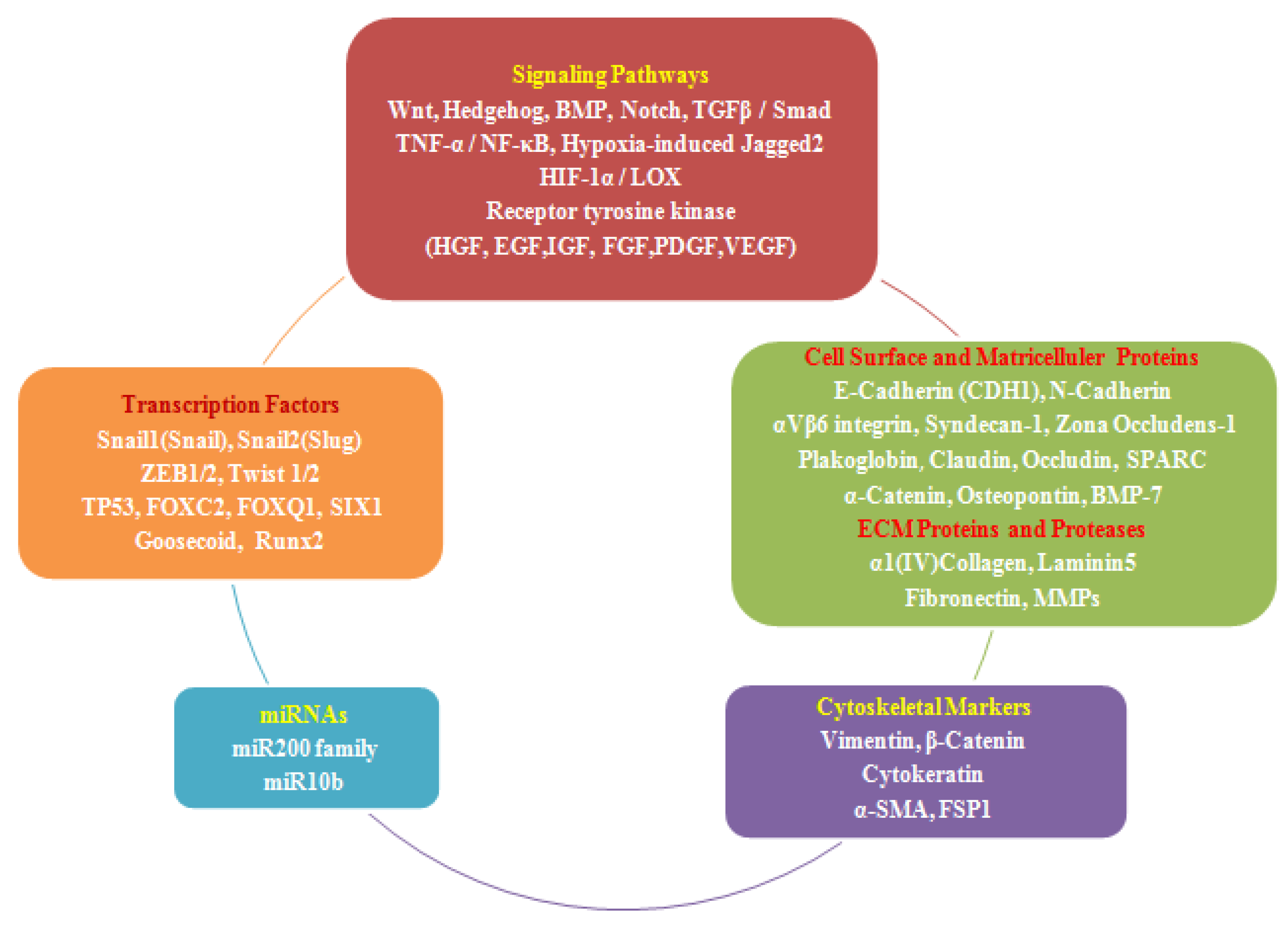 Figure 1
Share & Cite This Article
MDPI and ACS Style
Demirkan, B. The Roles of Epithelial-to-Mesenchymal Transition (EMT) and Mesenchymal-to-Epithelial Transition (MET) in Breast Cancer Bone Metastasis: Potential Targets for Prevention and Treatment. J. Clin. Med. 2013, 2, 264-282.
Related Articles
Comments
[Return to top]