Short Term Culture of Human Mesenchymal Stem Cells with Commercial Osteoconductive Carriers Provides Unique Insights into Biocompatibility
1
Department of Cellular Therapies, Celling Biosciences, Austin, Texas 78701, USA
2
Department of Orthopaedics, Scott and White Hospital, Temple, TX 76504, USA
3
Institute for Regenerative Medicine, Scott and White Hospital, Texas A & M Health Science Center, Temple, TX 76502, USA
*
Author to whom correspondence should be addressed.
Received: 30 May 2013 / Revised: 6 July 2013 / Accepted: 9 July 2013 / Published: 19 August 2013
Abstract
For spinal fusions and the treatment of non-union fractures, biological substrates, scaffolds, or carriers often are applied as a graft to support regeneration of bone. The selection of an appropriate material critically influences cellular function and, ultimately, patient outcomes. Human bone marrow mesenchymal stem cells (BMSCs) are regarded as a critical component of bone healing. However, the interactions of BMSCs and commercial bone matrices are poorly reported. BMSCs were cultured with several commercially available bone substrates (allograft, demineralized bone matrix (DBM), collagen, and various forms of calcium phosphates) for 48 h to understand their response to graft materials during surgical preparation and the first days following implantation (cell retention, gene expression, pH). At 30 and 60 min, bone chips and inorganic substrates supported significantly more cell retention than other materials, while collagen-containing materials became soluble and lost their structure. At 48 h, cells bound to β-tricalcium phosphate-hydroxyapatite (βTCP-HA) and porous hydroxyapatite (HA) granules exhibited osteogenic gene expression statistically similar to bone chips. Through 24 h, the DBM strip and βTCP-collagen became mildly acidic (pH 7.1–7.3), while the DBM poloxamer-putties demonstrated acidity (pH < 5) and the bioglass-containing carrier became basic (pH > 10). The dissolution of DBM and collagen led to a loss of cells, while excessive pH changes potentially diminish cell viability and metabolism. Extracts from DBM-poloxamers induced osteogenic gene expression at 48 h. This study highlights the role that biochemical and structural properties of biomaterials play in cellular function, potentially enhancing or diminishing the efficacy of the overall therapy.
View Full-Text
►

▼

Figures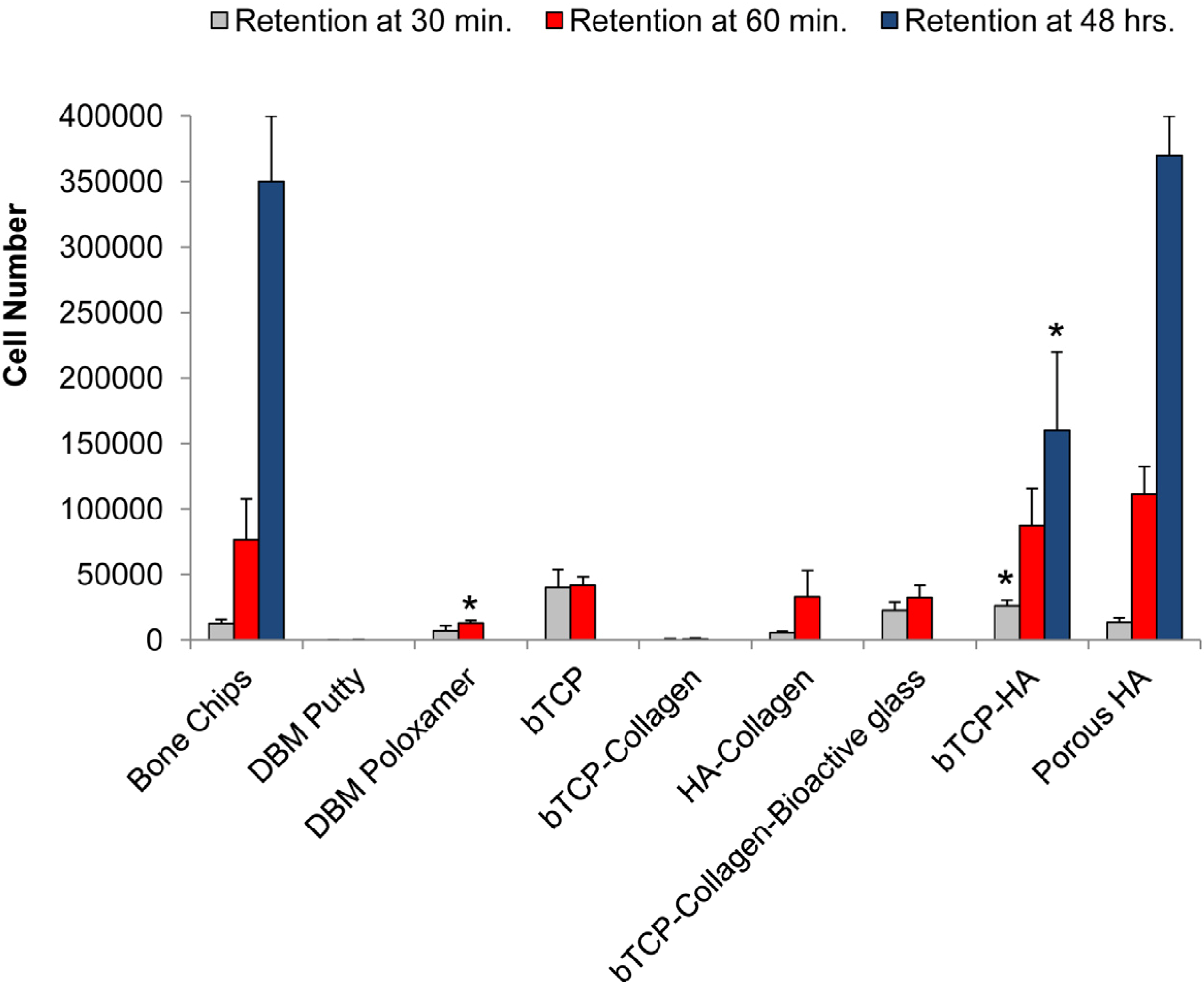 Figure 1
Share & Cite This Article
MDPI and ACS Style
Murphy, M.B.; Suzuki, R.K.; Sand, T.T.; Chaput, C.D.; Gregory, C.A. Short Term Culture of Human Mesenchymal Stem Cells with Commercial Osteoconductive Carriers Provides Unique Insights into Biocompatibility. J. Clin. Med. 2013, 2, 49-66.
Related Articles
Comments
[Return to top]