The BAR Domain Superfamily Proteins from Subcellular Structures to Human Diseases
Laboratory of Membrane and Cytoskeleton Dynamics, Institute of Molecular and Cellular Biosciences, The University of Tokyo, 1-1-1 Yayoi, Bunkyo-ku, Tokyo 113-0032, Japan
*
Author to whom correspondence should be addressed.
Received: 5 January 2012 / Revised: 7 February 2012 / Accepted: 15 February 2012 / Published: 27 February 2012
Abstract
Eukaryotic cells have complicated membrane systems. The outermost plasma membrane contains various substructures, such as invaginations and protrusions, which are involved in endocytosis and cell migration. Moreover, the intracellular membrane compartments, such as autophagosomes and endosomes, are essential for cellular viability. The Bin-Amphiphysin-Rvs167 (BAR) domain superfamily proteins are important players in membrane remodeling through their structurally determined membrane binding surfaces. A variety of BAR domain superfamily proteins exist, and each family member appears to be involved in the formation of certain subcellular structures or intracellular membrane compartments. Most of the BAR domain superfamily proteins contain SH3 domains, which bind to the membrane scission molecule, dynamin, as well as the actin regulatory WASP/WAVE proteins and several signal transduction molecules, providing possible links between the membrane and the cytoskeleton or other machineries. In this review, we summarize the current information about each BAR superfamily protein with an SH3 domain(s). The involvement of BAR domain superfamily proteins in various diseases is also discussed.
View Full-Text
►

▼

Figures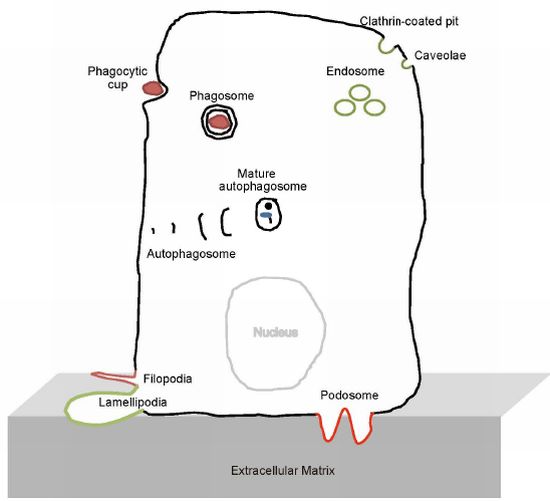 Share & Cite This Article
MDPI and ACS Style
Safari, F.; Suetsugu, S. The BAR Domain Superfamily Proteins from Subcellular Structures to Human Diseases. Membranes 2012, 2, 91-117.
Related Articles
Comments
[Return to top]