Effect of Ammonium- and Phosphonium-Based Ionic Liquids on the Separation of Lactic Acid by Supported Ionic Liquid Membranes (SILMs)
1
Department of Chemical Engineering and Materials Science, Doshisha University, Kyotanabe, Kyoto 610–0321, Japan
2
Department of Chemical Engineering, Indian Institute of Technology Guwahati, Guwahati, Assam 781039, India
*
Author to whom correspondence should be addressed.
Received: 14 March 2011 / Revised: 26 April 2011 / Accepted: 6 May 2011 / Published: 13 May 2011
Abstract
Biodegradable polymers have attracted much attention from an environmental point of view. Optically pure lactic acid that can be prepared by fermentation is one of the important raw materials for biodegradable polymer. The separation and purification of lactic acid from the fermentation broth are the major portions of the production costs. We proposed the application of supported ionic liquid membranes to recovering lactic acid. In this paper, the effect of ionic liquids, such as Aliquat 336, CYPHOS IL-101, CYPHOS IL-102, CYPHOS IL-104, CYPHOS IL-109 and CYPHOS IL-111 on the lactic acid permeation have been studied. Aliquat 336, CYPHOS IL-101 and CYPHOS IL-102 were found to be the best membrane solvents as far as membrane stability and permeation of lactic acid are concerned. CYPHOS IL-109 and CYPHOS IL-111 were found to be unsuitable, as they leak out from the pores of the supported liquid membrane (SLM), thereby allowing free transport of lactic acid as well as hydrochloric acid. CYPHOS IL-102 was found to be the most adequate (Permeation rate = 60.41%) among these ionic liquids as far as the separation of lactic acid is concerned. The permeation mechanisms, by which ionic liquid-water complexes act as the carrier of lactate and hydrochloric acid, were proposed. The experimental permeation results have been obtained as opposed to the expected values from the solution-diffusion mechanism.
View Full-Text
►

▼

Figures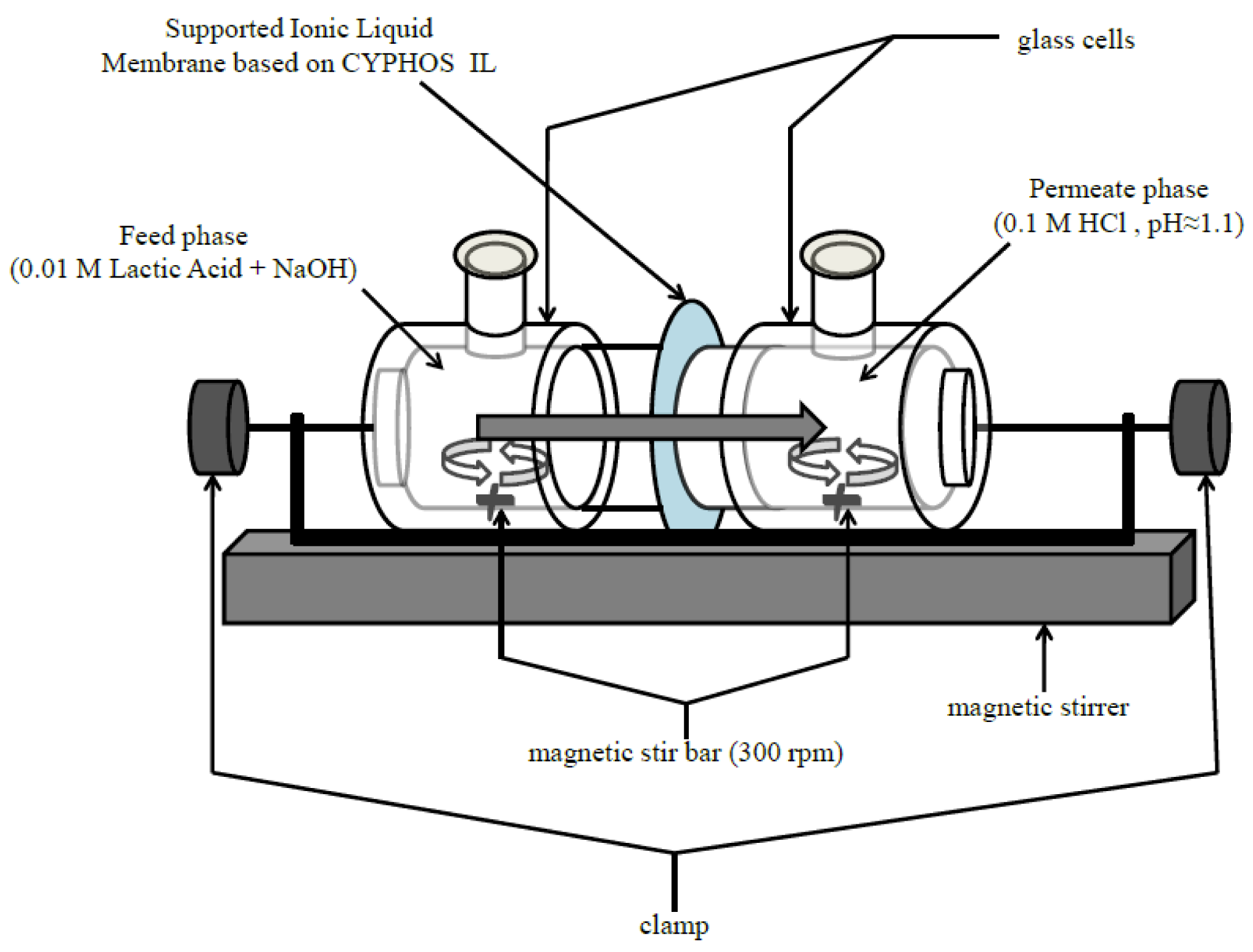 Share & Cite This Article
MDPI and ACS Style
Matsumoto, M.; Panigrahi, A.; Murakami, Y.; Kondo, K. Effect of Ammonium- and Phosphonium-Based Ionic Liquids on the Separation of Lactic Acid by Supported Ionic Liquid Membranes (SILMs). Membranes 2011, 1, 98-108.
Related Articles
Comments
[Return to top]