Co-Administration of Lipid Nanoparticles and Sub-Unit Vaccine Antigens Is Required for Increase in Antigen-Specific Immune Responses in Mice
1
Infectious Diseases and Vaccines, Merck Research Laboratories, Merck & Co., Inc., Kenilworth, NJ 07033, USA
2
Medical Affairs, Global Human Health, Merck & Co., Inc., Kenilworth, NJ 07033, USA
3
Pharmaceutical Sciences, Merck Research Laboratories, Merck & Co., Inc., Kenilworth, NJ 07033, USA
†
Current Address: Aeras, Rockville, MD 20850, USA.
*
Author to whom correspondence should be addressed.
Academic Editor: Olga Borges
Received: 1 August 2016 / Revised: 26 November 2016 / Accepted: 30 November 2016 / Published: 6 December 2016
Abstract
A vast body of evidence suggests that nanoparticles function as potent immune-modulatory agents. We have previously shown that Merck proprietary Lipid NanoParticles (LNPs) markedly boost B-cell and T-cell responses to sub-unit vaccine antigens in mice. To further evaluate the specifics of vaccine delivery and dosing regimens in vivo, we performed immunogenicity studies in BALB/c and C57BL/6 mice using two model antigens, Hepatitis B Surface Antigen (HBsAg) and Ovalbumin (OVA), respectively. To assess the requirement for co-administration of antigen and LNP for the elicitation of immune responses, we evaluated immune responses after administering antigen and LNP to separate limbs, or administering antigen and LNP to the same limb but separated by 24 h. We also evaluated formulations combining antigen, LNP, and aluminum-based adjuvant amorphous aluminum hydroxylphosphate sulfate (MAA) to look for synergistic adjuvant effects. Analyses of antigen-specific B-cell and T-cell responses from immunized mice revealed that the LNPs and antigens must be co-administered—both at the same time and in the same location—in order to boost antigen-specific immune responses. Mixing of antigen with MAA prior to formulation with LNP did not impact the generation of antigen-specific B-cell responses, but drastically reduced the ability of LNPs to boost antigen-specific T-cell responses. Overall, our data demonstrate that the administration of LNPs and vaccine antigen together enables their immune-stimulatory properties.
View Full-Text
►

▼

Figures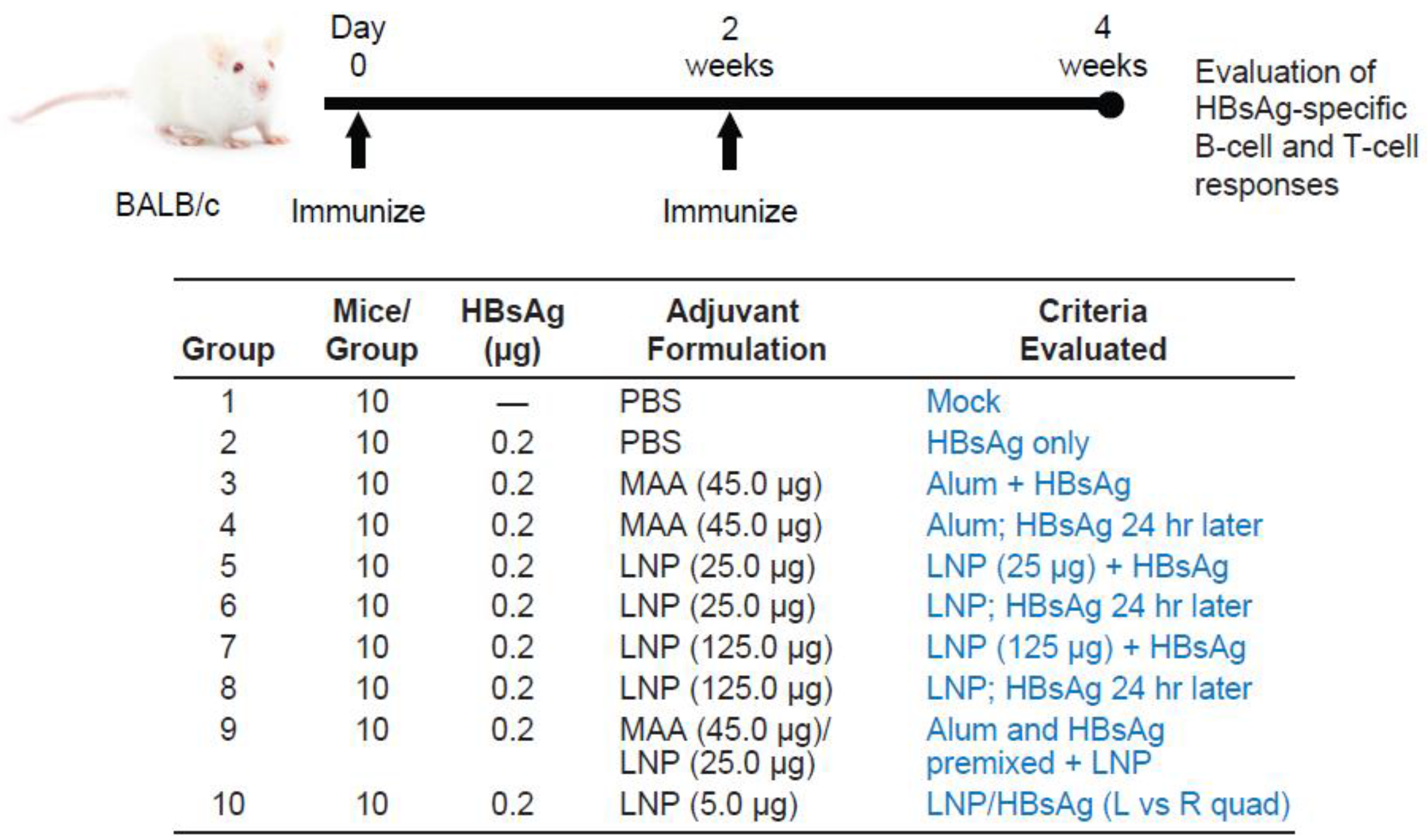 Figure 1
This is an open access article distributed under the
Creative Commons Attribution License
which permits unrestricted use, distribution, and reproduction in any medium, provided the original work is properly cited. (CC BY 4.0).
Share & Cite This Article
MDPI and ACS Style
Thoryk, E.A.; Swaminathan, G.; Meschino, S.; Cox, K.S.; Gindy, M.; Casimiro, D.R.; Bett, A.J. Co-Administration of Lipid Nanoparticles and Sub-Unit Vaccine Antigens Is Required for Increase in Antigen-Specific Immune Responses in Mice. Vaccines 2016, 4, 47.
Note that from the first issue of 2016, MDPI journals use article numbers instead of page numbers. See further details here.
Related Articles
Comments
[Return to top]