DNA-Encoded Flagellin Activates Toll-Like Receptor 5 (TLR5), Nod-like Receptor Family CARD Domain-Containing Protein 4 (NRLC4), and Acts as an Epidermal, Systemic, and Mucosal-Adjuvant
1
Center for Infectious Medicine, F59, Department of Medicine, Karolinska Institutet, Karolinska University Hospital Huddinge, Stockholm 141 86, Sweden
2
Department of Preparedness, Swedish Institute for Infectious Disease Control, Stockholm 171 82, Sweden
3
Division of Molecular Virology, Department of Clinical and Experimental Medicine, Linköping University, Linköping 581 85, Sweden
4
Institute of Immunology, University Medical Center Hamburg-Eppendorf, Hamburg D-20246, Germany
5
Department of Microbiology, Tumor and Cell Biology, Karolinska Institutet, Nobels väg 16, Stockholm 171 77, Sweden
6
Latour AB, Stockholm 171 21, Sweden
7
Division of Innate immune regulation, International Research and Development Center for Mucosal Vaccine, Institute for Medical Science, The University of Tokyo, Tokyo 108-8639, Japan
8
Department of Host of Defense, Research Institutet for Microbial Diseases, Osaka University, Osaka 565-0871, Japan
*
Author to whom correspondence should be addressed.
Received: 18 July 2013 / Revised: 27 August 2013 / Accepted: 30 August 2013 / Published: 25 September 2013
Abstract
Eliciting effective immune responses using non-living/replicating DNA vaccines is a significant challenge. We have previously shown that ballistic dermal plasmid DNA-encoded flagellin (FliC) promotes humoral as well as cellular immunity to co-delivered antigens. Here, we observe that a plasmid encoding secreted FliC (pFliC(-gly)) produces flagellin capable of activating two innate immune receptors known to detect flagellin; Toll-like Receptor 5 (TLR5) and Nod-like Receptor family CARD domain-containing protein 4 (NRLC4). To test the ability of pFliC(-gly) to act as an adjuvant we immunized mice with plasmid encoding secreted FliC (pFliC(-gly)) and plasmid encoding a model antigen (ovalbumin) by three different immunization routes representative of dermal, systemic, and mucosal tissues. By all three routes we observed increases in antigen-specific antibodies in serum as well as MHC Class I-dependent cellular immune responses when pFliC(-gly) adjuvant was added. Additionally, we were able to induce mucosal antibody responses and Class II-dependent cellular immune responses after mucosal vaccination with pFliC(-gly). Humoral immune responses elicited by heterologus prime-boost immunization with a plasmid encoding HIV-1 from gp160 followed by protein boosting could be enhanced by use of pFliC(-gly). We also observed enhancement of cross-clade reactive IgA as well as a broadening of B cell epitope reactivity. These observations indicate that plasmid-encoded secreted flagellin can activate multiple innate immune responses and function as an adjuvant to non-living/replicating DNA immunizations. Moreover, the capacity to elicit mucosal immune responses, in addition to dermal and systemic properties, demonstrates the potential of flagellin to be used with vaccines designed to be delivered by various routes.
View Full-Text
►

▼

Figures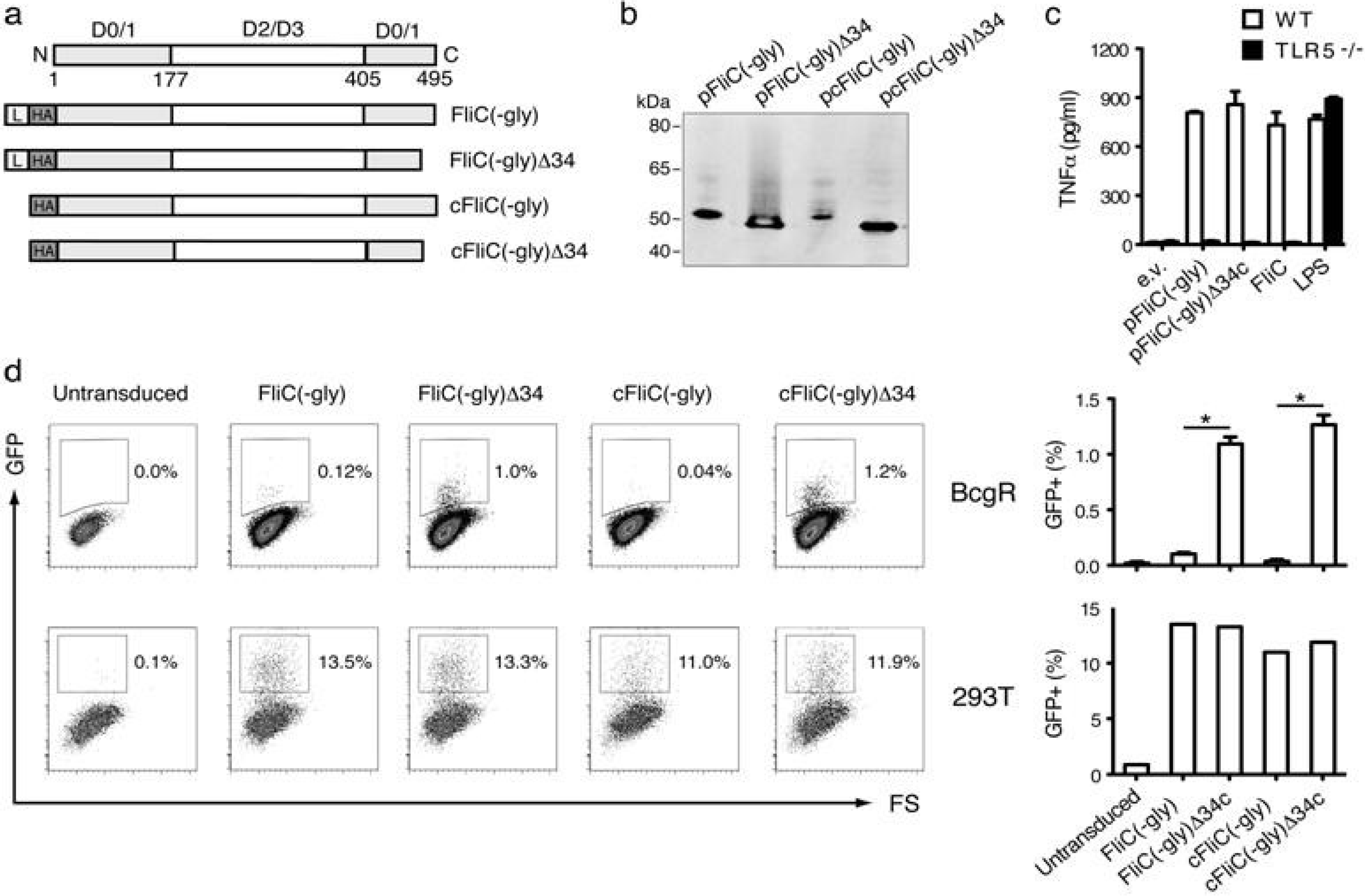 Figure 1
Share & Cite This Article
MDPI and ACS Style
Nyström, S.; Bråve, A.; Falkeborn, T.; Devito, C.; Rissiek, B.; Johansson, D.X.; Schröder, U.; Uematsu, S.; Akira, S.; Hinkula, J.; Applequist, S.E. DNA-Encoded Flagellin Activates Toll-Like Receptor 5 (TLR5), Nod-like Receptor Family CARD Domain-Containing Protein 4 (NRLC4), and Acts as an Epidermal, Systemic, and Mucosal-Adjuvant. Vaccines 2013, 1, 415-443.
Related Articles
Comments
[Return to top]