Analysis and Comparison of the Antioxidant Component of Portulaca Oleracea Leaves Obtained by Different Solid-Liquid Extraction Techniques
1
Department of Molecular Medicine and Medical Biotechnology, University of Naples Federico II, via Pansini, 5, Naples 80131, Italy
2
Department of Chemical Sciences, University of Naples Federico II, via Cintia, Naples 80126, Italy
*
Author to whom correspondence should be addressed.
Received: 5 July 2017 / Revised: 8 August 2017 / Accepted: 10 August 2017 / Published: 12 August 2017
Abstract
Portulaca oleracea
is a wild plant pest of orchards and gardens, but is also an edible vegetable rich in beneficial nutrients. It possesses many antioxidant properties due to the high content of vitamins, minerals, omega-3 essential fatty acids and other healthful compounds; therefore, the intake of purslane and/or its bioactive compounds could help to improve the health and function of the whole human organism. Accordingly, in this work it was analyzed and compared to the extractive capacity of the antioxidant component of purslane leaves obtained by solid-liquid extraction techniques such as: hot-maceration, maceration with ultrasound, rapid solid-liquid dynamic extraction using the Naviglio extractor, and a combination of two techniques (mix extraction). The chromatographic analysis by High Performance Liquid Chromatography (HPLC) of the methanolic extract of dried purslane leaves allowed the identification of various polyphenolic compounds for comparison with the standards. In addition, the properties of the different extracts were calculated on dry matter and the antioxidant properties of the total polyphenol components analyzed by the DPPH (2,2-diphenyl-1-picrylhydrazyl) assay. The results showed that mix extraction was the most efficient compared to other techniques. In fact, it obtained a quantity of polyphenols amounting to 237.8 mg Gallic Acid Equivalents (GAE)/100 g of fresh weight, while in other techniques, the range varied from 60–160 mg GAE/100 g fresh weight. In addition, a qualitative analysis by Liquid Chromatography-Tandem Mass Spectrometry (LC/MS/MS) of the phenolic compounds present in the purslane leaves examined was carried out. The compounds were identified by comparison of their molecular weight, fragmentation pattern and retention time with those of standards, using the "Multiple Reaction Monitoring" mode (MRM). Therefore, this study allowed the re-evaluation of a little-known plant that possesses as its beneficial properties, a great potential for use in both the food and the nutraceuticals and cosmetic field.
View Full-Text
►

▼

Figures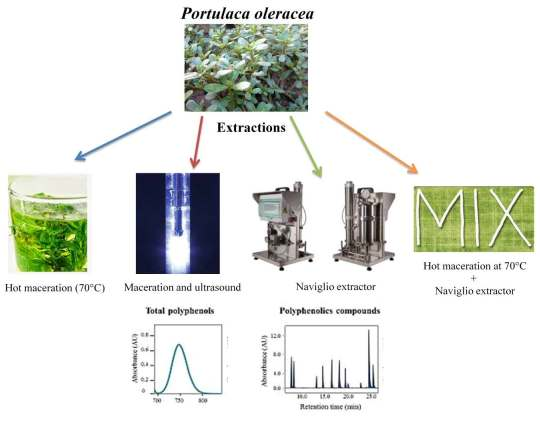 This is an open access article distributed under the
Creative Commons Attribution License
which permits unrestricted use, distribution, and reproduction in any medium, provided the original work is properly cited. (CC BY 4.0).
Share & Cite This Article
MDPI and ACS Style
Gallo, M.; Conte, E.; Naviglio, D. Analysis and Comparison of the Antioxidant Component of Portulaca Oleracea Leaves Obtained by Different Solid-Liquid Extraction Techniques. Antioxidants 2017, 6, 64.
Note that from the first issue of 2016, MDPI journals use article numbers instead of page numbers. See further details here.
Related Articles
Comments
[Return to top]