Surface Decorated Zn0.15Cd0.85S Nanoflowers with P25 for Enhanced Visible Light Driven Photocatalytic Degradation of Rh-B and Stability
State Key Laboratory of Advanced Technology for Materials Synthesis and Processing, School of Materials Science and Engineering, Wuhan University of Technology, Wuhan 430070, China
*
Author to whom correspondence should be addressed.
Received: 22 January 2018 / Revised: 10 February 2018 / Accepted: 17 February 2018 / Published: 26 February 2018
(This article belongs to the Section
Chemistry
)
Abstract
Decoration of Zn
0.15
Cd
0.85
S nanoflowers with P25 for forming P25/Zn
0.15
Cd
0.85
S nanocomposite has been successfully synthesized with fine crystallinity by one-step low temperature hydrothermal method. Photocatalytic efficiency of the as-prepared P25/Zn
0.15
Cd
0.85
S for the degradation of Rh-B is evaluated under the visible light irradiation. The synthesized composite is completely characterized with XRD, FESEM, TEM, BET, and UV-vis DRS. TEM observations reveal that P25 is closely deposited on the Zn
0.15
Cd
0.85
S nanoflowers with maintaining its nanoflower morphology. The photocatalytic activity of the as-obtained photocatalyst shows that the P25/Zn
0.15
Cd
0.85
S exhibits very high catalytic activity for degradation of Rh-B under visible light irradiation due to an increasing of the active sites and enhancing the catalyst stability because of the minimum recombination of the photo-induced electrons and holes. Moreover, it is found that the nanocomposite retains its photocatalytic activity even after four cycles. In addition, to explain the mechanism of degradation, scavengers are used to confirm the reactive species. Photo-generated holes and
●
OH play a significant role in the visible light of P25/Zn
0.15
Cd
0.85
S nanocomposite induced degradation system, but electrons play the most important role.
View Full-Text
►

▼

Figures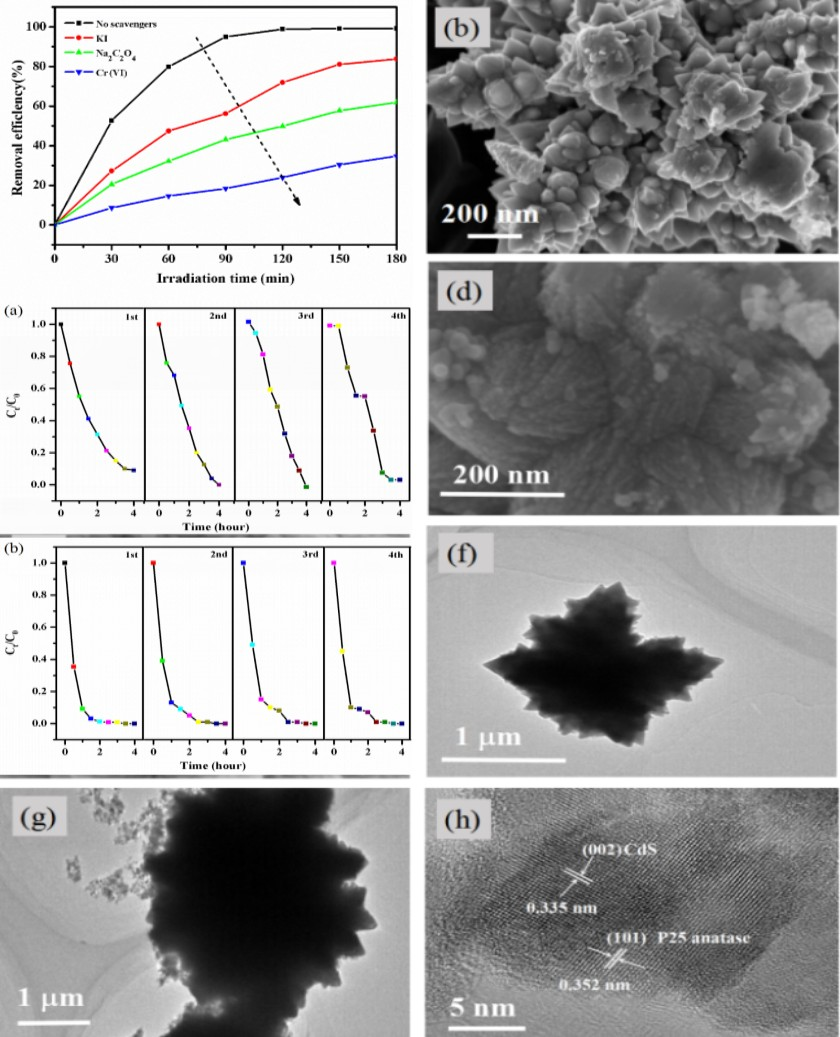 This is an open access article distributed under the
Creative Commons Attribution License
which permits unrestricted use, distribution, and reproduction in any medium, provided the original work is properly cited. (CC BY 4.0).
Share & Cite This Article
MDPI and ACS Style
Alomar, M.; Liu, Y.; Chen, W. Surface Decorated Zn0.15Cd0.85S Nanoflowers with P25 for Enhanced Visible Light Driven Photocatalytic Degradation of Rh-B and Stability. Appl. Sci. 2018, 8, 327.
Note that from the first issue of 2016, MDPI journals use article numbers instead of page numbers. See further details here.
Related Articles
Comments
[Return to top]