Effects of Increased Vigilance for Locomotion Disorders on Lameness and Production in Dairy Cows
Clinic for Cattle, University of Veterinary Medicine Hannover, Bischofsholer Damm 15, 30173 Hannover, Germany
†
These authors contributed equally to this work.
*
Author to whom correspondence should be addressed.
Received: 15 July 2013 / Revised: 5 September 2013 / Accepted: 6 September 2013 / Published: 13 September 2013
Simple Summary
For animal welfare reasons, reducing the prevalence of lameness should be one of the most important goals in dairy farming. In this study, the influence of early detection and treatment of lame cows on lameness prevalence, incidence and duration of lameness in comparison with routine lameness management practiced on a dairy farm was determined. The results suggest that early detection and treatment of lame cows significantly reduced the duration of lameness, and, therefore, the prevalence of lameness.
Abstract
The objective of this study was to determine the influence of weekly locomotion scoring and, thus, early detection and treatment of lame cows by a veterinarian on lameness prevalence, incidence, duration of lameness, fertility and milk yield on one
dairy farm in Northern Germany. Cows were distributed to two groups. Cows in Group A (n = 99) with a locomotion score (LS) > 1 were examined and treated. In Group B (n = 99), it was solely in the hands of the farmer to detect lame cows and to decide which cows received treatment. Four weeks after the beginning of the experimental period, the prevalence of cows with LS = 1 was higher in Group A compared with Group B. Prevalence of lame cows (LS > 1) increased in Group B (47.6% in Week 2 to 84.0% in Week 40) and decreased in Group A from Week 2 to Week 40 (50% to 14.4%;
P
< 0.05). Within groups, the monthly lameness incidence did not differ. The average duration of lameness for newly lame cows was 3.7 weeks in Group A and 10.4 weeks in Group B (
P
< 0.001). There was no effect on fertility and incidence of puerperal disorders. The 100-day milk yield was calculated from cows having their first four Dairy Herd Improvement (DHI) test day results during the experimental period
.
The mean 100-day milk yield tended to be higher in Group A compared with Group B (3,386 kg
vs.
3,359 kg;
P
= 0.084).
View Full-Text
►

▼

Figures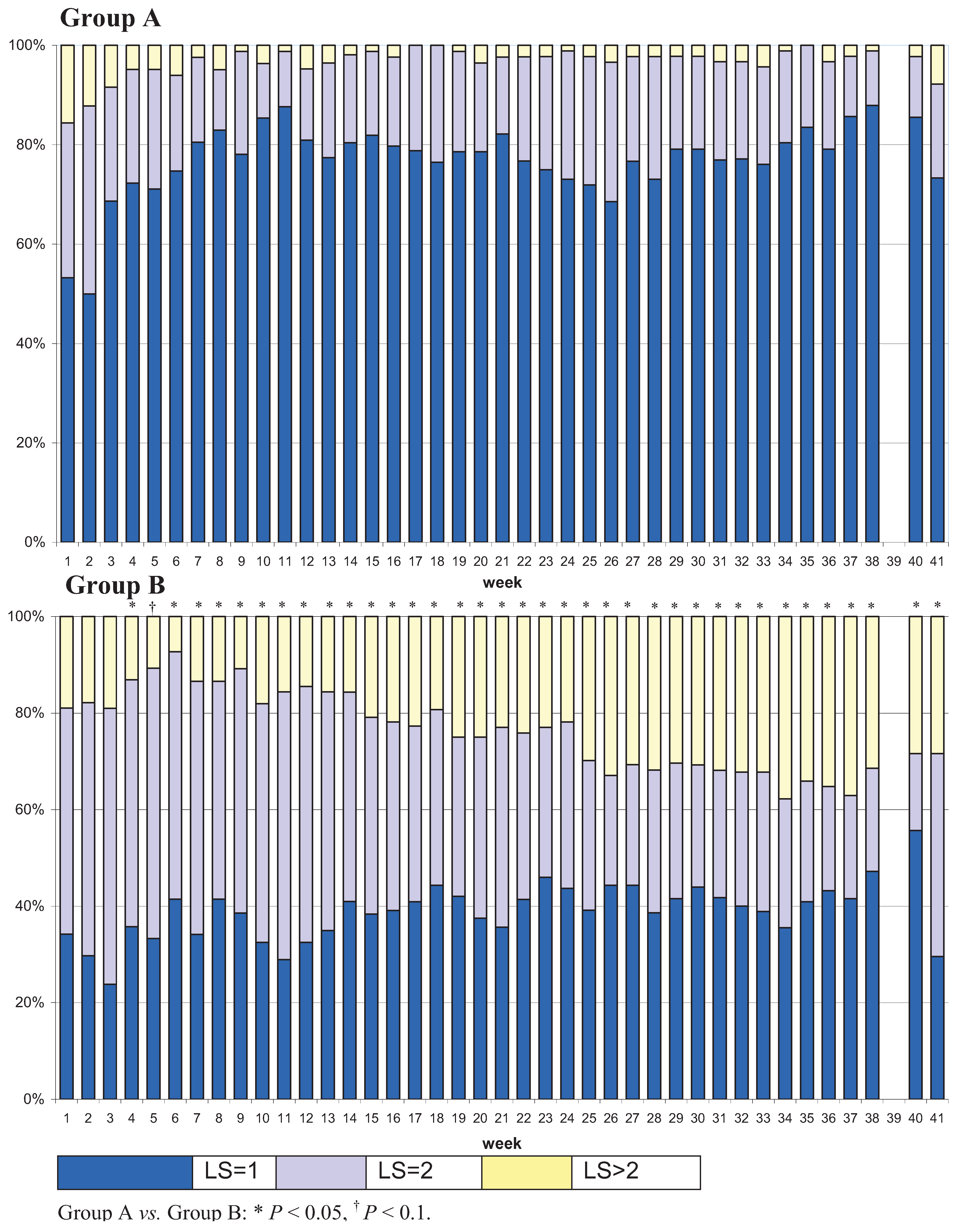 Figure 1
Share & Cite This Article
MDPI and ACS Style
Gundelach, Y.; Schulz, T.; Feldmann, M.; Hoedemaker, M. Effects of Increased Vigilance for Locomotion Disorders on Lameness and Production in Dairy Cows. Animals 2013, 3, 951-961.
Related Articles
Comments
[Return to top]