GeoBioScience: Red Wood Ants as Bioindicators for Active Tectonic Fault Systems in the West Eifel (Germany)
Department of Geology, Faculty of Biology, University of Duisburg-Essen, Universitätsstr. 5, 45141 Essen, Germany
*
Author to whom correspondence should be addressed.
Received: 13 March 2013 / Revised: 26 April 2013 / Accepted: 7 May 2013 / Published: 17 May 2013
Simple Summary
In a 1.140 km² study area of the volcanic West Eifel, approx. 3,000 Red Wood Ant (RWA; Formica rufa-group) mounds had been identified and correlated with tectonically active gas-permeable faults, mostly strike-slip faults. Linear alignment of RWA mounds and soil gas anomalies distinctly indicate the course of these faults, while clusters of mounds indicate crosscut zones of fault systems, which can be correlated with voids caused by crustal block rotation. This demonstrates that RWA are bioindicators for identifying active fault systems and useful where information on the active regime is incomplete or the resolution by technical means is insufficient.
Abstract
In a 1.140 km² study area of the volcanic West Eifel, a comprehensive investigation established the correlation between red wood ant mound (RWA;
Formica rufa
-group) sites and active tectonic faults. The current stress field with a NW-SE-trending main stress direction opens pathways for geogenic gases and potential magmas following the same orientation. At the same time, Variscan and Mesozoic fault zones are reactivated. The results showed linear alignments and clusters of approx. 3,000 RWA mounds. While linear mound distribution correlate with strike-slip fault systems documented by quartz and ore veins and fault planes with slickensides, the clusters represent crosscut zones of dominant fault systems. Latter can be correlated with voids caused by crustal block rotation. Gas analyses from soil air, mineral springs and mofettes (CO
2
, Helium, Radon and H
2
S) reveal limiting concentrations for the spatial distribution of mounds and colonization. Striking is further the almost complete absence of RWA mounds in the core area of the Quaternary volcanic field. A possible cause can be found in occasionally occurring H
2
S in the fault systems, which is toxic at miniscule concentrations to the ants. Viewed overall, there is a strong relationship between RWA mounds and active tectonics in the West Eifel.
View Full-Text
►

▼

Figures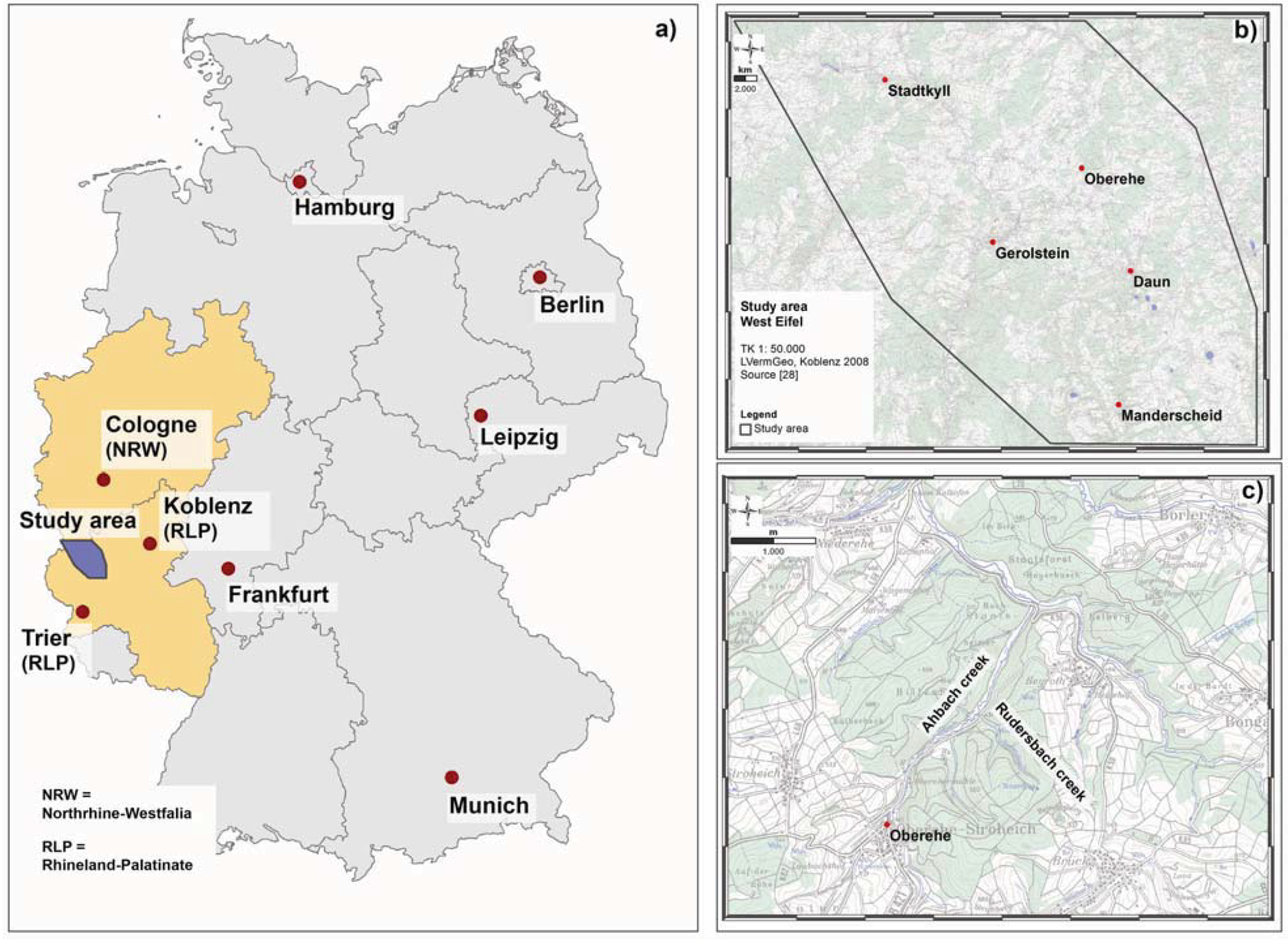 Figure 1
Share & Cite This Article
MDPI and ACS Style
Berberich, G.; Schreiber, U. GeoBioScience: Red Wood Ants as Bioindicators for Active Tectonic Fault Systems in the West Eifel (Germany). Animals 2013, 3, 475-498.
Related Articles
Comments
[Return to top]