Open Access This article is
freely available
re-usable
Review
Transcription and Maturation of mRNA in Dinoflagellates
Institut de Recherche en BiologieVégétale, Département de Sciences Biologiques, Université de Montréal, 4101 Sherbrooke east, Montréal, QC H1X 2B2, Canada
*
Author to whom correspondence should be addressed; Tel.: +1-514-343-2133; Fax: +1-514-343-2288.
Received: 22 July 2013; in revised form: 10 September 2013 / Accepted: 14 October 2013 / Published: 1 November 2013
Abstract
:
Dinoflagellates are of great importance to the marine ecosystem, yet scant details of how gene expression is regulated at the transcriptional level are available. Transcription is of interest in the context of the chromatin structure in the dinoflagellates as it shows many differences from more typical eukaryotic cells. Here we canvas recent transcriptome profiles to identify the molecular building blocks available for the construction of the transcriptional machinery and contrast these with those used by other systems. Dinoflagellates display a clear paucity of specific transcription factors, although surprisingly, the rest of the basic transcriptional machinery is not markedly different from what is found in the close relatives to the dinoflagellates.
Keywords:
transcription factor; gene expression; regulation
1. Introduction
Dinoflagellates are an important group of unicellular eukaryotes found in both marine and fresh water environments. These marine species are of particular importance on a global scale, as along with the diatoms, they contribute roughly half of the carbon fixed in the oceans, and thus roughly a quarter of the global totals [
1
]. They also play a role in maintaining the biodiversity surrounding coral reefs, since the coral polyps themselves rely on photosynthetic products supplied by the symbiotic dinoflagellates they harbor for growth in nutrient poor waters [
2
]. Furthermore, many marine dinoflagellates synthesize potent toxins that accumulate to high concentrations in the algal blooms commonly called "red tides" [
3
]. Lastly, the nightly bioluminescence of many dinoflagellates, popularly known as the "phosphorescence of the sea", has inspired not only art and literature but also intensive scientific dissection of the bioluminescence phenomenon [
4
]. Interestingly, in
Lingulodinium polyedrum
this nightly bioluminescence [
5
], as well as photosynthesis [
6
], cell division [
7
], and diurnal vertical migration [
8
], are all regulated by an endogenous circadian (daily) clock.
L. polyedrum
has been studied for over 60 years as a model system for addressing the biochemical links between the internal clock and the observed rhythms [
9
].
Phylogenetically, dinoflagellates are grouped in the superphylum Alveolata, which contains apicomplexans as their closest relatives as well as ciliates [
10
]. Members of the Alveolata share a number of features, in particular the presence of flattened vesicles termed cortical alveoli lying just beneath the plasma membrane (
Figure 1
). However, dinoflagellates also have many unique characteristics compared to their relatives. For example, dinoflagellates typically possess a large quantity of nuclear DNA containing many genes organized in tandem gene arrays, with DNA found in a liquid crystal structure lacking observable nucleosomes [
11
]. It is unfortunate that dinoflagellates have so far proven refractory to mutational or gene transformational studies, thus hindering the extensive molecular studies needed to understand the mechanisms for regulating gene expression.
Figure 1.
The diagram shows the schematic representation of the phylogeny of the superphylum Alveolata, which is marked by the presence of the cortical alveoli. Splice leader
trans
-splicing is a common feature in all the members of the dinoflagellate clade, while
Oxyrrhis
and the core dinoflagellates lack histones and have a dinokaryotic nucleus.
The mechanisms used to control the expression of different genes have been extensively researched in both prokaryotes and eukaryotes. Critical events in eukaryotes include changes in chromatin organization, transcription of DNA into pre-mRNA, splicing of pre-RNA into mature mRNA, mRNA transport, mRNA degradation, mRNA editing and covalent modifications of the mRNA, translation of mRNA into protein, and, lastly, post-translational modification of the protein. All these, either individually or collectively, are responsible for regulating gene expression within a cell. In this review, we will focus primarily on transcription and its regulation as they relate to the control of gene expression in the dinoflagellates, as more comprehensive studies on dinoflagellates have been published elsewhere [
12
,
13
,
14
].
2. Transcription and Its Regulation
2.1.
cis

-Acting Sequences and RNA Polymerase Components

Dinoflagellate chromosomes are permanently condensed at all stages of the cell cycle (

Figure 2

) and assume a liquid crystalline structure [

15

,

16

] with bivalent cations acting as the stabilization matrix [

17

]. This unusual chromatin structure thus raises the important questions about the accessibility of genes within the structure to the transcriptional machinery. The dinoflagellate

Prorocentrum micans

was inspected using high resolution electron microscope autoradiography for

3

H-adenine incorporation, and this revealed that RNA transcription was prevalent only on extrachromosomal DNA filaments and not on DNA within the main body of the chromosome [

18

]. It was proposed that this transcriptionally inactive DNA might instead play a role in stabilizing chromosome organization, perhaps by an association with a protein matrix [

18

].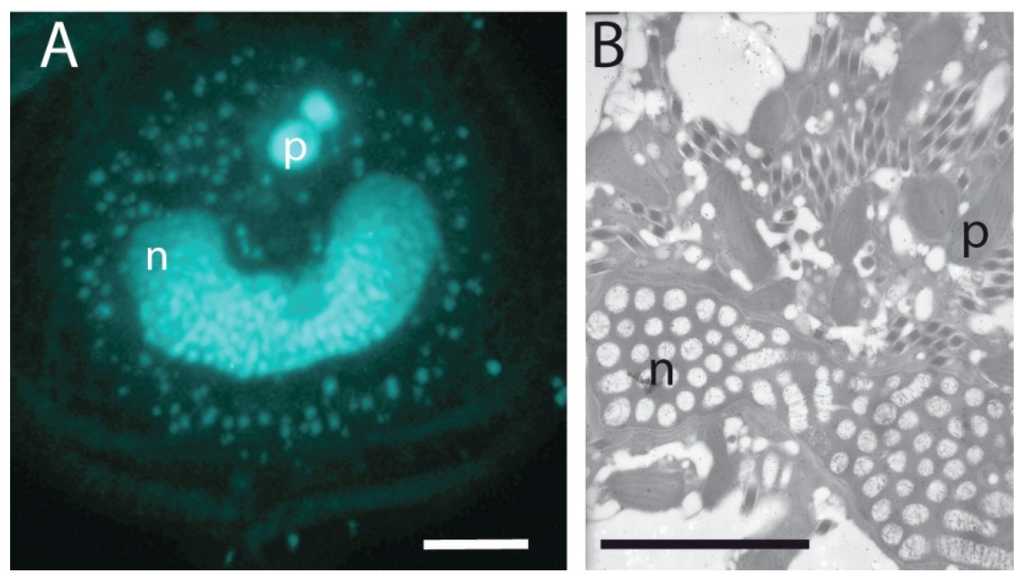 Figure 2.
(
A
) Permanently condensed chromosomes of the dinoflagellate
Lingulodinium polyedrum
(the cultures were obtained from the National Center for Marine Algae, Maine) as visualized by fluorescence microscopy after DAPI. The C-shaped nucleus (n) is surrounded by the small punctate DNA staining of the multiple plastid genomes and lies under two larger spherical PAS bodies (p) at the apical end of the cell. (
B
) The nucleus viewed by transmission electron microscopy. The cross section shown lies near the back of the C-shaped nucleus (n) and shows chromosomes cut both in cross section (ovals) and longitudinally (cylinders), as well as plastids (p) and numerous diamond-shaped trichocysts. All scale bars are 10 µm.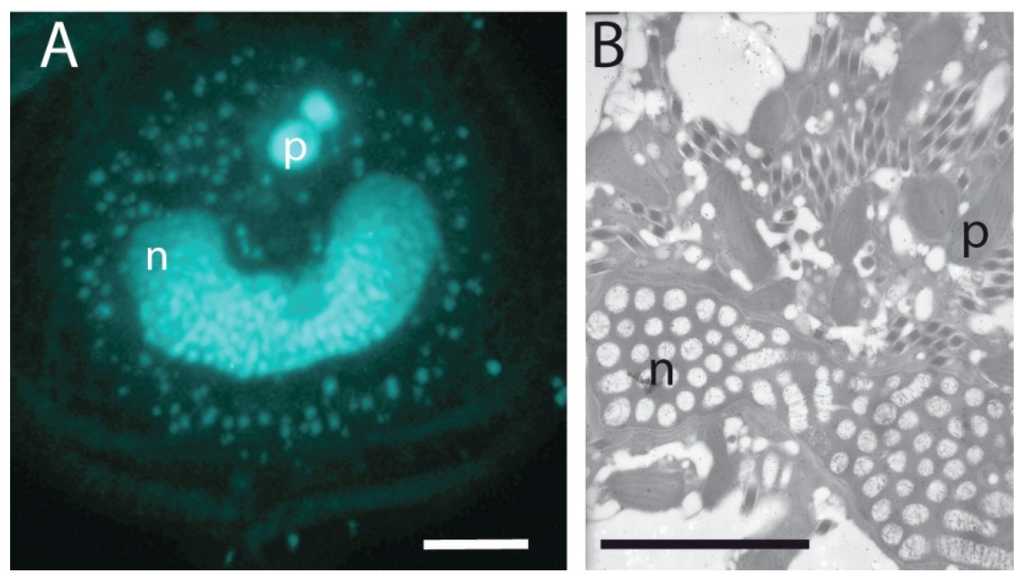 Given access to the genetic material, transcription initiation in dinoflagellates is likely to require an elaborate set of
trans
-acting factors and a series of conserved
cis
-acting sequences, as is the case in other eukaryotes. The complex of
trans
-acting factors binding the regulatory sequences in the DNA includes, in addition to the RNA polymerases, both general and gene-specific transcription factors, activators and mediators [
19
]. The
cis
-acting sequences in eukaryotes can include regulatory elements far from the transcription start site, termed enhancers, although the region just upstream of the start site, termed a promoter, consisting of a core region and other regulatory domains [
20
,
21
] is considered as the primary site of initiation. There are two major classes of promoters that regulate the expression of protein coding genes, and these contain either a TATA-box (consensus sequence <TATAAA>) or CpG islands, a region rich in CG dinucleotides [
22
] as their core domains. In
Pyrocystis lunula
luciferase (
lcf
) genes, a GC box consensus sequence <GGGCGG> is present, but its location is further upstream than the usual position of −110 (numbered relative to the transcriptional start site at +1) found in many eukaryotes [
23
]. Furthermore, a GC-rich motif <C(G/C)GCCC> was also found within the upstream region of
P. lunula lcf A
and
L. polyedrum lcf
and
lbp
genes, but its position was not fixed. This GC-rich motif was first reported in the upstream region of the
Peridinium bipes
ferredoxin gene [
24
]. However, the role of this motif in gene expression has still not been established. Both TATA-box or CpG island type promoters may include additional sequence elements such as the GC-box <GGGCGG>, the CAAT-box <CCAAT>, and the INR box <(C/T)(C/T)AN(T/A)(C/T)(C/T)> at which transcription is initiated. Interestingly, the TATA box is quite conserved in eukaryotes and is also found in protists as diverse as amoebas (
Acanthamoeba
), slime molds (
Dictyostelium
), ciliates (
Histriculus cavicola
), and apicomplexans (
Plasmodium
) [
25
,
26
,
27
,
28
,
29
,
30
]. On the other hand, members of the phylum Parabasalia use their own specific promoter element instead of the canonical TATA box [
31
,
32
,
33
].
Proper understanding of gene organization and structure is required to describe transcription in dinoflagellates. For example,
L. polyedrum
has multiple copies of peridinin-chlorophyll
a
-binding protein (
pcp
), luciferin binding protein (
lbp
) and luciferase (
lcf
) genes arranged in long tandem repeats [
34
,
35
,
36
,
37
]. PCR with
Pyrocystis lunula
genomic DNA revealed that, among
lcf
A
,
lcf
B
and
lcf
C
isoforms, two (
lcf
A
and
B
) are in tandem repeat. However, the sequence of the intergenic region between
lcf
and
pcp
coding sequences of the
L. polyedrum
lacks any known promoter elements. The only common feature between the two was a conserved 13 nucleotide sequence, CGTGAACGCAGTG, proposed as a dinoflagellate specific promoter sequence [
35
] but no further work has been published to firmly establish this result. Moreover, this sequence is not conserved among different dinoflagellate species as it is absent in the intergenic region between
P. lunula lcf
A
and
lcf
B
genes [
38
]. To test if the tandem repeat structure is a general character of dinoflagellates, PCR was used with primers directed away from one another in
Amphidinium carterae
[
39
]. PCR using genomic DNA as a template was expected to produce a band if the genes were found as a tandem repeat, and this strategy revealed that 17 out of the 47 genes tested did indeed have a tandem repeat structure.
The lack of identifiable sequence elements in the intergenic spacers has lead to the suggestion that tandem gene repeats may form a polycistronic transcript, in a manner similar to the
Trypanosoma
gene structure [
40
]. The trypanosomes transcribe from a single promoter long polycistronic transcripts containing genes coding for different gene products, and the primary transcript is then processed into mature mRNAs by
trans
splicing of the SL leader at the 5′ end and by polyadenylation at the 3′ end. If true for dinoflagellates, one possibility would place a promoter upstream of each tandem array, thus explaining the lack of recognizable promoter sequences in the intergenic regions. However, the consequences of this hypothesis include the predictions that the intergenic spacer region should be abundant in the transcribed RNAs, and that sequence differences between copies in low copy number arrays should be detected in the mature transcripts at a frequency inversely proportional to the copy number. In a recent transcriptomic study that addressed this issue, none of these predictions were validated experimentally [
41
].
Eukaryotic and prokaryotic transcription also differs in that three different RNA polymerases (RNAP) are used for the former while only one is used for the latter. The three eukaryotic enzymes have specialized functions, with RNAP I transcribing most ribosomal RNA (rRNA), RNAP II transcribing protein-coding messengers (mRNA), small nuclear RNAs (snRNA) and micro RNA (miRNA), and RNAP III synthesizing transfer RNAs (tRNA) and the 5S rRNA. An assessment of the activity of RNA polymerase in the dinoflagellate
Crypthecodinium cohnii
, carried out with radiolabeled UTP, revealed that considerable amounts of RNA polymerase activity remained even after inhibition by α-amanitin, a potent inhibitor of RNAP II. This thus confirmed the presence of multiple forms of DNA dependent RNA polymerase as in other eukaryotes [
42
]. Curiously, this research also noted a peculiar inhibition of polymerase activity by Mn
+2
, instead of the activation of these enzymes seen in other eukaryotes. It was suggested that dinoflagellate RNAP II activity might differ slightly from the other eukaryotic RNAP II enzymes [
42
], perhaps analogous to the unusual form of RNAP II found in some trypanosomes [
43
]. However, the transcriptome of
L. polyedrum
contains a complete set of core and common elements for all the three eukaryotic RNAPs. Furthermore, the specific elements absent from the transcriptome were also missing in other members of the Alveolata (
Figure 3
). It seems that the alveolates in general can assemble functional RNAPs with a reduced number of components as compared to higher eukaryotes, and there is nothing unique to the dinoflagellates in this part of the transcriptional machinery.
2.2. Basal/General Transcription Factors
In addition to RNAP II, an
in vitro
reconstitution of a functional eukaryotic transcriptional apparatus requires a suite of other basal/general transcriptional factors (TF) [
44
]. Six multi-subunit complexes, termed TFIIA, TFIIB, TFIID, TFIIE, TFIIF and TFIIH, appear to be among the most important [
45
,
46
,
47
,
48
,
49
]. The first step of promoter recognition is performed by TFIID, constituted from the TATA binding protein (TBP) and at least 14 TBP-associated factors (TAFs) [
50
,
51
]. TBP binding is considered to be the rate-limiting step in the transcription process [
52
], although TBP can have relatives, such as TBP-related factors (TRF), which also activate transcription from the same RNAP II promoters that are activated by TBP [
53
,
54
]. These TRFs have been found in diverse animals, including fruit fly, nemotode, frog, zebrafish, chick, mouse, and human [
53
]. Interestingly,
C. cohnii
has been shown to contain a TBP-like factor (TLF), clearly homologous to TBP yet lacking the four phenylalanine residues known to interact with the TATA box. This TLF is unique to dinoflagellates (
Figure 4
,
Supplementary Figure S1
) and has a strong affinity for a <TTTT> sequence instead of the consensus TATA-box sequence [
55
]. Unfortunately, the upstream regions from 6 different genes of two different dinoflagellates did not contain a TTTT element [
55
]. This suggests a unique promoter recognition mechanism for at least these genes, in keeping with the unusual structure of the chromatin of these organisms.
Figure 3.
The number of RNA polymerase components present over a wide phylogenetic range of organisms includes those considered to be core components (red), common components (yellow) and specific components (blue) of the RNAP I, II and III. Each bar represents an individual component. The representative sequences for the RNA polymerase I, II and III subunits were selected from an animal (
H. sapiens
), a plant (
A. thaliana
), a diatom (
T. pseudonana
), and two other alveolates (
T. thermophila
and
P. falciparum
) and uploaded and maintained as a local database in the Geneious software. Using tBLASTn and an expect E-value cutoff of e
−25
, the
Lingulodinium
transcriptome was scanned to obtain the homologues for the RNA polymerase subunits [
41
]. For all other species the sequences were directly obtained from the KEGG specific pathway database by selecting the specific organism.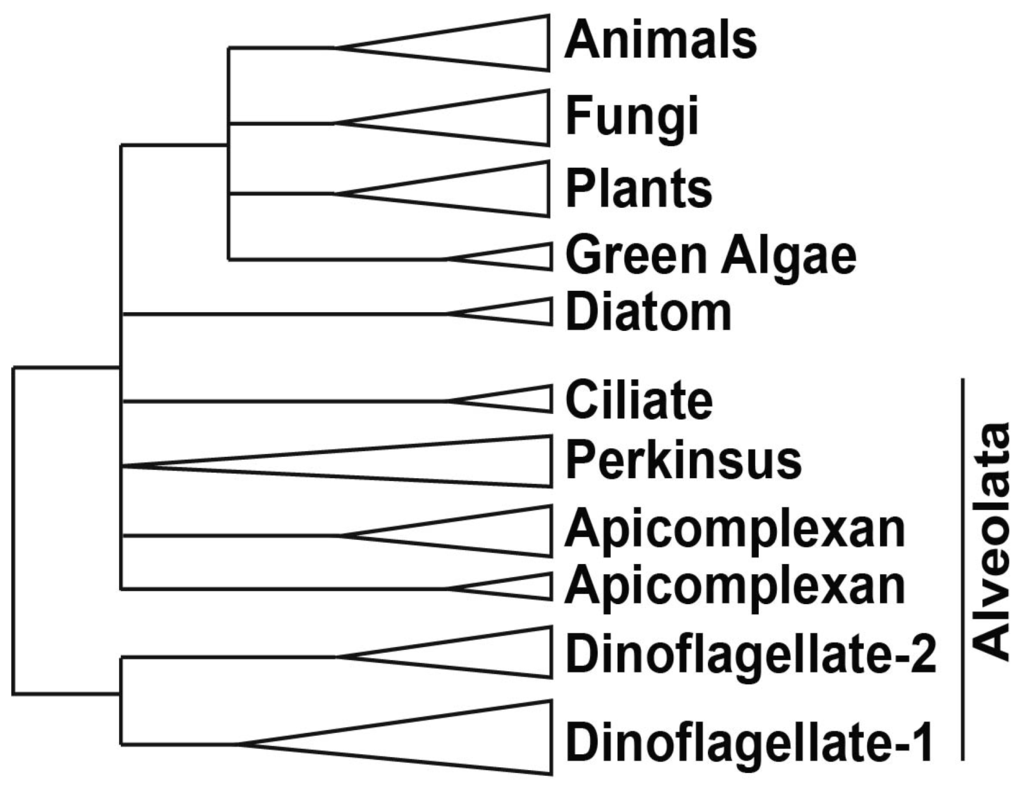 Figure 4.
A simplified phylogeny of TBP and TBP-like proteins shows that the two TBP-like clades unique to dinoflagellates are distinct from all other TBP clades. The apicomplexan TBPs also form two clades, one from proteins in
Babesia
and
Toxoplasma
and the other from proteins in
Cryptosporidium
and
Plasmodium
. The protein sequences used include: animals—
Homo sapiens
(CAG33057.1),
Mus musculus
(AAH50136.1),
Gallus gallus
(BAA20298.1),
Xenopus laevis
(NP 001084369.1),
Danio rerio
(AAQ07596.1),
Drosophila melanogaster
(AAA79092.1),
Strongylocentrotus purpuratus
(NP_999786.1); plants—
Arabidopsis thaliana
(AEE75356.1),
Oryza sativa
(ABA99084.1),
Glycine max
(NP 001238202.1),
Zea mays
(NP 001105318.1); green algae—
Volvox carteri
(XP_002948268.1),
Chlamydomonas reinhardtii
(XP_001691004.1); diatoms—
Phaeodactylum tricornutum
(XP_002186321.1),
Thalassiosira pseudonana
(XP 002293666.1); fungi—
Neurospora crassa
(XP_960219.1), Candida tropicalis (XP 002548983.1),
Aspergillus nidulans
(XP_662580.1); alveolata—
Cryptosporidium muris
(XP 002139943.1),
Cryptosporidium parvum
(AAR21861.1),
Tetrahymena thermophila
(EAR92317.1),
Toxoplasma gondii
(XP_002368492.1),
Ichthyophthirius multifiliis
(XP_004031283.1),
Babesia bovis
(XP_001610545.1),
Plasmodium vivax
(EDL43506.1),
Plasmodium falciparum
(XP_001351620.1),
Perkinsus marinus
(XP 002782410.1), (XP 002782409.1) and (XP 002782411.1),
Crypthecodinium cohnii
(AAL24503.1),
Lingulodinium polyedrum
(JO752877.1) and (JO755256.1),
Symbiodinium
(kb8 c12831), (kb8 c27940), (mf105 rep c7144), (mf105 rep c14572) and (mf105 rep c49191) [
56
]. For
L. polyedrum
and
Symbiodinium
, the translated sequences were aligned using MUSCLE, an alignment program built in the tree construction software MEGA5 [
57
] that was used for this phylogenetic analysis.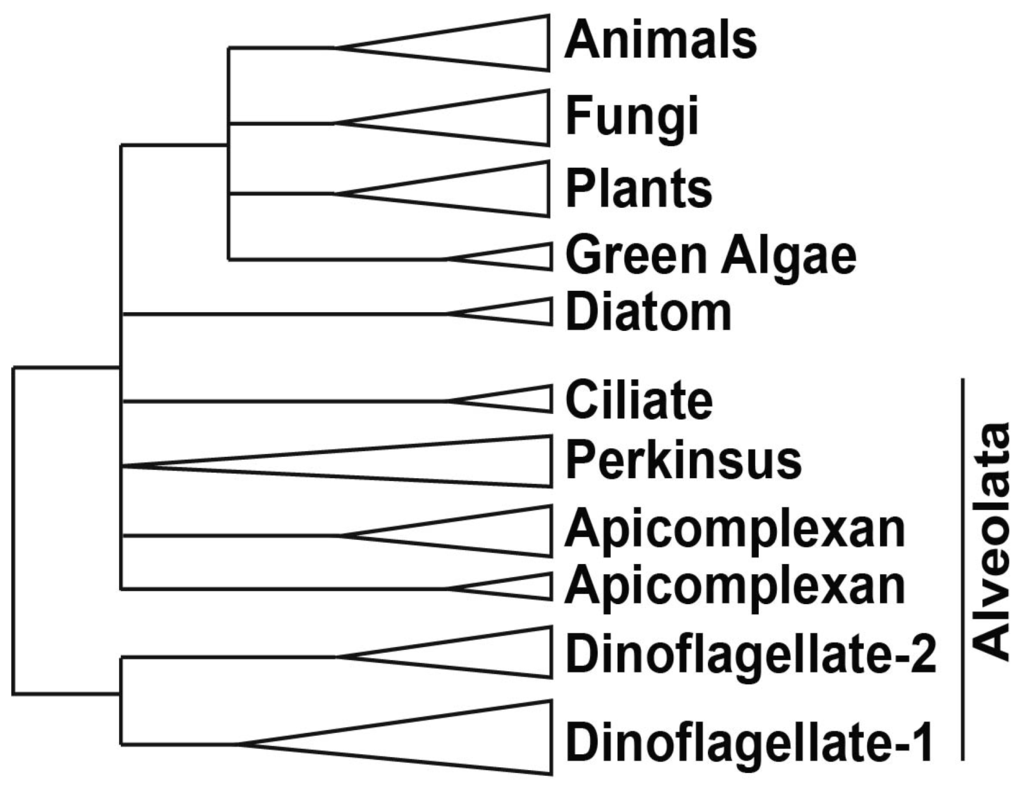 The
L. polyedrum
transcriptome contains two TLF isoforms similar to the TLF found in
C. cohnii
and, somewhat surprisingly, no TBP at all [
41
]. The phylogenetic relationship between the consensus TBP and the TLF, found uniquely in the dinoflagellates, clearly indicates the early divergence of TLF from TBP as well as the presence of two distinct TLF clades within the dinoflagellates (
Figure 4
). In agreement with this lack of TBP, it is perhaps not surprising that
L. polyedrum
also lacks most other TAFs, although the closely related
Alexandrium
expresses two proteins with DNA helicase activity, RuvB-like1 and RuvB-like2 [
58
]. RuvB-like proteins have been shown to co-purify with the human RNA polymerase holoenzyme complex and found to be an extremely important element required for growth [
59
], suggesting they may also play a role in the dinoflagellates. In particular,
L. polyedrum
lacks any TFIIA, TFIIB, TFIIE or TFIIF components, and only 3 out of the ten expected TFIIH components are found (the E-value cut-off for the tBLASTn is e
−25
). It must be noted, however, that ciliate, apicomplexan and diatom genomes contain a single TBP and also lack the TAFs and TFs missing in
L. polyedrum
[
41
]. A figurative representation of basal TF status in different eukaryotes (
Figure 5
) indicates that the poor conservation of TAFs and other basal TFs in
L. polyedrum
is commensurate with the other related eukaryotes. These properties thus seem more likely to be due to a reduced dependence on these TFs throughout the Alveolata than to the unusual nature of the dinoflagellate chromatin.
Figure 5.
Phylogenetic distribution of transcription factors associated with RNA-polymerase II shows a marked decrease in the number of TFII members among the apicomplexans. The dinoflagellates do not contain the putative TBP (red) but do express a TBP-like factor (TLF; pink). Each bar represents a different component. A pool of basal transcription factor (BTF) protein sequences were selected from the five species then stored as a local database in Geneious. The
Lingulodinium
transcriptome was scanned using tBLASTn at an expect E-value of <e
−25
, to obtain the homologues of the BTFs [
41
].
2.3. DNA Binding Proteins
2.4. Transcriptional Regulation
3. Splicing and the Spliceosome
4. RNA Transport and mRNA Surveillance Pathways
Nuclear pore complexes (NPC) are enormous protein complexes, ranging from 50 MDa in yeast to 125 MDa in mammals, which are present within the nuclear envelope and mediate nucleo-cytoplasmic transport [
167
,
168
]. Though small molecules under 40 kDa can passively diffuse through NPC, larger mRNA molecules require a more complex energy-dependent and signal-mediated process [
169
]. The nuclear export pathway has been well characterized in yeast and higher eukaryotes, but does not appear to be conserved in apicomplexans, as many of the important components are either absent or unrecognizable by homology search algorithms [
170
]. To date, no description of this pathway has been made in any dinoflagellate, and we have thus analyzed the
L. polyedrum
transcriptome to try and retrieve the components expected for RNA transport. There are three general classes of proteins required, those forming the nuclear pore itself and those soluble in either the nucleus or the cytoplasm. Compared to the components found in other eukaryotes, the most marked difference between the alveolates and other organisms appears to lie in those components used for construction of the pore (
Table 1
). Apart from the conserved integral membrane proteins termed Nups, thought to anchor the pores in the nuclear membrane, it seems that lower eukaryotes either manage to construct this large molecular complex with far fewer elements than are required in mammals, or alternatively, employ some unique and as yet unidentified constituents. It would evidently be of great interest to examine the structure of the pore using electron microscopy to ascertain if the pore retains the eightfold symmetrical structure normally found in higher eukaryotes. In addition to the NPC, a plethora of nuclear and cytoplasmic
trans
acting factors are also employed to mediate RNA processing and transport in mammals and higher eukaryotes. The nuclear components include factors common to the different types of RNA as well as other specific factors for processing and maturity that facilitate the nucleo-cytoplasmic transport [
171
], and these appear to be conserved in the dinoflagellates. In contrast, only a third of the mammalian and half of the plant cytoplasmic components involved in nuclear transport are conserved in
L. polyedrum
and other alveolates (
Table 1
,
Supplementary Figure S2
).
Table 1.
Number of components involved in nuclear transport found in the
L. polyedrum
transcriptome. Gene sequences for various Kyoto Encyclopedia of Genes and Genomes (KEGG) pathways were tabulated. The alveolates are represented by
L. polyedrum
(Lp),
Plasmodium falciparum
(Pf) and
Tetrahymena thermophila
(Tt). A cutoff value of e
−25
was used to assess the presence of components.
Table 1. Number of components involved in nuclear transport found in the

L. polyedrum

transcriptome. Gene sequences for various Kyoto Encyclopedia of Genes and Genomes (KEGG) pathways were tabulated. The alveolates are represented by

L. polyedrum

(Lp),

Plasmodium falciparum

(Pf) and

Tetrahymena thermophila

(Tt). A cutoff value of e−25 was used to assess the presence of components.
Mammal
Plant
Alveolata
Diatom
Lp
Pf
Tt
Nucleus
11
10
6
9
7
8
Central channel
Nuclear basket
4
1
1
0
0
1
Symmetrical nups
11
9
2
1
4
6
Central channel
3
3
0
0
0
1
Spoke complex
5
5
0
0
0
2
Lumenal ring
3
1
0
0
1
0
Cytoplasmic tails
8
6
2
2
3
3
Cytoplasm
53
37
17
17
17
24
Eukaryotes also employ a multistep "quality control" or surveillance pathway to selectively degrade the damaged or mutated mRNAs as a protective mechanism against aberrant protein synthesis. This concerted procedure starts with mRNA capping during transcription within the nucleus, and ends in the cytoplasm with the degradation of abnormal mRNAs. There are three main pathways, the first being nonsense-mediated mRNA decay. In mammals, this pathway interprets stop codons found 50 or more nucleotides upstream form the last exon boundary to be premature stop codons, principally because normal stop codon are typically located in the last exon [
172
,
173
] and this process uses factors involved in capping or 3′ end processing of the pre-mRNAs as well as a large complex of nuclear factors comprising the exon-junction complex (EJC) as a scaffold [
174
]. These mRNAs are then degraded to block synthesis of truncated proteins that might act as dominant negative or gain-of-function mutants. Curiously, despite the conservation of many of the components, intron/exon boundaries are not required to fulfill the same role in invertebrates and yeast although the implication of the EJC is not well defined in these systems. Nonsense-mediated decay appears to be operative in dinoflagellates, as many of the generally conserved components are found (
Table 2
), but the mechanisms used may be more similar to yeasts and insects as dinoflagellate genes have a generally low intron density. The second pathway, termed nonstop-mediated mRNA decay, is used to detect mRNA molecules lacking a stop codon. These transcripts pose a problem in that ribosomes translating into the poly A tail stall and have difficult dissociating from the transcript, thus reducing the number of ribosomes available for general translation [
175
]. This mechanism requires both a release of the ribosome and a degradation of the mRNA, but the components required for this remain to be fully characterized. Lastly, recognition of stalled ribosomes may also be involved in what is termed no-go mRNA decay [
176
], where ribosomes stalled during translation, perhaps because of unusual secondary structure elements in the transcript, are also targeted for degradation [
174
]. In general, dinoflagellates and other alveolates have a very poor conservation of the nuclear factors required for RNA surveillance (27% as compared to mammals) although the conservation of cytoplasmic factors is better (67% as compared to the mammals) (
Table 2
).
Table 2.
Number of components involved in mRNA surveillance found in the
L. polyedrum
transcriptome
.
Gene sequences for various KEGG pathways were tabulated. The alveolates are represented by
L. polyedrum
(Lp),
Plasmodium falciparum
(Pf) and
Tetrahymena thermophila
(Tt).A cutoff value of e
−25
was used to assess the presence of components.
Table 2. Number of components involved in mRNA surveillance found in the

L. polyedrum

transcriptome

.

Gene sequences for various KEGG pathways were tabulated. The alveolates are represented by

L. polyedrum

(Lp),

Plasmodium falciparum

(Pf) and

Tetrahymena thermophila

(Tt).A cutoff value of e−25 was used to assess the presence of components.
Mammal
Plant
Alveolata
Diatom
Lp
Pf
Tt
Nucleus
Cap binding complex
2
2
0
1
2
1
EJC
15
11
5
4
4
5
5′ capping
2
2
0
0
1
2
Pre-mRNA processing
14
13
4
4
4
8
Cytoplasm
Nonsense mediated decay
12
9
7
6
5
6
No-go decay
3
3
3
2
2
3
5. Conclusions and Perspectives
Considerable progress has been made in the study of dinoflagellate transcription, fuelled in large part by the recent availability of low cost sequencing. We show here that most of the expected players in the transcriptional machinery are found in dinoflagellates, at least with respect to their counterparts among the Alveolata. The exception to this general rule is that the specific transcription factors seem in large part to be reduced in quantity and type in the dinoflagellates. Thus, while general transcription carries on much as expected for the eukaryotes, the specific targeting of genes for transcriptional control may differ as a result of the unusual chromatin organization in this class. Further studies will now be necessary to confirm the biochemical activities of some of the more interesting components identified from the massive influx of sequence information.
Supplementary Materials
Supplementary File 1
Acknowledgments
Research support from the National Science and Engineering Research Council (NSERC) of Canada to DM (Grant number 171382-03) is gratefully acknowledged.
Conflicts of Interest
The authors declare no conflict of interest.
© 2013 by the authors; licensee MDPI, Basel, Switzerland. This article is an open access article distributed under the terms and conditions of the Creative Commons Attribution license (http://creativecommons.org/licenses/by/3.0/).