Arginine Methyltransferases Are Regulated by Epstein-Barr Virus in B Cells and Are Differentially Expressed in Hodgkin's Lymphoma
School of Cancer Sciences, College of Medical and Dental Sciences, University of Birmingham, Edgbaston, Birmingham, B15 2TT, UK
*
Author to whom correspondence should be addressed.
Received: 14 August 2012 / Revised: 28 August 2012 / Accepted: 4 September 2012 / Published: 19 September 2012
Abstract
Although there is increasing evidence that aberrant expression of those enzymes which control protein arginine methylation contribute to carcinogenesis, their de-regulation by oncogenic viruses in primary cells has yet to be reported. We first show that the protein arginine methyltransferases, CARM1, PRMT1 and PRMT5 are strongly expressed in Hodgkin Reed-Sternberg (HRS) cells, and up-regulated in Hodgkin's lymphoma (HL) cell lines. Given that Epstein-Barr virus (EBV) can be detected in approximately 50% of primary HL, we next examined how EBV infection of germinal centre (GC) B cells, the presumptive precursors of HRS cells, modulated the expression of these proteins. EBV infection of GC B cells was followed by the up-regulation of CARM1, PRMT1 and PRMT5, and by the down-regulation of the arginine deiminase, PADI4. Latent membrane protein 1 (LMP1), the major EBV transforming gene was shown to induce PRMT1 in GC B cells and in a stably transfected B cell line. The recent development of compounds which inhibit PRMT-mediated reactions provides a compelling case for continuing to dissect the contribution of virus induced changes in these proteins to lymphomagenesis.
View Full-Text
►

▼

Figures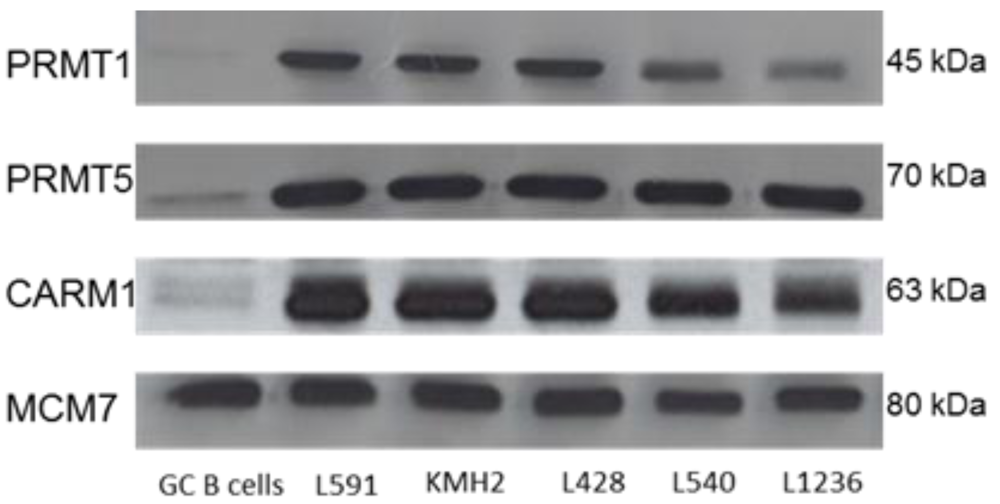 Figure 1
Share & Cite This Article
MDPI and ACS Style
Leonard, S.; Gordon, N.; Smith, N.; Rowe, M.; Murray, P.G.; Woodman, C.B. Arginine Methyltransferases Are Regulated by Epstein-Barr Virus in B Cells and Are Differentially Expressed in Hodgkin's Lymphoma. Pathogens 2012, 1, 52-64.
Related Articles
Comments
[Return to top]