Increase of DNA Methylation at the HvCKX2.1 Promoter by Terminal Drought Stress in Barley
1
Research Group Abiotic Stress Genomics, Interdisciplinary Centre for Crop Plant Research (IZN), Hoher Weg 8, 06120 Halle (Saale), Germany
2
Department of Physiology and Cell Biology, Leibniz Institute of Plant Genetics and Crop Plant Research (IPK), Corrensstr. 3, OT Gatersleben, D-06466 Seeland, Germany
3
International Rice Research Institute (IRRI), Grain Quality and Nutrition Center, DAPO Box 7777, Metro Manila 1301, Philippines
4
National Taiwan University, No. 1, Sec. 4, Roosevelt Rd., Taipei 10617, Taiwan
*
Author to whom correspondence should be addressed.
Academic Editor: Etienne Bucher
Received: 25 April 2017 / Revised: 15 June 2017 / Accepted: 20 June 2017 / Published: 27 June 2017
Abstract
Terminal drought stress during grain filling is the major abiotic factor that limits crop yield in barley. The mother plant acclimates to the environment and perceives signals that result in a change of the physiological state within the grain and therefore affect the seed development and germination of the next generation. Small regulatory RNAs have been described to be involved in plant drought stress response by suppressing the respective target genes. Based on their origin and function, these small RNAs are classified as micro RNAs (miRNA), short interfering RNAs (siRNA) or heterochromatic small interfering RNA (hc-siRNA). In addition, 24mer sized hc-siRNAs are associated with RNA directed DNA methylation (RdDM) and transcriptional gene silencing (TGS). The analysis of hc-siRNA by small RNA sequencing in barley caryopses after imposition of terminal drought stress allowed the identification of stress specific 24mers. Based on the sequence homology of the siRNAs to the promoter region of CYTOKININ-OXIDASE 2.1 (
HvCKX2.1
), this putative target gene was selected for further investigation. Terminal drought stress leads to an increased level of DNA methylation at the
HvCKX2.1
promoter and the seeds derived from drought stressed plants showed faster shoot emergence. Accumulation of cytokinin ribosides, which are the known substrates of cytokinin-oxidase, can explain the observed phenotype of faster shoot emergence from seeds of drought stressed mother plants. Analysis of transgenic plants with modulated levels of abscisic acid (ABA) in the grain confirmed the ABA/drought stress responsive
ProHvCKX2.1
methylation and correlation with shoot emergence speed.
View Full-Text
►

▼

Figures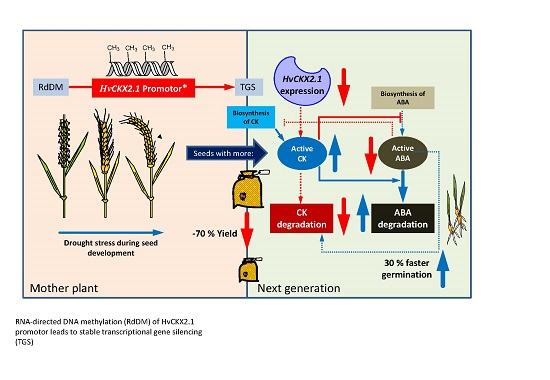 This is an open access article distributed under the
Creative Commons Attribution License
which permits unrestricted use, distribution, and reproduction in any medium, provided the original work is properly cited. (CC BY 4.0).
Share & Cite This Article
MDPI and ACS Style
Surdonja, K.; Eggert, K.; Hajirezaei, M.-R.; Harshavardhan, V.T.; Seiler, C.; von Wirén, N.; Sreenivasulu, N.; Kuhlmann, M. Increase of DNA Methylation at the HvCKX2.1 Promoter by Terminal Drought Stress in Barley. Epigenomes 2017, 1, 9.
Note that from the first issue of 2016, MDPI journals use article numbers instead of page numbers. See further details here.
Comments
[Return to top]